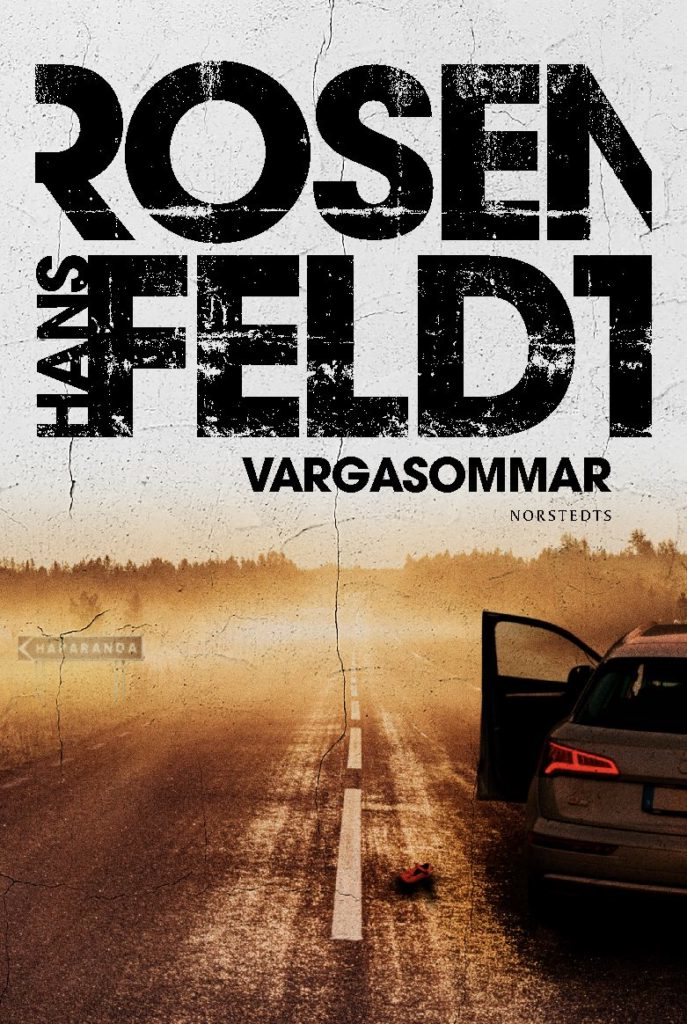 Vargasommar
Cry Wolf
Haparanda #1
A dead wolf. A drug deal gone wrong. A female assassin of rarely seen skill. Hannah Wester, a middle-aged policewoman in the remote northern town of Haparanda, finds herself on the precipice of chaos.
When human remains are found in the stomach of a dead wolf, Hannah Wester knows that this summer won't be like any other. The remains can soon be linked to a bloody drug deal across the border in Finland. But how did the victim end up in the woods outside of Haparanda? And where have the drugs and money gone?
Hannah and her colleagues leave no stone unturned. But time is scarce and they aren't the only ones looking. When the secretive and deadly Katja shows up, unexpected and brutal events start to pile up. In just a few days, life in Haparanda is turned upside down. Not least for Hannah, who is finally forced to confront her own past.
A Barnes & Noble "Thriller Pick of the Month"
A The Times Crime Club "Paperback of the Week"
Awards
Shortlisted for the Storytel Awards

(Best Suspense) Sweden
2020

Shortlisted for the Adlibris Awards

(Best Crime Fiction) Sweden
2020
Close award list
Reviews
"Just when I thought it might be safe to venture into the Scandinavian forests again, along comes Hans Rosenfeldt to prove me wrong — and show that the Scandi-noir genre is still thriving. In Cry Wolf Rosenfeldt, the creator of The Bridge television series and the Netflix hit Marcella, delivers a dark, engrossing and fast-paced read. "

"Rosenfeldt, creator of the TV series The Bridge, debuts with a fast-moving procedural set in Sweden's remote north. /…/ Rosenfeldt's abrupt cinematic cuts and vivid bursts of violence keep the pages turning /…/ Haparanda, strikingly described in human terms ("she grew so fast she creaked"), is a character unto itself. This standalone is ready-made for TV."

"The plot is well developed, the pace fast, and the story line is action-packed. /…/ This book is dark, clever, and gripping with great characters as well as a tense and spellbinding story line. /…/ Overall, this book was suspenseful, intense, riveting, and thought-provoking. If you enjoy international crime thrillers and police procedurals that have strong characters, then this may be the novel for you. While this is the first book I have read by this author, I am looking forward to reading others by him."

"The first book in a new series by Hans Rosenfeldt proves that he is the master of creating dark corners woven together by mystery, tragedy and greed. Having watched his Emmy award-winning series Marcella, I knew to expect some darkness and despair. But what was surprising is how Rosenfeldt can weave in so many brutal pasts, deep secrets, and a variety of personalities, relationships and events into one smooth read that keeps you engaged and enthralled. /…/ This book really surprised me in the best possible way. Dark yet engaging; intricate yet simple; and overall, a truly thrilling ride. No spoilers, but the ending had me craving the next installment. Cry Wolf was not at all what I expected, and I can't wait for more."

"[A] striking slice of Scandi-noir at its very bleakest — so cold and haunting that it all but takes your breath away. /…/ Not for the faint-hearted, this is a story that lingers long in the mind."

"Hans Rosenfeldt doesn't skimp on cruelty, but he is a grand master of his trade who knows how to skillfully build high tension. Linguistically he is at the highest level."

"Cry Wolf is a wonderfully suspenseful story with beautiful milieu depictions and many references to the social conditions in the bleak far north."

"Rosenfeldt needs few words to give his characters their own, striking appearance."

"Cry Wolf is suspenseful, dense, spooky and really well written."

"A suspenseful and well-written crime story /…/ Cry Wolf is the first book in a brand new crime series and it bodes well for the sequel."

"The man behind Saga Norén gives us a new and wonderfully ordinary heroine in the new crime series set in Haparanda."

"Hans Rosenfeldt's Cry Wolf is rich in characters, dark events and violence. Drugs and criminal acts are at the center of the plot, but there's still room for warmth and lots of empathy. /…/ Rosenfeldt breathes life into Haparanda in more ways than one. In regular sequences throughout the book, he lets the town tell its story, and it's strikingly beautiful, almost poetic. /…/ Rosenfeldt depicts an impoverished and in many ways forgotten town and its surroundings, but with his words it comes back to life. Coupled with his unique skill for creating main characters that you become fond of and want to know more about, the reading is like peeling off layer after layer and constantly getting closer to the core. True to his habit, Rosenfeldt adds new leads and plants new clues that lets the reader know that something new is about to happen; rarely does anything happen by chance."

"[Cry Wolf] starts off in true Rosenfeldt style, with a darn good intro. /…/ Naturally it's suspenseful – page-turningly suspenseful. The story has a drive that makes you curious about the resolution."
Author

Hans Rosenfeldt

Published

2020

Genre

Pages

384

Reading material

Swedish edition

English translation

Rights sold

Brazil, Trama

Bulgaria, Emas

Catalonia, Planeta

Croatia, Mozaik

Czech Republic, Host

Denmark, Politiken

Estonia, Rahva Raamat

Finland, Otava

France, Actes Sud

Germany, Rowohlt

Greece, Metaixmio

Hungary, Animus

Iceland, Forlagid

Italy, Einaudi

Lithuania, LWU Publishers

Netherlands, Cargo

Norway, Cappelen Damm

Poland, Czarna Owca

Portugal, Suma de Letras

Romania, Litera

Russia, AST

Serbia, Vulkan

Slovakia, Ikar

Spain, Planeta

Sweden, Norstedts

UK, HarperCollins

US, Hanover Square Press

Film rights sold

Sweden, C More