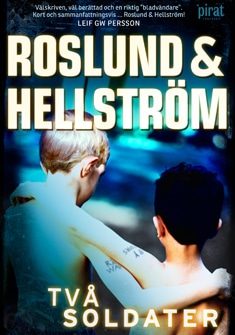 Två soldater
Two Soldiers
Ewert Grens #6
José Pereira at the Organized Crime and Gang Section has a wall in his office covered with mug shots. Young boys who act like hardened criminals and are classified as severely dangerous. Twenty years ago, Pereira was convinced that gang criminality was the stuff of American movies. Now he knows better and he knows that he is dealing with an escalating problem; five thousand young Swedish boys on their way into criminal networks.
One day a new picture is tacked to Pereira's wall. Eddie is a twelve-year-old boy from Råby who hides his gun in his school locker and his capsules of amphetamine under the freezer at the local grocery store. He will risk just about anything in order to one day feel that he belongs somewhere.
Meanwhile, Leon is incarcerated at the Aspsås prison forty kilometers away. From his prison cell, he composes a letter to his beloved brother Gabriel – the only person he trusts. The letter is the beginning of a plan that by way of aggression, violence and death will bring them to the very top of that wall of mug shots at the police station. The hunt begins when three inmates are sprung from the maximum-security prison. Leon and Gabriel cross paths with Chief Inspector Ewert Grens and José Pereira, who are searching for an assassin that Grens knows far more about than what he would like to.
Awards
Shortlisted for the CWA International Dagger

(Best International Novel of The Year) UK
2013

Shortlisted for the CWA International Dagger

(Best International Novel of the Year) UK
2013

Shortlisted for the Swedish Academy of Crime Writer's Award

(Best Crime Novel of the Year) Sweden
2012

Shortlisted for the Swedish Academy of Crime Writers' Award

(Best Crime Novel of the Year ) Sweden
2012
Close award list
Reviews
"The duo brings you a masterfully composed novel. Not least because the depictions are credible and wonderfully uncompromising."

"Way better than most Scandinavian crime novels these days."

"Suspenseful and at times unexpected, frightening and engaging… a skillfully constructed story."

"Few can fill almost 700 pages with words that feel significant. But Anders Roslund and Börge Hellström can… They always bring up urgent and crucial topics… As always in Roslund & Hellström's books it is electrifyingly suspenseful."

"[Two Soliders] could very well be this year's most important reading."

"An important story that gets under your skin."

"An incredibly competently written novel that is very suspenseful, gripping and almost impossible to put down… Better than most other Swedish crime fiction. /…/ The language is fantastic, the plot masterful, and I can't think of a single page that feels superfluous… The names [Roslund & Hellström] are nowadays synonymous with the finest quality."

"Already from the first chapter, the first paragraph, I'm enthralled… Two Soldiers is not only well-written, it is also incredibly deliberate. /…/ What distinguishes Roslund & Hellström from other crime writers is how well they combine a powerful and eloquent way of expressing themselves with details of police work in the form of surveillance and forensics that feels very authentic. Two Soldiers is a book that gets under your skin. A masterpiece."

"The language skillfully reinforces the sense of realism. The book is incredibly good and well-written, but very frightening… Incredibly suspenseful… The author duo Roslund & Hellström have done it again. They have written a crime novel of the highest class, a novel that stays with you for a long time, which is very unusual in this genre."

"A new quality novel of the highest degree. /…/ The duo's unfailing ability to create suspense that compels you to keep turning the pages, and at the same time immerse themselves in their characters and the societal events that influence them, is unmatched. /…/ As a whole [Two Soldiers] is an intense suspense novel… Impressive."

"Extraordinary know-how… [Roslund & Hellström] are good, very good. Maybe even the best in the [crime fiction] business this year."

"A fascinating and brutally gripping story… terribly suspenseful."

"In Sweden Roslund & Hellström are unrivaled as page-turner masters."

"This is a frightening story of urban decay and people who have no allegiance except to their "family" – the criminal gang that they aspire to belong to. … The impact on the neighbourhood, the gradual removal of services, shops, even protection from the police is documented with relentless detail. … It will be a long time before I can forget this book and the picture it paints."

"Filled with drama and tough action it is as authentic as it is disturbing, taking a peek below the shadows that form what we term a civilized society."

"Strong Swedish crime fiction"

"Two soldiers are Roslund & Hellström's masterpiece and undoubtedly one of the strongest, most important and most suspenseful thrillers in a long time."

"[A] riveting crime thriller … [a] psychologically driven plot, which reveals how criminal behavior is perpetuated from generation to generation through dysfunctional family conditions. Complex characterizations boost the action."

"This powerful sixth series entry upholds the high literary standards of the previous award-winning Grens & Sundkvist novels; jarring dialogue and alternating first-person narratives offer an unsettlig portrait of the gangland cycle of violence, desperation, and hope. It's an ugly yet beautiful story that readers will find themselves immediately buried in. Highly recommended for fans of the violently realistic social commentary in Richard Price's Clockers (1992)."
Author

Roslund & Hellström

Published

2012

Genre

Pages

686

Reading material

Swedish edition

English edition

Rights sold

Denmark, Rosinante

Estonia, Eesti Raamat

Finland, WSOY

Israel, Sela

Italy, Einaudi

Netherlands, De Geus

Norway, Cappelen Damm

Poland, Albatros

Spain, RBA

Sweden, Piratförlaget

UK, Quercus

US, Quercus