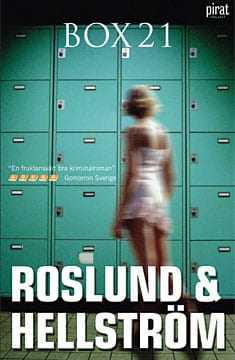 Box 21
Box 21
Ewert Grens #2
In Box 21, the follow-up to their much-acclaimed debut novel The Beast, Swedish crime duo Roslund & Hellström take on a controversial current topic: trafficking. They do it in the form of a breathtaking thriller, yet find time to allow us a deeper understanding of the characters and their psychological motivations. Thus, several sad tales of lost love are woven into the basic plot, where a policeman's revenge on the man who crippled his lover coincides with a trafficking victim's revenge on the man who raped her and enslaved her.
The international bestseller Box 21 is Roslund & Hellström's second crime novel featuring Police Detectives Ewert Grens and Sven Sundkvist. This utterly suspenseful crime novel is quite simply a chilling and unforgettable experience that will leave you gasping for breath.
Selected as a New York Times 'Notable Crime Book Of The Year'.
"What is it with Scandinavians and great crime writing? Something to do with the long nights, I guess. Box 21, with its sharply drawn cast of jaded cops, junkies, thugs, and victims, is a gripping tale of modern-day slavery, damage, and revenge, shocking and compelling in equal measure."
–Simon Lewis, author of Bad Traffic
Awards
The Romanian Crime Writers' Club Award

(Best Mystery & Thriller of the Year) Romania
2010

The Romanian Crime Writers' Club Award

(Best Mystery & Thriller of the Year ) Romania
2010

The City Prize

(Best Novel of the Year) Sweden
2005

Shortlisted for the Swedish Academy of Crime Writers' Award

(Best Swedish Crime Novel of the Year) Sweden
2005

Shortlisted for the Swedish Booksellers' Prize

(Best Novel of the Year) Sweden
2005

The City Prize

(Best Novel of the Year ) Sweden
2005

Shortlisted for the Swedish Booksellers' Prize

(Best Novel of the Year) Sweden
2005

Shortlisted for the Swedish Academy of Crime Writers' Award

(Best Swedish Crime Novel of the Year) Sweden
2005
Close award list
Reviews
"The Swedish writing team of Roslund & Hellström make their U.S. debut with a remarkable tale of loss, addiction and revenge set in Stockholm's seedy underworld. /…/ This taut and nuanced thriller should appeal to fans of Mo Hayder, Denise Mina and, of course, Henning Mankell."

"This excellent crime thriller is bound to please fans of Stieg Larsson's The Girl with the Dragon Tattoo and Henning Mankell's Kurt Wallander series."

"Edgy thriller. /…/ Fresh, slangy and moves at breakneck pace."

"Box 21, a taut and twisty thriller from the bestselling Swedish crime-writing team of Roslund & Hellström, takes psychological darkness to a new level. Full of abrupt turns and ratcheting suspense, Box 21 grabs the reader from the first page and refuses to let go. Many characters and plotlines are woven into this complex and superbly crafted novel, yet the connections are made seamlessly and credibly. /…/ Taken together, these characters, the expertly crafted plot and that brooding Scandinavian mood add up to one of the best thrillers of this – or any – season."

"A first-rate thriller. /…/ Most people have probably already picked up on the fact that Box 21 is likely to be the sharpest Swedish thriller of the year. /…/ Swedish thrillers often meet a high international standard, although it is quite unusual that they maintain the same intensity throughout 400 pages, and still have energy left for a final twist. It is the intensity and the powerful nature of the story that makes Box 21 one of the singular best Swedish crime novels since the days of Sjöwall & Wahlöö."

"In addition to Roslund & Hellström's visceral style, the plot is nail-bitingly scary in all its bluntness. Box 21 is definitely one of those books that you should read right down to the last page, to the last sentence."

"Roslund & Hellström have done it again: they've written their way into the very elite of Scandinavian crime writing."

"Box 21 by Anders Roslund and Börge Hellström is the most suspensful crime novel I´ve read in many years."

"Everything is right about this book: the plot, the language, the various storylines, the description of the characters. In short: read this book!"

"Box 21 is something of the most extraordinary that has been published in the genre in recent years."

"Box 21 is an extremely good novel! Forget crime literature; this is, simply put, great literature! /…/ This is an incredibly well told story, shocking and upsetting. /…/ It is so skilfully told, and with such intensity:?the research must have been meticulous. /…/ Sjöwall & Wahlöö are Roslund & Hellström's spiritual mom and dad."

"Ruthless, highly explosive and immensely topical. /…/ An ambitious thriller that creeps in under your skin."

"Box 21 is composed of several stories about tragic destinies that are intertwined in a brilliant way. The account is so suspenseful, gripping and intelligently written that it is almost impossible to put it down."

"This is, quite simply, an excellent crime novel."

"This is one of the most terrifying and haunting novels in crime literature that I've read – which also makes it one of the best."

"An extremely good novel. Believe me: This is so good. If it doesn't become a bestseller this summer, I don't know what will."

"If you are going to read only one Swedish crime novel this year, it has to be this one."

"I happily admit thatBox 21 is the best crime novel I've read in a very long time. Perhaps, it is the best one since Henning Mankell's Sidetracked precisely ten years ago. /…/ I would be surprised if the Swedish Academy of Crime Writers hasn't already found the crime novel of the year, because I certainly have!"

"The best crime novel of the year. /…/ No wonder Maj Sjöwall praises them. Roslund & Hellström have the potential to become the Sjöwall & Wahlöö of our time."

"An outstanding Swedish thriller."

"Box 21 is up there with the best international stars in the genre."

"The most important crime novel of the decade."

"The best crime novel of the year… Unbearably suspensful."

"Box 21 belongs to the very best in the Scandinavian social crime genre."

"A breathtaking and explosive story … a truly captivating crime novel."

"Superb … Roslund and Hellström play out the tale in taut, short scenes, meeting our revelations and shocks in sure, knowing fashion, ending with the shock that all but undoes the rest … Box 21 is profound."

"Gripping … The story takes a number of surprising twists and turns."

"A high-impact Swedish thriller."
Author

Roslund & Hellström

Published

2005

Genre

Pages

350

Reading material

Swedish edition

German edition

English edition

French edition

Spanish edition

Rights sold

Brazil, Planeta

Czech Republic, Euromedia

Denmark, Forum

Estonia, Eesti Raamat

Finland, WSOY

France, Presses de la Cité

Greece, Oxy

Israel, Sela

Italy, Cairo

Japan, Takeda Random House

Netherlands, De Geus

Norway, Cappelen Damm

Poland, Albatros

Russia, Inostranka

Spain, Planeta (World Spanish)

Sweden, Piratförlaget

UK, Quercus

US, Crichton / Farrar, Straus & Giroux