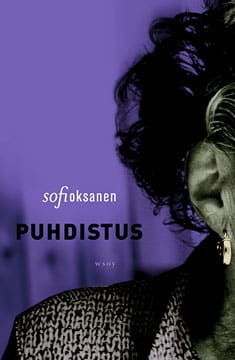 Puhdistus
Purge
The Estonian Quartet #2
Sofi Oksanen's bestselling novel Purge is a chilling drama of two generations of women. Set in the occupied Estonia of the 1940s and again in the same country fifty years later, the novel grapples with the realities of a new Europe. Narrated through a polyphonic choir of individual voices Purge tells the suspenseful and dramatic story of Aliide Truu, an old woman whose hands have been tarnished by the crimes she committed during the Soviet era. She is joined by Zara, a young trafficking victim seeking refuge at Aliide's countryside home. As the two women grow closer and the links between them are revealed, a tragic and complex family drama of rivalry, lust and loss begins to unfold – a story with roots dating back to the worst years of the Soviet occupation.
Purge is the second novel in The Estonian Quartet – a series depicting the division and annexation of Europe through the eyes of the women who saw it happen. Their struggle for freedom and survival becomes synonymous with the fate of a nation buckling under the heavy hand of a repressive system.
Purge became an immediate success, and Sofi Oksanen's major breakthrough: a No. 1 bestseller in Finland, the novel has won dozens of awards, including Finland's premier literary award, The Finlandia Award 2008. Oksanen is the youngest author ever to have won this prestigious prize.
"A sheer masterpiece… A marvel… I hope that everyone in the world who knows how to read, reads Purge."
–Nancy Huston, author of Fault Lines
"Purge is a truly stunning novel, both heartbreaking and optimistic. Through the stories of two women, Sofi Oksanen shows us the history of a country that has been repeatedly violated by the Russians, by the West, by history itself, yet managed to stand strong."
–Lara Vapnyar, author of There Are Jews in my House
Awards
The French Bookseller's Prize

France
2012

Shortlisted for the International Dublin Literary Award

Ireland
2011

Shortlisted for the Green Carnation Prize

UK
2011

The European Book Prize

France
2010

The Prix du roman Fnac

France
2010

The Prix Femina Étranger

France
2010

The Nordic Council's Literature Prize

The Nordic Councils
2010

Shortlisted for the Prix Médicis

France
2010

The Runeberg Award

Finland
2009

The Finlandia Award

Finland
2008

The Kalevi Jäntti Prize

Finland
2008

The Mika Waltari Award

Finland
2008

The SSKK Recognition Award

Finland
2008

The Kristiina of the Year Award

Finland
2008

The Great Finnish Book Club Prize

Finland
2008
Close award list
Reviews
"Sofi Oksanen's disturbing, riveting novel Purge...is a jolt. Set in 1992, only three years removed from the joyful optimism undammed by the demolition of the Berlin Wall, Purge burns through the mists to show how decades of debasement have twisted society in the former USSR into one characterized by crime and cruelty. Oksanen couches this larger theme within a tight, unconventional crime novel, one punctuated by dreadful silences, shameful revelations and repellent intimacies. By examining the toll of history on a close, personal level, Oksanen…makes the cost of mere survival sickeningly palpable… Evok[ing] both noir and fairy tales Purge is an engrossing read."

"Purge is a novel that skillfully blends fiction and history, poetry and vulgarity, ignominy and transcendence."

"Purge is a great, suspenseful novel. It is about human ambivalence, oscillating between courage and cowardice, selfishness and generosity, kindness and cruelty. Purge is a novel that will make you question yourself."

"A dark, harrowing and at times difficult read that wrings every ounce of emotion from the reader."

"This wonderfully subtle thriller…captures both the tragic consequences of one of Europe's biggest conflicts and the universal horrors that war inflicts on women. With a tone somewhere between Ian McEwan's Atonement and the best of the current crop of European crime novelists, this bitter gem promises great things from the talented Oksanen."

"Oksanen adeptly handles dual story lines and multiple points of view as she keeps us turning pages to reach the dramatic conclusion. Verdict: Highly recommended for fans of classic Russian writers like Tolstoy and Pasternak, as well as those who enjoy a contemporary tale of lust and betrayal."

"Oksanen writes superbly. Language, technique, plot and message – all in an alloy that is sensational. [Oksanen will receive] the Nobel Prize in a few years. If one is allowed to guess."

"Sofi Oksanen is an eminently skilled epic novelist, who unravels her intricate, fascinating story, bit by bit. She has a sense for the subtle, inner drama of a distorted mind and love's self-deceptive logic. Finland can be proud of its new, brilliant star. Only the very best that can bring to light a suffering mind and find a wounded nation within."

"The entire story is masterly composed and multifaceted: the two women as altering protagonists, pieces of a fugitive's diary, confidential surveillance reports, and all supplemented with chapter mottos. That the narrative is not chronological, but repeatedly retrieves storylines and circumstances from various earlier time periods, does not only add to the suspense… but also to the wild ways of emotions, jealousy and sexuality, and the terrible justification of murder. /…/ It is astonishingly administered by Sofi Oksanen in this book about "purging", in a combination of dimensions… that grabs hold of the reader to expose the inexorability of existence."

"The tension created [in Purge] by the alternating times makes it difficult for the reader to let go of the book. The book is beautifully constructed of short chapters, occurring in different times and eras, and still manages to weave a clear and continuous story, shadowed by constant guilt and terror."

"Oksanen knows how to tell a story, building the plot in a most interesting multi-layered way. The alternating consciousnesses, each from a different point of view of Aliide, Zara or Zara's grandfather (who is hiding in the attic) form a complex story – that of Aliide and her horrible deeds during the war, and that of Zara, forced into prostitution and having no contact with her family."

"An overwhelming reading experience. /…/ An intense suspense… takes hold of the reader from the very first lines. /…/ Oksanen is a tightrope walker. She has a sense for details, and gives them the required weight and significance. /…/ Sofi Oksanen has with this strong, literary narrative given us a unique insight not only into the modern history of Estonia. Piercingly and mercilessly she reveals the human detriment of brutal political regimes."

"Read Purge if you won't read another book this year. It is nominated for the Nordic Literary Prize and if it would be up to Elle, [Purge] would of course win it."

"An extraordinarily strong novel. /…/ Oksanen depicts the most horrifying in merciless detail. /…/ Oksanen is unusually skilled when it comes to building a dramatic structure. This is a brutal novel. It is brutally physical; it exposes the brutality in the greater and smaller games we play, and it is brutally suspenseful to read."

"Now and then I read books that are so good that I can't quite understand how the author does it. This applies to Purge. /…/ With an elegant cross cutting, the two women's stories unfold. /…/ Oksanen's strength as a storyteller lies in the implications, the details."

"What impresses the very most is the vibrant and precise prose, where small details often are what make the scenes ring true and authentic. /…/ As a depiction of Estonia during and after [World War II], I can't imagine anything other than that the novel is excellent: the picture of time and personal characteristics are absolutely convincing, one reads as if this simply must have happened."

"[Oksanen] has a fantastic ability to stage grotesque scenes that result in remarkable and intense observations. /…/ Sofi Oksanen is an unusually ambitious storyteller with a firm grasp of the many seemingly loose threads she tosses out. Although Purge is not a comfortable book to read, it is a terribly gratifying journey through time and space."

"[Sofi Oksanen is] a powerful new voice from Finland."

"As a drama, Purge (2007) was a theater event; as a published volume, it is a true reading experience. /…/ Now Oksanen the storyteller shows us that a novel is always a novel. The countryside of western Estonia in the 20th century smoulders in her new work as an epic place and time, giving this chronicle of the emotions of two generations of women an almost mythological context."

"The multidimensionality of Purge is startling."

"Weak when it comes to love, Aliide Truu's final solution has an Old Testament suddenness that is cathartic. /…/ Through Aliide's tragic history, Oksanen ties the political to the personal, to the present moment in history."

"The text is poetic, precise, and sparse. /…/ With her novel Purge, Sofi Oksanen leaps to the foremost ranks of Finnish writers."

"Sofi Oksanen's third novel brings the silenced stories of Estonia's present and its recent past into the open. /…/ Purge is a breathtaking novel dense with emotion that snares the reader from the very first pages. Oksanen's narrative carries us into its world. It is touching, horrifying, it makes us shudder and gasp for breath."

"Purge is a shockingly good novel – an extremely well-written book about shudderingly ugly things."

"Oksanen describes womanhood with the most perceptive of instincts: the bud of lightness and innocence, shyness, timidity, jealousy, sincerity, cunning, shame, and silence."

"The slow unfolding of the plot at the beginning of the novel is a pleasure to follow. The leisurely pace of the narrative enables the reader to remain in the minds of the characters. Towards the end of the novel, Oksanen cranks up the pace. Despite the denouement feeling inevitable, Oksanen manages to surprise her reader. This merciless novel is generous in leaving blanks for its reader to fill in."

"You'd think that almost four hundred pages of endless, tragic destinies would make its reader gasp for breath; this would be true if it were not for Oksanen's writing, which is so comfortingly poetic and mild. Her prose settles like a filter over the story, making it possible for the reader to embrace."

"A novel of love and betrayal, a tragedy of almost antique dimensions. /…/ Despite being crafted from such rich and multilayered material, [Purge] is a work surprisingly focused, dense, logical and to the point. The various narrative levels and points of view are smoothly varied and interconnected. The novel is aptly constructed and crafted; it is cruel, compelling, and nuanced. Purge vibrates with suspense: unspoken secrets and deeply shameful deeds which the characters are either exposed to or perform themselves spreads like a web over the book, forcing the reader to go on turning the pages. /…/ The writing is vivid, precise, and beautiful."

"The personal drama is given razor-sharp contours, and expands to become the drama of a people, a country, and a bloody political course of events. There are no heroes here; for me, as a person who has never found herself in the line of fire, Purge appears a model situation for occupation and impossible human choices. It is a very compelling piece."

"Sofi Oksanen's first play Purge, which unveils the recent history of Estonia, is the theater event of the season. Oksanen's viewpoint is inexorable and distinct. The pulse and density of the piece is reminiscent of a thriller, and as the evening progresses, the pace of the play is brought up. /…/ The point of view shifts between the occupation of 1945 and the 1990's, and the story is ingen-iously constructed… The ending is cathartic."

"This novel is a bravura work, deeply engaged with the knotted history described above, sparing but potent in its use of irony, and containing an empathic treatment of all the miserable choices Estonians faced during their periods of oppression. /…/ (…) [I]t is a book of our time. /…/ Amid these difficult and virulent historical debates, literature has a place — not to judge but to offer a window, the calm of understanding. Out of these immensely sensitive materials, Oksanen has crafted a stirring and humane work of art."

"In fluid and unadorned prose (beautifully translated by Lola Rogers), Oksanen gives poetic shape to unspeakable violence and illuminates the devastating process of remembering. /…/ For Estonians, who only regained independence from Russia in 1991, surely the unabashed eloquence of Oksanen's narrative marks an important step toward reconciliation with a past that has been silenced for too long."

"Purge's narrative turns between the mysterious and viscerally disturbing, which serves both women's stories well. The novel has a dark tone, cruel at times, but Oksanen's graceful prose plays well against it and creates a compelling and affecting read. I recommend it highly."

"Purge has been a huge success in Ms Oksanen's native Finland and has won prizes across continental Europe. It deserves an equal success now that it is available for an English-speaking audience."

"Sofi Oksanen has become a literary phenomenon… Purge is a flawed, brilliant piece of work that does not easily relinquish its grip on reader's imagination."

"With a mature, literary voice, the young Finnish writer Sofi Oksanen is trying to repair a tragic Estonian past. /…/ Her novel depicts the depths of human anguish and brutal oppression. But with so much grace and longing for joy that it becomes extremely soft and calming. The vibrant relationship between these two women… is magically beautiful."

"Sofi Oksanen depicts Aliide's and Zara's memories with a nervous and increasingly dense pace, with both realistic and poetic intensity. /…/ Sofi Oksanen paints this half-century tragedy with great force, cold anger and cruel irony."

"This novel is harsh and beautiful at the same time; it is impossible to put down in its admirable description of lying and fear."

"Sofi Oksanen moves back and forth in history, carving time with her penknife. /…/ So blossoming, loving and protective… her language seems made to heal the wounds of entire generations."

"Sofi Oksanen is a writer with a strong political vein that looks at the world from the point of view of the victim. /…/ [Oksanen] has a strong and fierce style without sentimentality. /…/ [Oksanen] is a cruel and resolute warrior like her writing."

"Purge tells two parallel stories of humiliation and violence against women during a tragic period in Estonian history."

"Purge tells a family story of rivalry, betrayal and desire during the years of Soviet occupation, Stalin's purges and the desperate resistance of Estonian partisans. /…/ [It] is a novel with a psychological dimension that tells with honesty a tragic chapter in European history."

"Purge is a story of violence, silence, (…) claustrophobia, shame and secrecy. [Purge is a] European story."

"The two parallel stories of Zara and Aliide interweave with tension in Purge at a tight pace until the final dramatic climax."

"Purge examines the traumas of the Estonian Nation during the Soviet occupation, with a double plot that binds past and present together. /…/ Loss of freedom and exploitation of women are two central topics that transcend any temporary frame."

"Sofi Oksanen is a great writer, passionate and cultivated, as her intense, rich, restless and sometimes almost morbid style reveals. /…/ With fascinating symbolic elements the novel shows a continuous dialogue between present and past."

"In Purge, Sofi Oksanen gives voice to those who never had one; never before have people like Zara and Aliide had a place in western literature."

"Purge is a story of gulag survival, repression and the tale of two sisters in love with the same man. Sofi Oksanen is a literary sensation and a very nice discovery. From Finland with pain."

"Purge is the award-winning novel written by Finnish writer Sofi Oksanen, a literary sensation that has sold the rights in twenty-six countries so far and that tells the tragedy of Estonia from the point of view of two women. /…/ This novel is about violence, humiliation and compromise of a nation that has long had to forget its identity. Purge is a story from the point of view of the women."

"Sofi Oksanen is a writer with a new and profound literary voice."

"Like in a thriller, we find two parallel stories about violence that tell the unhappy history of Estonian women."

"This family tragedy, written in a powerfully convincing style, has an irresistible allure – it's just as exciting as a thriller."

"At its very best, the story's realism yields to a dreamy, fairy-tale world, reaching far into the realms of femininity. /…/ With Purge, Sofi Oksanen has conceived a masterpiece: an historical novel summoning humanity's courage, suffering and guilt without passing judgment; a women's novel exalting femininity without resorting to ideology or triviality; a poignant, painful picture of communist paranoia, and a caustic criticism of the age, as well as a tribute to worldly sensuality and the importance of strong and close relationships. /…/ This young author is still but a rising star; we can expect galactic achievements from her in the future."

"The main characters in Sofi Oksanen's novel Purge are also driven to extremes. /…/ Oksanen manages with great talent to weave together both women's destinies into a multifarious and deeply touching story."

"[Purge is] a novel about rivalry, treason and guilt, in a system built on violence, where female victims are turned into perpetrators – across several generations."

"With a piercing intonation, following the varying states of mind and alternating between legato and staccato, Oksanen leads her readers through her characters' feelings and mental abysses. Sometimes it becomes down-right nauseating, but the author makes the feeling seem both natural and bearable. Even pornographic scenes are, in the same manner, as brutal as they are necessary. She dares to be both physical and sensual… without ever losing the novel's strong social anchorage."

"Exuberant, powerful and thrilling."

"Luminous pictures of women fleeing and trying to survive under the brutal supremacy of males. /…/ The exciting excursions into the past are ultimately brought together into a remarkable exposition of two human destinies. /…/ The discriminating style and the matter-of-fact tone gives a free rein to one's imagination and opens a way to identify with the main characters."

"In an impressive manner [Sofi Oksanen] demonstrates her razor-sharp ability to illuminate the human soul's gray areas, beyond good and evil."

"Right from the very first phrase the reader is captured by the story about a woman who will stop at nothing in her fight against the history of her lost country and her own destiny of lengthy suffering. /…/ Purge also has a slight touch of "gothic fiction" – story about love and treason, violence, terror and the unbearable."

"Exciting, moving, powerful, original, superb, it is very hard to find enough adjectives to do this internationally awarded novel justice."

"Oksanen is a heavenly storyteller and draws stronger and more impressive pictures in a few pages than others manage in 400 pages or a two hours long film. "

"It is a marvelous novel, one of those that make the reader a richer and better person. It is hard to imagine that a better novel will be published in Iceland this year."

"Purge is an unusually powerful novel and a well made work of art regardless of how you choose to look at it – at the material, construction, the language or the metaphors which in all the darkness keep elements of sly humor."

"A poignant story, virtually stammered out. /…/ New territory, new writer: a revelation."

"Exciting and forcefully written – a masterpiece."

"The new star on Finland's literary sky. /…/ In a truly captivating way, Oksanen manages to model these two women's lives during several decades of Estonian history, into a literary high-ranking form."

"The literary discovery of the season. /…/ It is a privilege to follow [Sofi Oksanen]'s conquest of the literary world."

"Breathless with suspense, one reads about the fate of two women with very different, yet utterly comparable experiences."

"Impressive psychological skill and artistically impressive transitions between dramatic scenes and detailed accounts of simple, rural life, as well as exact descriptions, matter-of-fact documents and concise diary entries. /…/ A poignant, brilliantly conceived novel."

"Sofi Oksanen manages to create a suprerbly interwoven and hair-raising story, where she skillfully blends different epochs and individual destinies. She shows how easy one can become a victim, shift from victim to offender, as well as be an offender, and the uncertain boundaries between the three."

"There is no real happy ending in Purge. /…/ But redemption, forgiveness, hope – in these lie the good ending of Sofi Oksanens extraordinary book."

"As Arnaldur Indridason, Stieg Larson and others, Sofi Oksanen builds secret bridges between a painful past and an unstable present."

"Purge scares, disturbs, enthralls. In short, you will not forget it."

"Purge is a stunning novel: for its plot, its narrative structure, its style and its psychological depictions of the characters."

"A harsh and enthralling novel about past and present."

"Sofi Oksanen's Purge is as much a novel of memory as it is a thriller with redemptive nuances."

"Finnish author Sofi Oksanen has written a very aesthetic novel in a sharp and rough language, far from being politically correct."

"Finnish writer Sofi Oksanen's Purge is a remarkable novel about violence and its consequences."

"Thousands of readers from all over the world have read and loved this strong and touching novel. Better than any documentary or TV show, Sofi Oksanen shows us the horrors of Soviet totalitarianism, with themes like trafficking at its center."

"Written in a rough and direct language, Purge is an amazing novel with a breathtaking narrative structure about two women victims of extreme violence. /…/ An amazing novel with a breathtaking pace."

"Sofi Oksanen's Purge is a rough and powerful portrait of Estonian history."

"Last year's literary sensation. /…/ Sofi Oksanen has written a complex and introspective novel. /…/ Finnish writer Sofi Oksanen shows the devastating effects of fear and humiliation in a rough and touching novel. Highly recommended!"

"Shame, loyalty and atonement go hand in hand in this family drama; gradually and in unknown territory, Sofi Oksanen leads the reader to a truly universal tragedy."

"Purge is a brilliant novel on several levels, but it is particularly in the presentation of the mystery throughout the story that Sofi Oksanen's enormous literary talent is evident."
Author

Sofi Oksanen

Published

2008

Genre

Pages

375

Reading material

Finnish edition

English edition

German edition

French edition

Spanish edition

Rights sold

Albania, Dituria

Arab World, Dar Al Adab

Arab World, Al Arabi

Azerbaijan, Qanun

Basque, Erein

Brazil, Record

Bulgaria, Perseus

Catalonia, La Magrana - RBA

Croatia, Fraktura

Czech Republic, Euromedia

Denmark, Gyldendal

Estonia, Varrak

Finland, WSOY

France, Stock

Galicia, Rinoceronte

Georgia, MTP

Germany, Kiepenheuer & Witsch

Hungary, Scolar

Iceland, Forlagid

India, Megha Books (Malayalam)

Israel, Kinneret-Zmora

Italy, Guanda

Japan, Hayakawa

Korea, Eunhaengamu

Latvia, Jumava

Lithuania, Versus Aureus

Mexico, Almadia

Netherlands, Ambo Anthos

North Macedonia, Goten Publishing

Norway, Oktober

Poland, Znak

Portugal, Alfaguara

Romania, Polirom

Russia, Limbus Press

Serbia, Carobna

Slovakia, Slovart

Slovenia, Didakta

Spain, Salamandra (World Spanish)

Sweden, Albert Bonniers

UK, Atlantic Books

Ukraine, Folio

US, Grove Atlantic (World English)

Film rights sold

Finland, Solar Films Inc