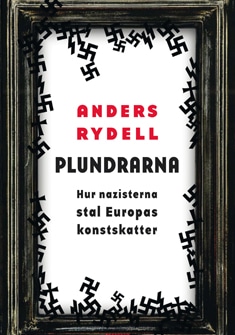 Mere days after the surrender of Nazi Germany an incredible discovery is made. Deep inside the Altaussee salt mine in the Austrian Alps, allied troops uncover one of the greatest art collections ever found: thousands of masterpieces by Rembrandt, Rubens, Michelangelo and many more see the light of day again after years of being hidden away. The discovery exposes the largest art heist in history. Between 1933 and 1945, the Nazis had stolen literally millions of antiquities and works of art. On direct orders from Hitler, specially trained troops were even deployed, sent across all of Europe with the explicit aim to plunder the continent of its art.
After the war, much of the stolen art was recovered in Altaussee and other sites, but more than 100 000 works remained missing. These works have begun resurfacing in the last decade, and many are found on display in the world's premier art institutions and museums in Paris, New York and Berlin.
In The Looters Anders Rydell seeks the roots of the Nazis' obsession with culture, and how art was at the very heart of politics in the Third Reich. Rydell traces the roots back to the 1800s, when the aesthetic ideals of Romanticism where fused with the concepts of race that had sprung up in Darwin's wake. Ideas that would form the foundation of National Socialism.
Rydell also follows the dramatic and embittered restitution processes in Europe, Russia and the US. Restitutions that have caused heated debate and diplomatic crises. The Looters is a novel about the descendants' moral right to their past, art valued at hundreds of millions of dollars, and the American lawyers that hunt down looted art with the aim of making big money.
Awards
The Foundation Bengt Janson's Memorial Fund Prize

Sweden
2018

Shortlisted for the August Prize

Sweden
2014
Close award list
Reviews
"A very well-informed book, rich in substance. /…/ factual and informative."

"My favorite! Suspenseful like a thriller, elucidating like a truth commission. Anders Rydell has written a brilliant book."

"The question of restitution will probably never be entirely settled. That is the sad but inevitable conclusion that Anders Rydell comes to after his highly fascinating account."

"In impressive detail Rydell recounts all the complicated turns of the looting /…/ It is too late for the August Prize, but the book really is a so-called eye-opener, and succeeds in combining solid history writing with excellent reportage."

"The Looters by Anders Rydell goes further than the debate about Cornelius Gurlitt or the film Monuments Men /…/ a book as suspenseful as a movie for the big screen."

"Rydell has written an utterly excellent book. Suspensful, sober and illuminating."

"This is vital reading in order to comprehend what was a combination of Nazi culture policy and extermination … There is also a highly interesting contemporary depiction here /…/ The book is a piece of wide-ranging cultural history."

"Anders Rydell demonstrates profound knowledge in addition to the story flowing forth like a well-written thriller /…/ A brilliant book."

"Rydell has written an utterly excellent book … quite a pioneering deed /…/ Interesting and well worth reading!"

"The Looters is a thrilling, incessantly interesting and rattling depiction of the Nazis' fanatic interest in art, both in theory and practice /…/ It is an incredibly captivating book, skillfully narrated, educational, suspenseful and upsetting."

"I am impressed by Anders Rydell's knowledge acquisition and smooth review of the international literature about the art thefts… He provides vivid descriptions of the race between different looting organizations and the Nazi leaders' rivalry regarding the finest art /…/ At the same time Rydell narrates effectively. The part about how the German central bank financed its luxury purchases in Paris actually made me cry."

"A detailed account of the looting is more than welcome /…/ Anders Rydell's The Looters is based on an awe-inspiring examination of existing material and is written with a fluent and talented pen."

"Anders Rydell skillfully depicts a very dark time, placing it all into context. He helps us understand the value of knowing your history."

"This non-fiction book is just as suspenseful as a fictitious thriller /…/ An admirable and deeply fascinating reportage of sky-high international class."

"Anders Rydell competently writes about the restitution process, the recovery of art works and entire collections after the war /…/ Rydell adds another piece to the puzzle, which aims the searchlight at ourselves."

"Anders Rydell has written a detailed and suspenseful depiction of how this huge art theft was organized /…/ The book is written in a suspenseful and engaging style and one can tell that Rydell has had solid source material to work with."

"Rydell's accessible style of writing is sometimes just as suspenseful as a thriller /…/ By focusing on one part of the Nazi tyranny, Rydell succeeds in giving a vivid picture of The Brown Dictatorship."
Author

Anders Rydell

Published

2013

Genre

Pages

358

Reading material

Swedish edition

Rights sold

Bulgaria, Iztok-Zapad

Czech Republic, Euromedia

Estonia, Hea Lugu

Germany, Campus

Hungary, Alexandra

Lithuania, Versus Aureus

Netherlands, Atlas Contact

Norway, Mime

Poland, Albatros

Russia, AST

Sweden, Ordfront