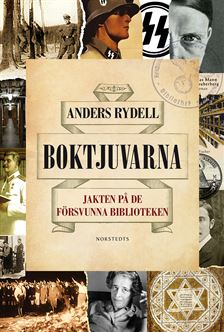 Boktjuvarna
The Book Thieves
The night of 10 May 1933, the squares and streets of Germany are illuminated by the flames of innumerable bonfires. At Berlin's Opernplatz 40,000 people have gathered to listen to the Minister of Propaganda Joseph Goebbels' inflammatory speech. In front of his massive audience he declares that the fires mark the end of the Weimar Republic's decadent cultural lifestyle. Books by Marx, Mann, Brecht and Hemingway all fall victim to the flames.
In the shadows of the book burnings lies another, less known story – the story of how the Nazis plundered thousands of libraries and stole millions of books in the countries they occupied. Two feared men, the SS chief Heinrich Himmler and the Nazi ideologist Alfred Rosenberg, were in fierce competition to claim possession of Europe's literary heritage. Himmler collected an immense library on the "enemies of the reich" in his SS headquarters in Berlin. The ideologist Alfred Rosenberg's plan was more ambitious – to lay down the foundation for a completely new Nazi system of research and education. In it the Third Reich's future elite leaders would be moulded and a series of new research institutes established to justify invasions and the genocide of Jews, Romanis, and political opponents.
In The Book Thieves Anders Rydell relates the story of one of the Nazis' most chilling ambitions. He has travelled across the European continent, following the thieves' trail in the hunt for the missing libraries and the whereabouts of the lost books.
Awards
Hislibris Historical Literature Award

(Best Historical Non-Fiction work of 2022) Spain
2023

The Foundation Bengt Janson's Memorial Fund Prize

Sweden
2018

Shortlisted for the 2017 Kirkus Prize

(Nonfiction) US
2017
Close award list
Reviews
"Anders Rydell has written a compelling book about [the Nazis'] attempt to author a cultural history without any influence from the Reich's enemies. /…/ Rydell's book is a gripping read. /…/ The Book Thieves is a personal, well-written, and greatly informative title /…/ that fills a big gap in the field of research."

"A fascinating and partly untold story about the greatest book theft in history."

"Anders Rydell has written an as harrowing as it is riveting book about the Nazis' plunder of Europe's libraries, a large-scale attack on its cultural heritage. /…/ One can only praise the expert work Rydell has done, resulting in a book that can be read as an educative thriller."

"Anders Rydell has written a fascinating cultural history account of the Germany that was transformed from the country of Goethe and Schiller, to that of Nürnberg, the Crystal Night, and the Holocaust."

"An engaging work on the Nazis' book thefts /…/ Rydell's work is dedicated and constitutes a solid mapping of the quiet work being done in Berlin, Vilnius, Prague, Paris and other cities. The author tells of the monstrosities committed in the best possible manner. He mixes his library visits and historical background with a consistently confident tone. It might appear cynical to talk about tone here, but Rydell's at times beautiful, at times matter-of-fact and restrained writing does wonders for the reader's engagement. Reality as it has been – and is today – does not have to be added to with emotionally loaded pointers."

"One can only state that [Anders Rydell] has done it again /…/ The presentation has a depictive momentum and objective lucidity. The Book Thieves is a historical commentary of the highest quality. /…/ The symbolism is as arresting as it is appropriate. This makes The Book Thieves into something much more than just a gripping tale of Europe's darkest years."

"Just like in Rydell's August Prize nominated book The Looters from 2013, wherein the Nazis' great art thefts were uncovered, The Book Thieves opens the way for a multitude of fascinating perspectives and angles."

"Dante had Virgil as his guide in the Inferno. Rydell guides the reader through the different circles of the Hell on Earth that the Nazis created."

"Rydell is an extremely effective popular history expert who solidly maps not only the book plundering, but also summarizes its long history."

"An erudite exploration of the systematic plundering of libraries and book collections by Nazi invaders. /…/ An engrossing, haunting journey for bibliophiles and World War II historians."

"[Anders] Rydell's book is also the story of the rich cultural heritage of the European Jews, destroyed by the Nazis. It is a distinguished piece of writing on history, built on extensive source materials, where he visits libraries and collections to find the history behind the stolen books. [The Book Thieves] is full of dramatic stories about missing persons, whose one remaining proof of existence left to us today is a book with their name in it."

"Anders Rydell's unsettling work is a journey into the Nazi mind, a direct meeting with the totalitarian mindset, unfolded into a large-scale and concrete plan of action."

"The Book Thieves is [a book] for us that want to dig deep into the Nazi soil."

"The well-told story about the Nazis' many book thefts during World War II is as thrilling as a crime fiction novel."

"[The Book Thieves] is a chilling reminder of Hitler's twisted power."

"Anders Rydell's writing is intelligent and gripping as he leads us across Europe in an effort to track this story and bring it to the forefront of our consciousness."

"Swedish journalist Anders Rydell has undertaken the important and challenging task of chronicling the various efforts that are underway to identify and return stolen books. /…/ Rydell not only documents the myriad historical crimes, he also interviews librarians and researchers, in Germany and elsewhere, who are trying to return the stolen works to their rightful owners – or their descendants. /…/ This is a most valuable book, published here at a time when some are aggressively arguing that
facts are in the eye of the beholder."

"[In The Book Thieves] Rydell makes the important point that books are not just property, they are "keepers of memories." He sees them as messengers from an all-but-vanished past that can be reunited in the present with the descendants of those persecuted by the Third Reich and its allies."

"The Book Thieves fills in an often neglected aspect of the Holocaust, the destruction of literary memory. Reader-friendly and a riveting account, the book deserves a large readership."

"Rydell's passion for the subject is undeniable. Serving as a courier, he manages to convey the emotional power of returning even a single book to a grateful descendant who has lost so much else."

"The Book Thieves is a haunting reminder of the power of the written word."

"Fast-paced and well-written"

"Seeing Rydell reunite this book with the ancestors of its rightful owner is one of the more powerful things I have read in a long while."

"The Book Thieves tells an important story and readers interested in understanding the full impact of the inferno Germany unleashed in World War II would do well to read Rydell's tome."

"His approach is as thorough and sparkling as it is moving and revealing. /…/ [In The Book Thieves] Rydell shows the aim of the Third Reich to not only be victorious on the battlefield, but also with the power of words."

"Anders Rydell has written a very intriguing book about this subject."

"The Book Thieves is a trenchant and, in parts, elegiac work. It, too, can now serve as a keeper of memory about what once there was and what was then lost in European Jewry's greatest tragedy."

"Rydell's tale is a fascinating blend of intellectual history, detective story, and "restitution activism" that cannot help but inspire its readers."

"The idea that Nazis would care for, seek out and collect books by Jewish authors seems antithetical to their ideology and everything we have come to know about them. This is why Anders Rydell's The Book Thieves is at once so surprising and important."

"The Book Thieves is a brilliant example of how first-hand literary enquiries can go nicely with history research. [The Book Thieves] is both an educational and a highly topical book that serves to at least give an ounce of justice to those murdered and their cultures."

"Rydell's at times beautiful, at times very factual and sober way of writing contributes wonderfully to the reading experience."
Author

Anders Rydell

Published

2015

Genre

Pages

368

Reading material

Swedish edition

Rights sold

Brazil, Planeta

China, Commercial Press (Simplified Chinese)

Czech Republic, Zlin

Denmark, Informations Forlag

Finland, Gummerus

Italy, Centauria

Japan, Kokusho Kankokai

Lithuania, Versus Aureus

Netherlands, Atlas Contact

Norway, Mime

Russia, Ripol

Spain, Desperta Ferro Ediciones

Sweden, Norstedts

Taiwan, Marco Polo (Complex Chinese)

Ukraine, Ranok

US, Viking (World English)