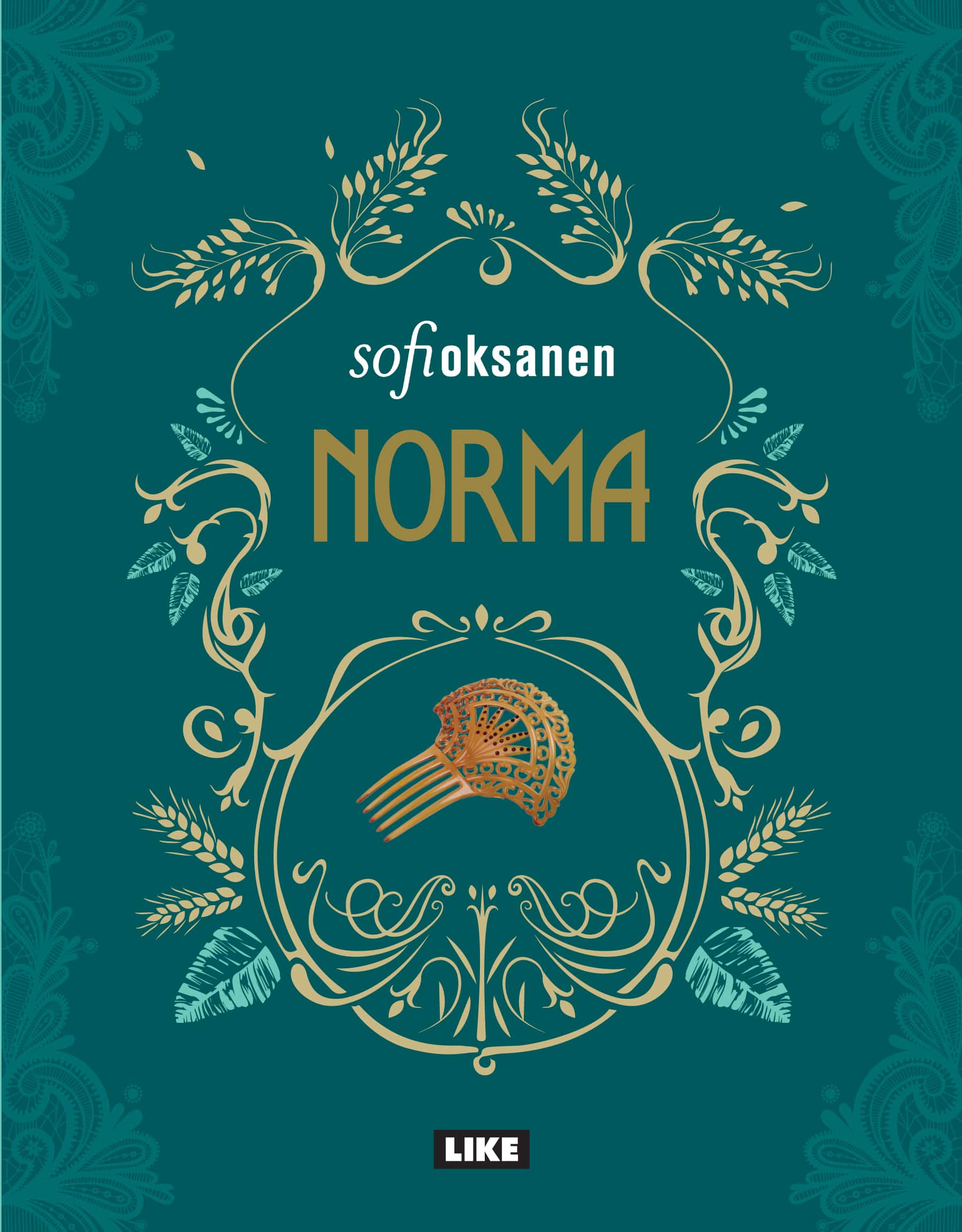 When her mother suddenly dies in a suspicious accident, Norma Ross is left with no one. The two have been constant companions throughout her life, tied together by blood as well as a great secret. Inside of Norma an extraordinary magic is at work, and it has both blessed and cursed her with supernaturally fast-growing hair, sensitive to the slightest change of mood. All of her life Norma and her mother Anita have struggled to keep this secret, and protect Norma from those who would consider her a freak. Now after Anita's death, photographs and videos in her home reveal that Norma's mother knew far more about her daughter's affliction than she let on.
To find the answer to who is responsible for her mother's death, Norma begins to work at the same salon as Anita did. But just as Norma has her motives for taking the job, so do her employer and the patriarch of the family running the salon have theirs for bringing her into the fold. Trapped in a net of deceit and paranoia, Norma must fight for her freedom – and for the truth.
Sofi Oksanen's Norma is a dark family drama with fantastical undertones. Oksanen is spellbinding as she elegantly weaves together the past with the present and introduces the compelling character Norma and her world.
Reviews
"Finnish Sofi Oksanen makes us dive deep into a thriller that combines intrigue, magical realism, and social commentary with a disturbing plot about mafia networks that exploit women."

"In 2011 we read Purge, a brilliant novel by Sofi Oksanen that made us long for more. It's been a long wait, but it's been worth it: Norma is surprisingly dynamic, covering everything from fantasy to magical realism – but first and foremost it's a work of family intrigues and discoveries. /…/ [An] excellent novel."

"The author draws on all her resources in the form of plot-creation, imagination, and even magical realism to address important questions and explore hidden truths in society and families."

"[Sofi Oksanen] spellbinds readers with her radical social commentary, her unwavering defense of women's rights, and her original way of portraying modern-day society. Her works plant a seed that sprouts into quality texts, […] with a mix of exquisite sensitivity and intelligence. /…/ In Norma, Oksanen uses all the literary resources at her disposal to address the theme of the seduced woman, bent by cosmetics and by a need that's deeply rooted in paternalism: the obligation to look good for men. /…/ Books like this reminds one of those by writers like Bernardine Evaristo, Zadie Smith, or Chimamanda Ngozi Adichie, among others. Novels where we understand that […] human beings must learn to reorient themselves in order to guide the ship of humanity towards the unknown."

"Oksanen writes beautifully. She brings rhythm to the text, plays with sentences, and builds landscapes with her words."

"The sentences are constructed with an eye for rhythm, and the juicy, detailed observations make the novel's universe a lush one, and the reading experience a pure pleasure. /…/ In the novel Oksanen carries forward multiple plot threads, all of which are skillfully connected. Norma is not only the story of a young woman and her identity, both perched on the outskirts of the ordinary, but also a suspenseful crime mystery, and a story about the process of solving it. /…/ Oksanen knows how to handle subject matter that might to many seem trivial. In this sense Oksanen makes the most out of the hair motif, something which has a huge impact on the everyday life of women. Directing the spotlight at female hair is in other words a political statement when done by an author. /…/ In the middle of all the suspense and thrills, Norma nevertheless has its playful elements. The novel just keeps giving, creating new ways of reading and making one hope that this isn't the end of Norma's story"

"A bold and fascinating leap away from Estonia-related historical and realistic narratives. You are surprised by the theme as well as how it is structured. It distances itself from traditional realism, entering the territory of mystic and magical realism."

"A novel that fulfills all international criteria, a thriller with the potential to become a TV-series that would be broadcast from Kallio all the way to Bangkok."

"Once again Oksanen's writing is rich and the sentences flow. The plot moves forward like a detective story, in an entertaining way. The choice of genre is a success, because without the supernatural spice the story might have been even too realistic. With its universal story, it's easy to imagine the novel succeeding also abroad."

"After Purge and When the Doves Disappeared, Oksanen's new novel surprises and delights: first with its style, then with its goals, and finally with its artistry… As the mystery gathers momentum, the wind catches her hair and Norma really begins to fly."

"One must say: Sofi Oksanen knows how to surprise."

"The narrators and timelines alternate at a fast pace and weave an extraordinary web – the story is compelling and addictive. /…/ [The novel has] the elements of a crime novel: its elaborately developed plot and keen-eyed psychology keep the reader in a tight grip. When on top of this some elements of fantasy are added, one can only say that the novel is one of a kind, and that in a good way."

"Norma is addictive, lucid, breathtakingly suspenseful, and on top of this stunningly observant, eerily well-researched, critical, with feminist overtones and very, very relatable."

"Sofi Oksanen's new novel is a mystical thriller about the shady beauty business. /…/ A multi-layered thriller, [Norma] is set in contemporary times and Finland, but still comes with the themes we are used to seeing in connection with Oksanen: global crime and criminal businesses related to women, male dominance, and the tough choices people are forced to make when in trouble. /…/ The story is compelling and there are more than enough interesting twists and turns. Much of the subject matter at hand is realistic and topical, but the story includes also a strange magic and a unique logic of its own. /…/ Though one can binge read the novel fast, many of its themes will stay with you for a long time. The sign of a really good book."

"Sofi Oksanen is one of the brightest shining stars in Nordic literature. /…/ I want to devour [Norma] whole – and at the same time pause to make it last longer. Sofi Oksanen is simply fantastic, and here she is at her best."

"Norma's home in Kallio is both a textual and sensual experience; the prose crackles in the description of the subway's stench, the subdued hum of the hair salon. /…/ In the end it is the hair that stays with me. … Is it [a symbol of] beauty? No, alienation. No, whiteness. Or maybe love, fertility. "Maybe all of it," I think to myself. "All of it at once." It's an exciting ambition."

"Sofi Oksanen leaves no one unmoved, some sentences are like a hard punch to the head. Wake up!! they say. See the reality. /…/ Sofi Oksanen has command of the language, and writes with a smart and cutting prose that stings."

"Oksanen's Norma is, in short, a highly topical and elegant double-edged thriller for our time."

"To me, Norma is a page-turner that makes me smile in delight over its whimsicality, but likewise from time to time be moved by the exploitation of women who here – despite the fictive setting – feel utterly in line with reality."

"There is something tough and inexorable about Sofi Oksanen, a feeling that she grabs the reader and demands that we listen. The prose is lucid and concise, at times educative, at times more poetic, but always with a strong sense of gravity and urgency. /…/ In Oksanen's literary hands, Norma is transformed into an urgent story of beauty ideals, fertility and women's vulnerability to exploitation. It's a novel that chooses its own path as Norma explores the past and seeks her future."

"Sofi Oksanen is never boring, often political, and possesses a rare ability to find stories that are told as if from an angle, perspectives that make one's perception of for instance a phenomenon or historical event take on a different character. She has an infallible talent for characterizations, moods and dialogue."

"Oksanen wields her quill skillfully and soon you realize that there is so much more to be found between the lines. /…/ Oksanen naturally wishes to be norm critical and transborder also in terms of genre – and succeeds!"

"Sofi Oksanen is a sharply intelligent and brilliant literary author, without a doubt one of the greatest in the Nordic countries. / …/ She is such a fantastic storyteller that one cannot help but be carried away."

"Sofi Oksanen has written an ambitious genre hybrid /…/ a socially critical feministic thriller /…/ In her story about Norma Ross – who is a hybrid between two women with iconic hair, Norma Jean and Diana Ross – Sofi Oksanen puts focus on the cultural history of hair: the female hair, which is associated with the history of sexuality, with emancipation and suppression, and which is continuously, covered or not, not least the black woman's natural hair, the subject of debate. "

"Adventure is mixed with realism and magic with criticism when the story about Norma, which is everything but normal, unravels in a highly ramified thriller plot with trails tracing back to a dark past and a persecuted grandmother. /…/ [Norma is an] understated contemporary satire and a tender portrait of an outsider."

"Pulp romance and political fantasy in Sofi Oksanen's forever surprising authorship. /…/ a reminder of the global consumption community, where all the [female] body's resources, from hair to womb, are for sale. "

"[Norma is a story] about how easily women can be exchanged and exploited by men and money in modern reality. Important and relevant stuff. "

"Sofi Oksanen combines magical realism, hyper sensitive hair, and critique of an appearance-focused society /…/ a thriller-like, symbolic drama /…/ [Norma is a] well-written and poetic piece of hair crime fiction."

"Sofi Oksanen's view on life is not for optimists. But however black the contents of her novels are when depicting life, the Estonian-Finnish author writes like an angel of light. "

"The Estonian-Finnish author Sofi Oksanen is one of the Nordic countries' best feminist writers. "

"A surprising suspense novel /…/ the patient reader is rewarded with a unique mix of raw mafia and mystery. "

"Alright, hold on tight, because this is the best novel you will read this fall /…/ [Norma] is wonderful and should get 7 hearts."

"Extremely well-researched and always with a focus on the women /…/ If you're into a mix of gothic novels, magical realism, feminism and social criticism, then Norma is just right for you."

"Combining suspense, magical realism, feminism and social criticism, Norma is a peculiar and metaphorical novel /…/ The power of the female body, the language of smells, the fear of being a freak, and a sort of "terrible realism": Cronenberg would be a good candidate for a film adaptation."

"A hair-raising thriller."

"With this amazing novel, Oksanen finds her second wind."

"A Toni Morrisson from the far North."

"The author shows us that she is able to renew herself brilliantly and explore new territories, keeping the narrative power she is known for, as well as an obvious skill in grasping the darkness and the complexity of the world."

"Norma is a thriller where magic stands alongside realism. /…/ The position of women and the fight against the exploitation of their bodies is at the heart of Sofi Oksanen's concerns."

"A baroque narrative and a Donna Tartt– or Tim Burton-like universe. /…/ [Norma] gifts the readers with moments of exaltation, as if they were facing a rare, strange and bewitching fragrance."

"A peculiar and disturbing novel evoking the universe of the filmmaker David Cronenberg. /…/ Norma impresses as much as it sends shivers down our spines."

"True to herself, Oksanen denounces a globalization turning human beings into merchandise. She also carries us towards madness and the decline of women's position. /…/ A hair-raising novel."

"An amazing, cunningly far-fetched feminist thriller. /…/ Norma is a touching depiction of an outsider trying to escape her fate of becoming a freak, lined with a social criticism denouncing the commercial exploitation of women's bodies, from their wombs to their hair."
Author

Sofi Oksanen

Published

2015

Genre

Pages

300

Reading material

Finnish edition

English edition

Rights sold

Brazil, Record

Canada, Anansi

Croatia, Fraktura

Czech Republic, Euromedia

Denmark, Rosinante

Estonia, Varrak

Finland, Like

France, Stock

Germany, Kiepenheuer & Witsch

Greece, Patakis

Hungary, Scolar

Iceland, Forlagid

Italy, Feltrinelli

Latvia, Zvaigzne ABC

Lithuania, Versus Aureus

Netherlands, Prometheus

Norway, Oktober

Poland, Znak

Portugal, Alfaguara

Spain, Salamandra

Sweden, Albert Bonniers

UK, Atlantic Books

Ukraine, Folio

US, Knopf