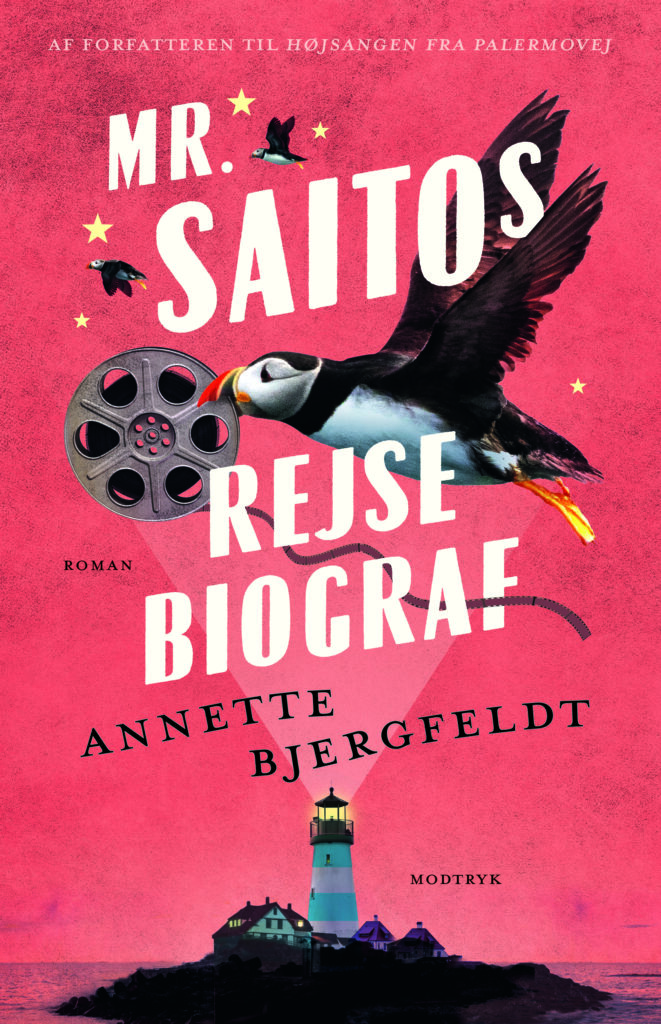 Mr. Saitos Rejsebiograf
Mr Saito's Traveling Cinema
An infant is left in a shoebox on the doorstep of Buenos Aires' Magdalene Monastery and is given the name Fabiola by the nuns. Early in life the rebellious Fabiola develops a propensity for finding the perfect pair of shoes for any given individual. Besides becoming the unlikely top seller of Buenos Aires' most famous and affluent shoe store, she also – to the nuns' dismay – becomes a teenage mother to the headstrong girl Lita.
Revolutionary times eventually force the mother and daughter-duo to flee Argentina with their sight set on Europe, but circumstances have them instead end up on a tiny, windswept island in North Foundland. Here Fabiola reluctantly takes up work selling unglamorous wellies and clogs in the island's general store as they move into the sailor's home of Bethlehem. Bethlehem, the beating heart of the island, houses a bountiful of eccentric and endearing characters; among them the hosts' deaf daughter Oona McGregor that becomes Lita's best friend. As Lita tries to navigate her way in the world it becomes the annual visits by Mr Saito's traveling cinema – bringing moving pictures from around the world to the isolated isle – that will entirely change the trajectory of her destiny.
Mr Saito's Traveling Cinema is an irresistible odyssey about heart rhythms, fisher boys with amber eyes and finding family in unexpected places. About runaway tango shoes, life's outtakes and love in all its forms.
Reviews
"The linguistic wit and the quirky characters are both wild and brilliant in Annette Bjergfeldt's imaginative love story. /…/ The novel is structured as 'A love story in seven waves' and one notes from the very first wave on (…) that this is a funny, imaginative tale made to laugh at and with. /…/ Mr Saito's Traveling Cinema portrays in a wild and imaginative way a girl's transition from adolescence to adulthood. (…) It made me laugh out loud on several occasions."

"An utterly extraordinary, accomplished and moving love story. /…/ A riveting tale about puffins, wellies, tango shoes and quirky characters. I LOVED this novel."

"A real charmer of a novel! With Mr Saito's Traveling Cinema Annette Bjergfeldt has written a narrative, that goes straight to the heart of those who love adventure and passion. Every single line of the 444 pages is a linguistic firework in all of the rainbow's colours – along with a couple more that you have yet to experience. Mr Saito's Traveling Cinema is a good vying candidate for the best Danish publication of the year. Annette Bjergfeldt is exceptionally talented and writes with both head and heart, wit and bite and a mood that's more effectively contagious than happy pills."

"Following her success with When Life Gives You Hippos, Annette Bjergfeldt has us impressed with her second novel that invites its readers along for another spectacular world tour. /…/ Annette Bjergfeldt made her debut with When Life Gives You Hippos in 2020 and rarely has a Danish novelist made such a compelling entrance on the literary scene. It can't have been an easy task to follow up the adventurous debut with a second novel – but with Mr Saito's Traveling Cinema Bjergfeldt fortunately succeeds in creating just as colorful a universe and an equally enjoyable gallery of characters as in her debut. /…/ As a cinephile I can't but rejoice in Bjergfeldt's enchanting descriptions of the early moviemaking magic. /…/ It's a classic coming-of-age take, yet there is nothing classic about Mr Saito's Traveling Cinema. (…) The novel is painted in broad strokes and yet Bjergfeldt always have an eye for the small details – the beauty of the moment, as Lita and Oona calls it, as they head out on their own odyssey with Mr Saito's traveling cinema. Bjergfeldt is adept at sketching out the character portrayals with precision and lingual abundance. (…) But she is also skilled at portraying all of life's emotions – from the greatest happiness to Lita's most profound heartbreak. /…/ Annette Bjergfeldt cannot possibly have experienced all that the novel's protagonists go through, but her portrayals comes across as real, lived lives and as reader you're immersed in it from first word to last wave splash."

"It's rare that I feel like throwing all stars and hearts at a book, because there's always something that could be done better or differently. But I am utterly unreserved about Annette Bjergfeldt's new novel, Mr. Saito's Traveling Cinema. It deserves all the praise it can get. /…/ This story is delightfully rich in imagery, wondrous and beautifully human. /…/ I'm a good crier, am easily moved and I'm not the least bit ashamed when my eyes pour over. But all in moderation. That doesn't apply here however, I've never sobbed as much to a book as I have to this one! Quietly, beautifully and softly. (…) [Annette Bjergfeldt] achieves to move me and to have me immersed in Lita's vast and profound emotions; the longing for love, the break ups, loss and the dreams of getting away. /…/ Sometimes you read a book that you'd rather have never end, Mr Saito's Traveling Cinema is just that kind of book."

"The language is something extraordinary in this novel. It's bold and rugged, like the surf sweeping against Puffin island, but also musical and challenging like a tango. The metaphors are glorious, the novel is filled with puffins, unrests in the deckhouse, amber in eyes and shoes that in many ways tells something about their owner. It's a novel with a great love for the outsiders, the misfits, the impossible people that find it hard to make it in the world. They are all given a place in Mr Saito's Traveling Cinema."

"Annette Bjergfeldt is a talented storyteller and her imaginative and adventurous book is written with heart and a heavy dose of witty humour in a blend of magic and realism, sorrow and love. It's not a classic feel-good novel, but in spite of some harsh fates, it's filled with humour and stories that brings out the smile. The gallery of characters and the atmosphere brings the thought to John Irving's The Hotel New Hampshire."

"Rarely have I been as entertained as when reading Mr Saito's Traveling Cinema – a spirited and absolutely wonderful story! /…/ The book is imaginative, alluring, magical and adventurous (…) it's the way  that the story is told in that creates the sparks and fireworks. The tales literary leap out of every page and shimmers delightfully towards its readers. /…/ A stunning novel, I wouldn't have wanted to miss out on – a giant vitamin pill that leaves the blood running faster and the readers smiling."
Author

Annette Bjergfeldt

Published

2023

Genre

Pages

442

Reading material

Danish edition

English translation

Rights sold

Czech Republic, Host

Denmark, Modtryk

Estonia, Rahva Raamat

Finland, Into Kustannus

Netherlands, Signatuur

Russia, Inspiria

Serbia, Laguna

Slovakia, Premedia