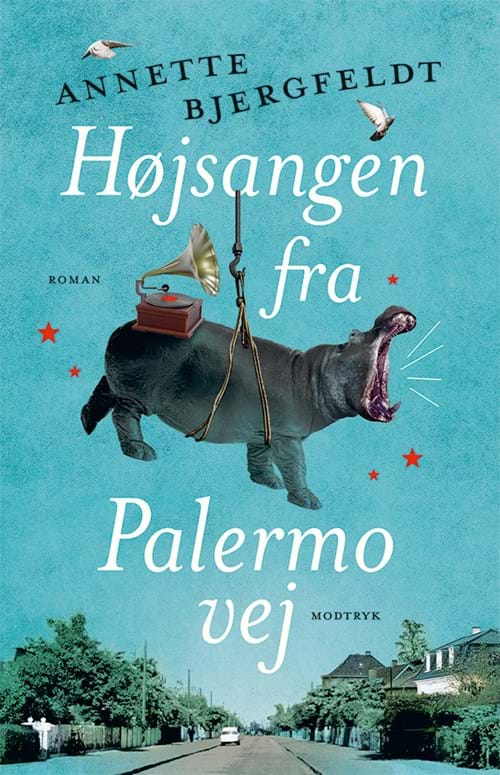 Højsangen fra Palermovej
When Life Gives You Hippos
When Esther's grandfather Hannibal purchases the house on Palermo Road on the Danish island of Amager in 1921, he envisions a home filled with opera, bohemians, and a love as intoxicating as the one outlined in the mighty Song of Salomon. But for his bride, the Russian contortionist Varinka, the age of miracles ended the moment she saw her first love disappear into the maws of a hippo. A hippo that, to add insult to injury, was supposed to have been an elephant, and the new star of her father's circus.
Hannibal and Varinka's daughter, the glamour-loving-and-possibly-psychic air stewardess Eva, finds a far more passionate love story when she falls for the Swedish pigeon-tamer Jan Gustav. Hannibal's quest for love and artistry is then passed on to his grandchildren, the twins Esther and Olga, who both compete for the epithet of the young artist of the family. The twins' older sister Filippa is meanwhile more preoccupied with becoming the first female cosmonaut, before illness claims her life.
When Life Gives You Hippos is a life-affirming and unforgettable novel about the pursuit of the Love of the Century. About enduring great loss and giving it another chance anyway. A saga told through the eyes of the timid painter Esther, When Life Gives You Hippos follows three generations living under the same roof, with touchdowns in the Parisian opera scene and the Circus Sowalskaja on the outskirts of St Petersburg.
Awards
Shortlisted for the Martha Award

Denmark
2021

Shortlisted for the Mofibo Awards

(Best Fiction) Denmark
2021

Shortlisted for BogForum's Debut Award

Denmark
2020
Close award list
Reviews
"A beautiful, poetic novel with a lot of life truths. A beautiful, peaceful yet sparkling read about art, but also of ordinary things. /…/ We have before us a story full of dreams, desire, love, disappointment and second chances . In short, a story about life as it is. (…) Annette Bjergfeldt was able to express it perfectly by using beautiful word play in her own unique way. /…/ I thought for a long time about which quotes to choose so that they would be as concise as possible, but it was very difficult. I would like to rewrite the whole book for you here, it is so beautiful. I couldn't tear myself away from it and every day I looked forward to reading again in the evening. And since I wish you the same enjoyment, I warmly recommend When Life Gives You Hippos."

"There is a firework of imagination, a juggling with words and sentences and an utterly staggering story, that unfolds across the pages of Annette Bjergfelts debut novel. /…/ It's undescribably funnily written, and Bjergfeldt's play on words and sentences is an exquisite pleasure to read – and above that it's an insanely funny and clever tale. A magnificent novel that sparkles with humor."

"With its gallery of characters, the very opposite of onedimensional actors, Annette Bjergfeldt has written a book that's out of the ordinary, with an almost unbridled wealth of imagination."

"[Annette Bjergfeldt] takes us on a wild ride through the generations. /…/ The way the language is used brings joy. /…/ Grandmother Varinka is an entirely unique character, to the extent that I've taken her motto to heart. Every time she hears someone tell of troubles and betrayals from others, it comes flying out of her mouth: Ignore the arsehole! /…/ Annette Bjergfeldt has some delightful expressions – she plays with the language. /…/ In the same way that Annette Bjergfeldt weaves her beautiful sentences together with all the characters' misadventures, she also manages to interweave the gruesome story at the neighbours' with her own very loving family's everyday. It's very nicely done. /…/ And am grateful for the great amounts of humor in the text.  I have laughed a lot, reading about these marvelous people so much like the rest of us. /…/ It's a wonderful imaginative novel that Annette Bjergfeldt has written. With a touch of magic."

"In her debut novel, Annette Bjergfeldt pulls out all the stops and paints a swinging and charming Amagerian generational saga with bold strokes. /…/ There's a melodious oomph to the text, that with light steps waltzes though all the tragedies, romances and comedy that life throws in the characters' way. /…/ In style […] Bjergfeldt is reminiscent of Swedish role models such as Jonas Jonasson and Fredrik Backman. /…/ As a loud declaration of love to life in all its colors, When Life Gives You Hippos will make you want to sing its praise from the rooftops."

"Annette Bjergfeldt is the master of words and this is a knockout of a debut. /…/ I went through the entire emotional spectrum while reading and had troubles putting it down. /…/ [When Life Gives You Hippos] remains steadily within me like an everlasting flower that grows more and more beautiful as time goes by."

"Weaves together a fantastically delightful, inspirational and creatively motivational piece about life, happiness and love. /…/ The author has a brilliant imagination. /…/  All of [When Life Gives You Hippo's] crazy digressions brings to mind John Irving and his authorship. /…/ Annette Bjergfeldt writes splendidly, one is left feeling incredibly entertained. /…/ The novel is uplifting, the language both dramatic and inventive – one becomes both happy and surprised at such innovative sentences – and all in all we're talking about a renewal of Danish literature."

"[Bjergfeldt] intertwines the history of Europe with a fantastic generational tale. /…/ The narrative rolls, curves and twists, making you hold on to your armchair with one hand and the book with the other."

"[Bjergfeldt] writes her socks off in her beautiful, old-school debut novel. /…/ Even the most grey-speckled Amager day is granted streaks of color and lusciousness; dullness and boredom are transformed into small buds of effervescent life force, and triviality and monotony blossom into daisies and brightly colored perennials. That's the way things are for the first–person narrator in Annette Bjergfeldt's stunning novel. The middle-aged, childless and timid painter Esther could be confused for a spinster, but beneath Annette Bjergfeldt's pen strokes she and her family history unfold through flourishing language and plot-saturated blooms, such that one is overwhelmed by form, color and passionate storytelling. /…/ When Life Gives You Hippos is a charming and life–affirming generational tale, and the author […] surely and hopefully is one we will be reading more of. Annette Bjergfeldt's writing style swells with life force and loud humor."

"[When Life Gives You Hippos] is wondrously great entertainment, and by the time it dawns on you that this entire adventure at its heart is about longing and love over the course of over 100 years, one is so immersed in this universe that it's simply impossible to leave. Enjoy!"

"An incredible horn of abundance that gets the wheels turning inside the reader's head. /…/ In the novel, the sublime and the grotesque are blended into what together can be called life. /…/ No other animal than the hippopotamus on the cover could illustrate the ruggedness, warmth and beauty of the story – not to mention the surprise reading it gives. /…/ Amidst the exhilarating linguistic rejoicing, Bjergfeldt conveys a message of respect for the dignity of every individual and acceptance of life in all its diversity."

"I was fascinated by When Life Gives You Hippos by Annette Bjergfeldt and am glad to have picked it up."

"[I] suddenly find myself in the midst of an astounding family saga that truly knocks me right over with its roaring narrative zest! /…/ Bjergfeldt writes with such exuberant wit, so colorfully and so ingeniously that I lose my breath out of joy. /…/ I'm elated, I'm impressed and I sincerely hope that many Swedish readers will discover Annette Bjergfeldt."

"When Life Gives You Hippos quickly captivates its reader, then refuses to let go. Music, art and love propels the story forwards, where one constantly oscillates between darkness and lightness on a roller coaster that is felt with every fibre of your body. The language always remains attuned with the content and Bjergfeldt certainly masters the art of storytelling. /…/ Here are also poignant sentences that makes the otherwise rather high tempo pause for a beat. (…) Then the music sets off again and one dances out of the book marinated in life zest. That is what I call feelgood."

"A family saga can take many shapes and forms, but never have I read such a strikingly funny tale as this one about the generations residing in the house on Palermo Road in Copenhagen. /…/ Make sure to read [When Life Gives You Hippos] for its humor, indulgently lap up its finest formulations and find yourself breathless at all the insights that dawn on you once you've stopped laughing."

"What an astounding talent! /…/ A debut such as this, that instills you with the feeling of experiencing something truly special, only comes around once a year at the most. /…/ This is a magical adult saga, just surrender yourself and savor it."

"A wild and exuberant novel about the longing for love. A colorful generational tale filled with striking humor and a language that takes your breath away. /…/ When Life Gives You Hippos is a true literary adventure, one can tell from the get-go. /…/ In this epic, well-composed novel we follow three generations throughout a century. /…/ The novel is a proper tall tale with its strong personalities depicted with dark humor and a clear-eyed characterization that oscillates between the grotesque and the delightfully lyrical in tonality. /…/ This wildly fabulating, well-written story about the pursuit of the great love is a win thanks to its humor, unique charm and musicality. It unfolds into a darkly dramatic feel-good novel, filled with unyielding life zest and a love for all things beautiful."

"A wonderful generational tale about a Danish-Russian-Swedish family in Copenhagen told with irresistible dark humour and such a colourful linguistic finesse that it leaves you breathless. Parables and metaphors are bounced around in fantastical, acrobatic leaps for joy. /…/ Anecdotes that are tragicomic, outrageous and memorable are woven into the continuously unfolding present tense which at exhilarating speed brings us through the decades. /…/ In spite of all the misery that occurs, deaths, betrayals, lies, the construction of the novel rests upon a positive fundamental tone that keeps the reader in a good mood throughout, even though you hold your breath at times. This is the best debut novel I've ever read."

"[T]he rich flow of words has both sharpness and musicality./…/ Bjergfeldt paints a rich world populated with unique individuals and animals, where the sense of time and the city are constantly present. When Life Gives You Hippos is undeniably an impressive debut. It's an ingenious and in the best sense fantastic tale, elegantly constructed and linguistically exuberant. Romantic yes, but also twisted, humoristic and dark. Reading it is a little bit like going to the opera, you simply have to lower your guard and allow yourself to be swept away."

"When Life Gives You Hippos sails up as one of my top five reader's experiences of 2021. It is an exuberant and hilarious tale. /…/ I have savored this story, laughed and cried. Make sure to note the name Annette Bjergfeldt – what a debut!"

"A book that irresistibly draws you in. /…/ All those lives and dreams overlap in a breathtaking mosaic and are portrayed in a language that is as wonderful as it is imaginative, with a fair portion of humour. /…/ Highly recommended for those who love John Irving."

"[An] astonishing family tale. /…/ Bjergfeldt's writing is crisp and witty, with many references to opera and literature."

"I feel sorry for every reader who does not taste the original song of songs. Who won't get to read about Varinka or the hippo in the Sovalskaya circus, who won't hear Olga sing (I seriously feel like I heard her sing on the pages), who won't see Esther's animal paintings (same feeling) and who won't recognize my most favorite character, Igor the greyhound. /…/ I feel like it's clear how much this book enchanted me, but I'll just point it out just to be sure. In the end, I completely fell for the narration of When Life Gives You Hippos."

"An equally hilarious and moving generational tale."

"Many a situation unfolds that brings smiles and tears alike. /…/ With When Life Gives You Hippos [Annette Bjergfeldt] has written a beautiful epos about a rather special family. Both background histories and emotions are well portrayed by means of a poetic language, topped off with vital humour. /…/ The attention to art, literature and music is always a plus in my book (…). It's that little extra mile that makes me a happy reader here. /…/ Annette Bjergfeldt positively surprised me with her debut. /…/ The Dutch translation is the first one out, in my opinion a great start to global success. Throughout the read of its 400-plus pages I thoroughly enjoyed this original, hilarious and fascinating family tale, that also gives a beautiful life lesson."

"It is incredible to think that this is Annette Bjergfeldt's first novel. (…) When Life Gives You Hippos is masterfully told. /…/ It didn't take long before I was completely invested in this somewhat peculiar family. /…/ I thoroughly enjoyed When Life Gives You Hippos."

"What a beautiful tale. /…/ The story also has a great deal of humour which adds to make it a very special and interesting read."

"When Life Gives You Hippos is such a playful, funny and entertaining debut novel that you can't help but lose yourself in it. We had to laugh and swallow lumps in our throats at the same time from reading the powerful anecdotes inspiring memories of our own lost loves."

"[When Life Gives You Hippos] is poetic and offers the reader many opportunities for reflection."

"The Song of Salomon has for centuries deeply touched people's hearts. Just like the charming novel [When Life Gives You Hippos] does. /…/ The eccentric characters and situations are portrayed in a poignant language and with a captivating vocabulary. Annette Bjergfeldt's family saga is refreshing, wholesome and will move everyone – be they fans of Tchaikovsky or dog racing. The sound of the Copenhagen Song of Songs is beautiful."

"The storytelling is funny, sometimes verging on the grotesque, and many passages leave me impressed. /…/ Annette Bjergfeldt captures so much detail in both the poignant and joyous moments. She portrays the family members in such a vivid and meticulous way, you're bound to fall in love with all of them, even the stubborn Varinka. [Bjergfeldt's] style is poetic, she plays with words, arranges them in sentences like bouquets. /…/ The text is like a piano composition, layered like paint on a canvas, creating a magical image, underscored by a musical libretto. The novel is laid back, flows easily and contains so many lovely ideas."

"An unforgettable novel about the search for the love of the century. /…/ [T]he author's style exudes energy and positivity, even when portraying moments of sorrow, grief and languor. [Bjergfeldt's] style is vivid, but also old-fashioned in a sense; it has soul. It does manage to captivate and maintain the reader's attention. Every reader will find at least part of their own family characteristics reflected in Varinka's family, whose members constantly struggle with emotions, challenges, unrest, traditional values and the demands of the modern world."

"A family saga quite unlike any other in contemporary literature, besides certain works by John Irving to which Bjergfeldt's imagination and romantic potency brings one's thoughts. /…/ These type of books require an unparalleled energy and imagination. Bjergfeldt does possess them and above all never allows herself to be overwhelmed or become lazy. Her characters, always bigger than life, are wonderfully cut out and stands firmly on their feet."

"The eccentricity and huge plus of the book is the language and style used. (…) The described smells, sounds, tastes and colors embrace the reader with passion and sensuality. /…/ [Annette Bjergfeldt's] novel can be characterized as a modern conception of magical realism, in which dreams become reality and reality a dream. Readers will be sure to enjoy the characters, where each one has a unique personality and is wonderfully believably portrayed, including their vices and darker sides. "

"Some literary debuts set the bar very high and have the reader almost fear for their authors, how will they manage to come up with another book after such an incredible work?! It is the same with the novel When Life Gives You Hippos. Annette Bjergfeldt has created a novel brimming with love, belonging, passion, but also just the right amount of quirkiness and magic. Her characters jump right out of the narrative, you see them vividly in front of you, when you close the book you feel like the family with the hippopotamus are standing there in front of you. Just like fireworks (like when Esther and Olga were born), fantastic images jump out at you and you fall into them with gusto. /…/ When Life Gives You Hippos will linger in your head, it will certainly have you think about the fact that you need to look at your own life with hope, and somehow be more at peace. And chances are it will become one of those books you return to regularly. In short, this novel is like a delicious mug of cocoa and cinnamon on a cool autumn evening."

"[Bjergfeldt's] debut novel When Life Gives You Hippos is a dynamic, touching and extremely witty ode to life and love. A story about a happy childhood, but also about loss and sadness, the greatness in the small things, and the beauty even in all the mistakes and shortcomings that life brings."

"If you crave adventure, love and guidance on how to see the brighter side of life, make sure to read the scintillating, imaginative and quite simply fantastic When Life Gives You Hippos."

"Annette Bjergfeldt's debut novel is an absolutely superb, wild, imaginative and well-written book about the pursuit of the greatest love. /…/ When Life Gives You Hippos is unruly, creative, hilarious, and at times utterly grotesque, while at the same time featuring everyday realism as well. /…/ Annette Bjergfeldt employs an incredibly graphic imagery, and has some rather genius observation on human life. It's not a classical feel-good novel, but it's been a long time since I last felt so good and laughed as much when I read a book. /…/ What a debut!"

"The first chapter in When Life Gives You Hippos is called 'The Age of Miracles,' and that introduction is no false promise. This headline actually applies to the entire novel; the way in which Annette Bjergfeldt paints her narrative out using colors, tones and emotions is utterly miraculous. /…/ It's a well-paced tale, the trans-Amagerian railroad shoots through the decades at high speed, but When Life Gives You Hippos is, contrary to what one could think, not a Denmark-centric story. Instead, the novel is a portrayal of growing up in a microcosmos of complex personalities. Palermovej is a petri dish of human emotions and dreams, and through Esther, who loves to paint, Bjergfeldt portrays each and every one of the family members in such a vibrant and detailed way, the characters feel extremely alive. When Life Gives You Hippos is a tale about a happy childhood, but also a tale about grief and loss. It sees greatness in the small things, the beauty in all the faults and flaws that life presents. /…/ This is an impressive debut, and one cannot but rejoicefully look forward to more little miracles by Annette Bjergfeldt's hand."

"Here I discover a new pen which brings us into an incredible family fable full of humor, love and sometimes improbable family bonds which strengthen over the chapters. /…/ The author's writing is endearing and touching. With fluidity it guides us through an incredible novel that I devoured and savored from start to finish. I didn't see the pages and hours go by. It's refreshing, funny and bewildering at times, we wonder where the author is taking us – and yet we arrive at the end. This family has been mine for these few pages. I really advise you to read this wonderful entertainment!"

"As an attitude towards life, the glass tends to often be half empty, but this book's glass is always half full in a wonderful way. /…/ When Life Gives You Hippos portrays people and all their weaknesses in a gentle but also a very relatable way, which will bring a smile to your face many times. The book is a real reading experience, a wonderful dive into the strong emotions of three generations on Palermovej in Copenhagen."
Author

Annette Bjergfeldt

Published

2020

Genre

Pages

361

Reading material

Danish edition

English translation

Rights sold

Albania, Shkupi

Arab World, Aser Al-Kotob

Bosnia and Herzegovina, Sarajevo Publishing

Bulgaria, Colibri

Croatia, Hena com

Czech Republic, Host

Denmark, Modtryk

Estonia, Rahva Raamat

Finland, Into Kustannus

France, JC Lattès

Netherlands, Signatuur

North Macedonia, Matica

Norway, Cappelen Damm

Poland, Swiat Ksiazki

Russia, Inspiria

Serbia, Laguna

Slovakia, Premedia

Sweden, Sekwa

Thailand, Biblio