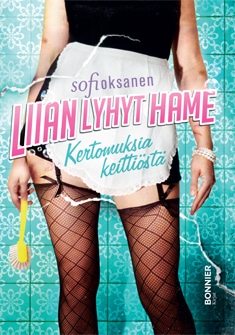 Liian lyhyt hame – Kertomuksia keittiöstä
Too Short Skirt - Tales from the Kitchen
Author Sofi Oksanen and musician Maija Kaunismaa began their collaboration in 2008 with the musical performance High Heels Society at the Koko Theatre in Finland. The sold-out performances demonstrated a huge demand for their bold and original feminist act. This lead to the duo continuing their collaboration and their most recent work is Too Short Skirt – Tales from the Kitchen – a collection of lyrics written by Sofi Oksanen with music composed by Maija Kaunismaa. In conjunction with the 2011 release of the lyrics and the double-CD, the suite will be staged at the National Theatre in Helsinki. In the performance, the different lyrical themes are fantastically reflected in the music: the cheated woman's lust for revenge transforms into a waltz, liposuction becomes a jenka and physical abuse takes the shape of a fateful tango.
Sofi Oksanen's twenty-five song lyrics avenge the demands and expectations placed on the modern woman. With great ease but with plenty of literary dare, Oksanen doesn't hesitate to expose the injustices women encounter daily: How women can be blamed for wearing the "wrong" shoes or the "wrong" skirt after a rape, or how infidelity should be ignored in order to maintain a picture perfect lifestyle. Oksanen takes what is traditionally seen as feminine items in the household and twists them into weapons. She discards the traditional idea of women being victims and lets them take revenge on the cutting board. With a sharp eye for bending the gender roles of Western societies and an unapologetic gutsy tone that can dip into the humorous, Oksanen shakes up everything that women are meant to be or think they should desire. The book ends with an essay, "It Could Have Been Prevented", which discusses violence against women and children, and it's relation to severe societal issues. This notion is built on up-to-date research and reveals both Finnish and international developments. The essay also discusses "silent narratology", i.e. violent events that are never spoken of outside of the home but are frequent in many households.
A share of the profit from the book and the CD will go directly to the Mother and Child Homes and Shelters Foundation. The foundation aims to help single mothers and their children.
For the book's official website, please klick here.
Reviews
"Sofi Oksanen presents a strong introduction to the discussion about misogyny and violence. /…/ Sofi Oksanen's latest workToo Short Skirt – Tales from the Kitchen, and the double CD with the same name based on Maija Kaunismaa's compositions, certainly pinpoint a current topic. A woman's body is anything but a private matter, not to mention a woman's honour. Her shame, on the other hand, she very often has to bear alone. /…/ Sofi Oksanen's sharp pencil touches many sore spots."

"Oksanen's lyrics deal with the hidden and the open violence that women have to encounter in the private and the public spheres. One may be just as frightened in one's own kitchen as out on the dark streets. /…/ As a feminist political author, Oksanen takes a strong stand."

"As a prosaist, storyteller, and an atmosphere creator, Oksanen is unique, beyond comparison."

"Wonderful, Sofi! It is really great that the internationally acclaimed author Sofi Oksanen has taken the famous "bull by the horns" with her book Too Short Skirt – Tales from the Kitchen, and that she also does a tremendous charity project around Finland to prevent this tragical family violence."

"Sofi Oksanen has written an impressive collection of lyrics about violence against women, and the indifference towards it."

"The contrasts are striking when Oksanen's realistically stunted and intentionally rough lyrics are combined with Kaunismaa's nostalgic tunes and ballad-like beautiful singing. … Oksanen writes skilfully: the short descriptions and details reveal agonisingly vivid and tangible scenes, windows to entire life stories and tragedies."
Author

Sofi Oksanen

Published

2011

Genre

Pages

78

Reading material

Finnish edition

Rights sold

Finland, Bonnier Books

France, Points