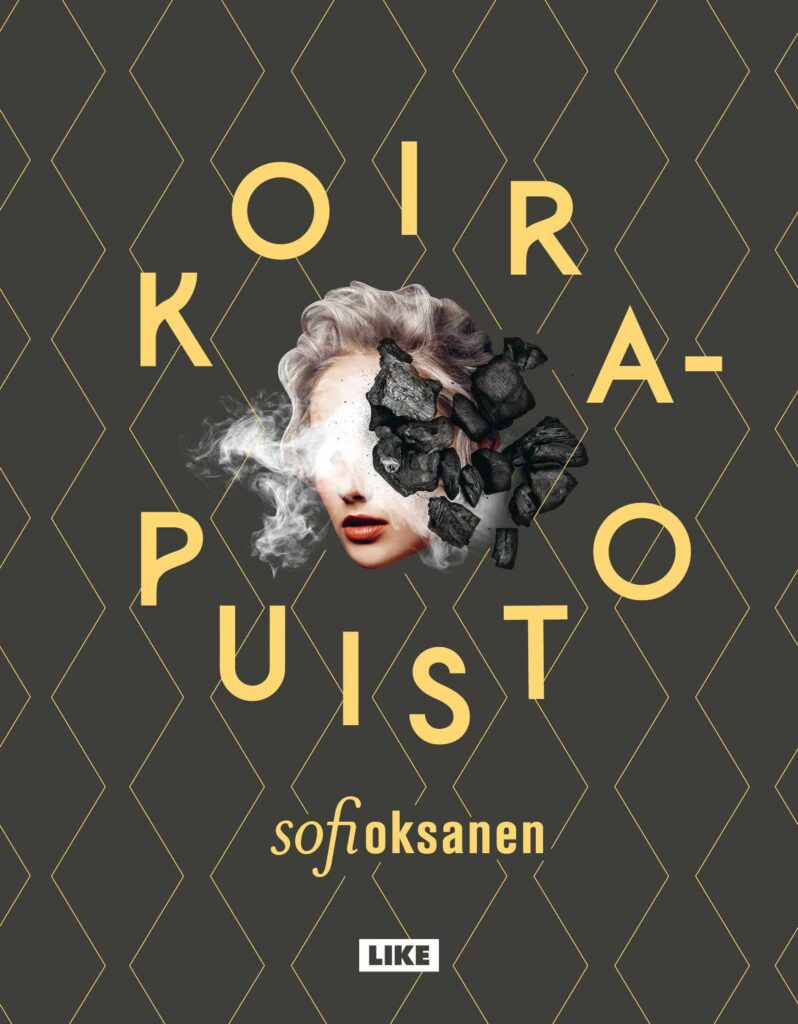 In Sofi Oksanen's The Dog Park, modern-day Helsinki intertwines with the past of Ukraine's post-Soviet independence. The corruption of the East meets and feeds the greed of the West, and at this intersection stand two women. Their story of loyalty, love and broken trust play out against a backdrop of power struggles – between influential families, and between the sexes as the lifegiving ability of the female body becomes a lucrative commodity.
Oksanen moves between psychological thriller and the acutely human as she weaves a captivating narrative about a woman unable to escape the memory of her lost child, the powers that still hunt her, and the lies that saved her life. Sharply observant and a master of portraits, this time Oksanen turns her eye to the fertility business, illustrating the micro-realities of the international baby-making factories.
Reviews
"Nerve-racking until the last page. /…/ [The Dog Park is] ambitious in its scope and bold in the issues it addresses. /…/ Sofi Oksanen knows how to paint a portrait, and skillfully avoids cumbersome reconstructions […] in her description of political and social situations. [Oksanen] knows how to isolate small symbolic issues that effectively become great demonstrations of the consequences of historical events in daily life."

"A grand novel. /…/ A dark past is cleverly puzzled together."

"[Sofi Oksanen] keeps one on the edge of one's seat, revealing only bits of the puzzle at a time and raising the suspense with her unique way of describing the Eastern Bloc's grim yet fascinating environment and atmosphere."

"A striking portrait of women. /…/ Both a thriller and a historical novel, The Dog Park is in a nutshell […] a Grimm tale made reality."

"Sofi Oksanen's The Dog Park is a social-feminist commentary carried by an indignation and extraordinary environmental descriptions, that persuades in its depiction of the exploitation of the female bodies in the fertility industry. /…/ A piece of nerve-racking fiction in which painful chapters of modern European history are effectively intertwined with feminist perspectives. /…/ [One] of the novel's diligently used and suspense-building elements is the constant, anticipatory and ominous hints of upcoming dramatic events and revelations. /…/ The Dog Park is in a good old-fashioned sense, a shocking tale."

"It's precisely this ability to trigger this kind of eerie suspicion [within the reader], that makes Oksanen such a chillingly great author. /…/ Had [the protagonists] had the leading roles in any ordinary thriller, they would have embodied the terrifying fantasy of two femme fatales, but […] Oksanen also brings us to the dirty [areas] and the women are not just tragic flowers, but people with motifs. This makes The Dog Park an unforgettable experience."

"In the fertility industry, Sofi Oksanen has found a perfect picture of the inequality that the The Dog Park is all about. /…/ The Dog Park works best in its critique of society, taking a whip to the human industry that values profit over life, and wherein social inequalities have drawn up a field of different rules, tactics and possibilities for its players. Sofi Oksanen has also a complete grip of the psychological realism that has hardened two women [who are the protagonists of The Dog Park]."

"The Dog Park has a complex narrative with many threads, and Sofi Oksanen writes unsentimentally about motherly love, coercion, greed, poverty and desperation."

"Oksanen's novel becomes both a sharp analysis of society and a very accomplished and ingeniously constructed suspense novel. /…/ [The Dog Park] follows the same dramaturgy as the best TV series, with plenty of small arches held together perfectly by a big one. With gaps and riddles, preludes and flashbacks, until it all falls seamlessly into place. It must be even better in the second reading. /…/ Oksanen's novel is a suspense novel and a social one. /…/ A Finnish-Estonian Charles Dickens novel."

"Sofi Oksanen has written another unstoppable novel."

"Oksanen writes with great vigor about the tragic situation and treatment of women, exposing their cruel reality in a merciless way. /…/ [The protagonist's story] is chocking in every way and […] the author manages to execute it in a brilliant manner with a technique that doles out information in small bite-size pieces, thus building the suspense; for this is truly a suspense novel, even though there is no police in sight. /…/ No stone has been left unturned in the creation of this credible and realistic plot. The story is a powerful one."

"During my reading, I of course think of Margaret Atwood's fictional novel The Handmaid's Tale – but also of something far harder to fathom: reality. I deeply wish it would be another. [The Dog Park] is as engaging and dark as it is excruciatingly creeping like Purge. /…/ And – as with Purge – the novel The Dog Park is chaotic and uninterruptedly fascinating. It has beauty. A frightening beauty."

"Sofi Oksanen's thriller about women in the surrogacy industry is merciless. /…/ Sofi Oksanen has written a solid, fast-paced thriller that efficiently illustrates the inherent balance of power that runs the fertility industry in the eastern outposts. /…/ Oksanen produces a thriller reminiscent of le Carré's better moments. /…/ The result is a tale that is impossible to put down: Oksanen depicts her individuals as complete human beings."

"Legal, moral and psychological nuances are kept in the gray areas. And Oksanen, an expert in exploring such dark gaps, successfully addresses the subject [of exploitation of the female body]."

"Oksanen is skillful at depicting how seamlessly communist transgressions have transitioned into consumerist ones."

"A real page-turner that both seduces and engages the reader. /…/ [Sofi Oksanen is] one of the foremost portrayers of the politically turbulent 20th century, with an unwavering ability to connect personal stories with events at the macro level. /…/ The duality of human vulnerability and cruelty is drawn with an unsentimental edge. /…/ A particularly read-worthy novel."

"A prose as clear as one can wish for."

"[The Dog Park] is a novel that creeps under your skin, that stings with sharp needles. /…/ With an edge of steel and chiseled, crystal clear prose, Sofi Oksanen writes how we in our world close our eyes and allow for a predation of women's bodies."

"The Dog Park is a close-knit psychological thriller of two women not being able to escape the memory of their lost children and their struggle to set things straight again. /…/ A perfect page-turner in the winter darkness."

"The depiction relies on a realistic foundation but sometimes feels so twisted that you think of Margaret Atwood's dystopian The Handmaid's Tale. /…/ Her storytelling has a formidable power and she a rare ability to create edge-of-your-seat stories with layers upon layers of uncomfortable questions. /…/ [The Dog Park] plunges its teeth into one of our most vulnerable spots."

"In The Dog Park, [Sofi Oksanen] has [given herself] a painful and acute task, and story that rests upon solid research. /…/ The novel is at its best when Sofi Oksanen brings out the details of the women's lives. Sharply drawn shards."

"If a reader wants to reach the very heart of art […] they must know […] Chuck Palahniuk, Michel Houellebecq, Michael Cunningham, Haruki Murakami, Federico Andahazi and Sofi Oksanen. These are the names of those who will leave a great void behind when they are done with writing. /…/ The very best of contemporary world literature."

"[The Dog Park] is written in a successful style: fast-paced [and] close-knit at the same time."

"One of my favorite, and at the same time most well-known Nordic authors, Sofi Oksanen […] has with the novel The Dog Park once again shown us what a masterful literary talent she possesses. Something she's already proven with her previous works. /…/ The Dog Park is an excellent book. /…/ Timeless. And very topical."

"In addition to a carefully thought-out plot, one of the book's main qualities is Oksanen's crystal clear prose. Reading a novel of this kind activates all of one's senses."

"Oksanen has a couple of immensely strong cards on hand when she succeeds: Her brushstrokes paint an image of life in the former Soviet Union states with such vividness that you can see it before your own eyes and smell the scents. /…/ Oksanen doles out bits of information and reveals lies along the way in a superb way, and just as perfectly, she lets the last chapter of the novel tremble with suspense."

"Sofi Oksanen returns to the top of the literary world with her latest novel, The Dog Park. /…/ A suspense novel that holds the reader in a tight grip until the very last page. /…/ Sofi Oksanen has a keen sense for how to portray time periods and atmospheres, and is able to describe the smell from a jar of pickles or a cheap bottle of perfume so that scent stings the reader's nose. The depictions of family and work life in a society where corruption permeates every part of social life also make a strong impression. /…/ Sofi Oksanen depicts this society and especially how women become victims of cynicism and corruption with a poignantly clear gaze. But the novel also displays Sofi Oksanen's ability as a sensitive chronicler and conveyor of the longing for love, and the wish of being able to live a completely ordinary and trivial family life. The Dog Park is a suspense novel with literary gravitas. /…/ Sofi Oksanen has penned one of her best novels."

"With precise cuts and shrewd devices, the poet attacks the lucrative industry associated with assisted fertilization. /…/ This is an advanced tendency novel that the legendary [Sofi Oksanen] (…) should be proud of."

"Oksanen has written a sharp, sociocritical novel. /…/ Passionate drama, murder and revenge make this a thriller-like novel with a high level of suspense."

"Skillfully told fiction that will help the reader visualize a complex reality. Sofi Oksanen is a master."

"Good art evokes thoughts and emotions, and so does Oksanen's books. The Dog Park is no exception."

"The Dog Park is one of the most breath-taking novels of the fall. /…/ when [Sofi Oksanen] succeeds, her readers are blessed with something larger than life. With [The Dog Park], [Oksanen] truly does triumph. [The Dog Park] is an incredible mixture of love, fear, violence, oppression, hopes, and disappointments."

"The Dog Park is a cool, stylish, utterly cleverly written novel that deals with issues that are both upsetting and in many ways divisive."

"Sofi Oksanen knows how to leave you astounded."

"Sofi Oksanen's new novel The Dog Park is an elaborate and powerful depiction of the egg donation industry."

"Oksanen perfectly masters both mood and metaphors, once again choosing a theme that gets under your skin, and executes the two-timelines storyline brilliantly. /…/ The egg donors of The Dog Park find their counterparts in the female slaves of The Handmaids Tale (1985) and The Testaments (2019) by Margaret Atwood."

"The Dog Park is a high-quality novel that reads like a thriller."

"Sofi Oksanen writes in a unique, voluble and strict manner, and the story is propelled forward with the ferocity of a thriller."

"Sofi Oksanen's sixth novel The Dog Park is a stunning and furious depiction of the traumas and struggles of the survivors of the Soviet Union. /…/ Sofi Oksanen is a master writer who is not afraid to tackle difficult topics. "

Sofi Oksanen's [The Dog Park] is incredibly spot-on with details, so precise it's hard to believe and easy to envy.
Author

Sofi Oksanen

Published

2019

Genre

Pages

405

Reading material

Finnish edition

English translation

Rights sold

Arab World, Al Arabi

Canada, Anansi

Croatia, Fraktura

Czech Republic, Euromedia

Denmark, Gyldendal

Estonia, Varrak

Finland, Like

France, Stock

Germany, Kiepenheuer & Witsch

Hungary, Scolar

Iceland, Forlagid

Lithuania, LWU Publishers

Netherlands, Prometheus

Norway, Oktober

Poland, Znak Literanova

Romania, Polirom

Spain, Salamandra

Sweden, Albert Bonniers

Turkey, Dogan Egmont

UK, Atlantic Books

Ukraine, Komora

US, Knopf