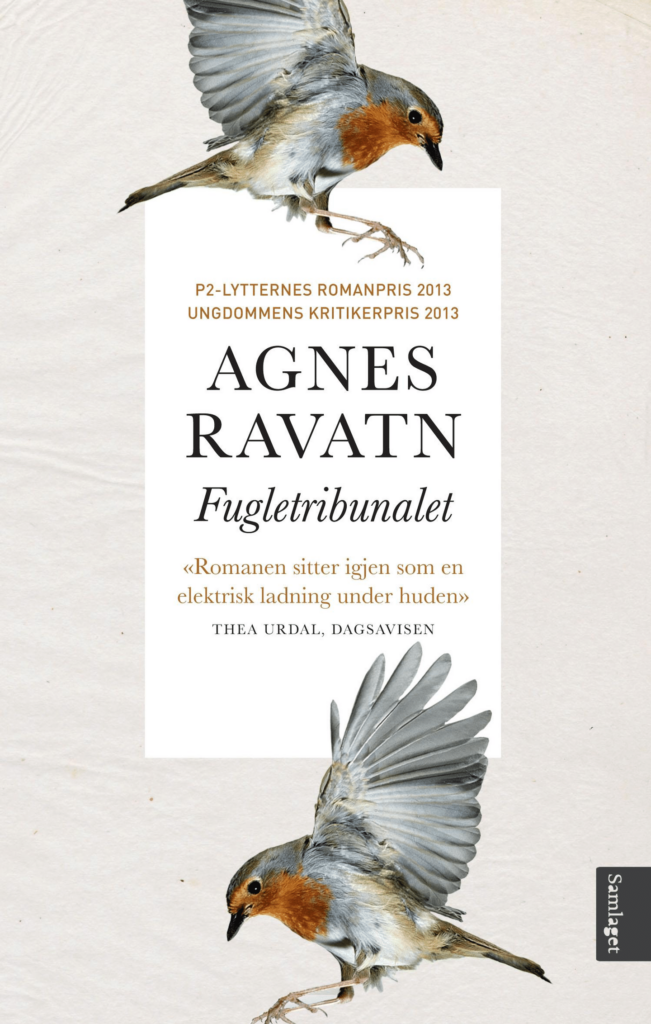 Fugletribunalet
The Bird Tribunal
After a scandal which left her in shatters, Allis Hagtorn leaves her life behind to work as a housekeeper for Sigurd Bagge, a man in his forties. Allis goes from being a name on everybody's lips into the shadows of anonymity. At first, she embraces this new life, but it doesn't take long for her fascination for Sigurd to take over. Who is this man? And what does he want from Allis? As they are drawn closer to one another in the desolate house by the sea, an eerie atmosphere hints of unresolved secrets from the past.
Two people have set out in exile. Both carry a wish to repent; one for shame, the other for guilt. What does it take to start over? A thrilling and breathtaking literary page-turner, leaving the reader with trickling chills down the spine.
As heard on BBC's Books at Bedtime.
Awards
English PEN Translation Award

(Winner) UK

Dublin Literary Award

(Shortlisted) Ireland

Petrona Award

(Shortlisted for Best Scandinavian Crime Novel of the Year) UK

NRK P2 Listener's Prize

Norway

Youth Criticss Prize

Norway

Book Blogger Award

(Best Norwegian author under 35) Norway
Close award list
Reviews
"The Bird Tribunal offers an incredible richness of themes /…/ The atonement for the past sins and the titular bird tribunal carry powerful messages, as well as questions of morality and humanity."

"Beautiful about two damaged souls living under the same roof. "

"The whole book is characterised by an uncomfortable and ominous tone and an exquisite writing style. It is dark, thrilling and captivating, as we slowly learn more and more about these two lonely people. "

"Ravatn creates a creeping sense of unease, elegantly bringing the peace and menace of the setting to vivid life. The isolated house on the fjord is a character-like shadow in this tale of obsessions. This is domestic suspense with a twist – creepy and wonderful."

"Crackling, fraught and hugely compulsive slice of Nordic Noir /…/ tremendously impressive."

"A tense and riveting read."

"Unfolds in an austere style that perfectly captures the bleakly beautiful landscape of Norway's far north."

"An unrelenting atmosphere of doom fails to prepare readers for the surprising resolution."

"The ending literally pounces on you. "

"It quivers with excitement and surplus /…/ about two people, who just want to be found and loved. "

"The novel remains with you as an electrical charge under your skin. "

"This instinctive fear of the other and the dangers they represent nourishes one of the most beautiful novels released at the beginning of this year. Norwegian author Agnes Ravatn has indeed published The Bird Tribunal, a thrilling and feverish work. It feels like a film by Bergman, with its dark and mysterious beauty."

"A chilling closed-door that is read in one sitting!"

"Agnes Ravatn manages to maintain suspense until the very last lines /…/. Gradually, a Hitchcockian atmosphere settles in, enveloping the narrative and making The Bird Tribunal a true tour de force."

"The author knows how to create unique atmospheres, and the reader wonders on which foot to dance…"

"A book that envelops you, bewitches you. /…/ An intense closed-door setting, where unspoken words and tensions guide us until the last page."

"Masterful! /…/ An effective narrative that doesn't overlook the troubled psyche of the characters, an ability to convey to the reader the underlying tension that binds the protagonists, not to mention the art of making you shiver, both literally and figuratively, in beautiful yet chilly places."

"Agnes Ravatn only needs a few lines to establish a strange atmosphere. The open-air closed-door she masterfully orchestrates fulfills all its promises throughout the chapters. /…/ The Bird Tribunal is a tour de force that combines literature, theater, and cinema, not to be missed."

"Agnes Ravatn demonstrates real expertise in the obsessive portrayal of two individuals trapped in a face-to-face confrontation with an inevitably regrettable outcome."

"A true promise of a sleepless night. Agnes Ravatn cleverly plays with the strange, in a vein reminiscent of gothic literature, intertwined with legends. A claustrophobic setting in an oppressive chiaroscuro that oscillates between a dark forest and a luminous fjord. /…/ A powerful tension underlies this narrative filled with nightmares and lies."
Author

Agnes Ravatn

Published

2013

Genre

Pages

207

Reading material

English translation

Norwegian edition

Rights sold

Arabic World, Aser Al-Kotob

Bulgaria, Matcom

Czech Republic, Albatros Media

Denmark, Batzer

Estonia, Eesti Raamat

France, Actes Sud

Germany, Btb

Hungary, Terikum

Iceland, Bokafelagid

Italy, Marsillio

Lithuania, Svajoniu knygo

Norway, Samlaget

Romania, Casa Cartii De Stiinta

Russia, AST

Serbia, Agora Publishing House

Spain, Seix Barral

Sweden, Modernista

UK, Orenda Books (World English)