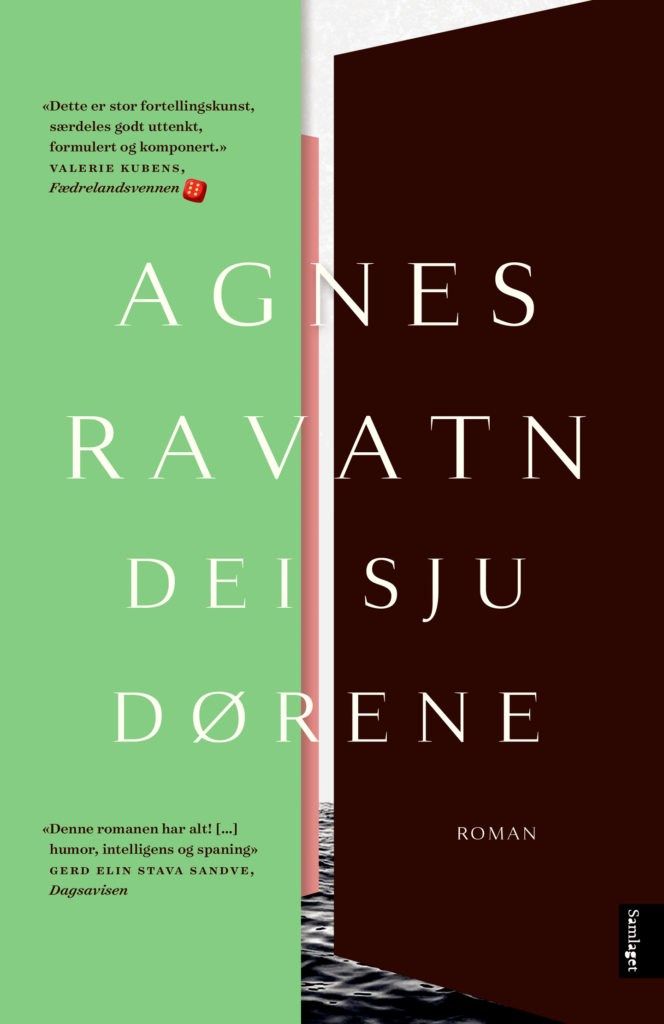 Dei sju dørene
The Seven Doors
Professor of comparative literature Nina Wisløff is going through a rough time. Her work seems to grow gradually irrelevant, and her house is soon to be demolished. Her husband Mads, Vice Mayor for Health and Social Services in the city doesn't seem to have time for Nina, and her relationship with the cynical daughter is deteriorating.
When Mari, the tenant of a house the married couple is renting out goes missing, the police quickly get involved. Behind the scenes, Nina starts an investigation of her own. Leading her to discoveries from that soon lead to irreversible consequences.
The Seven Doors is an unsettling novel about dark secrets and dangerous curiosity.
Awards
Norwegian Bookseller's Award

Norway

CWA International Dagger

(Longlisted) UK
Close award list
Reviews
"Elegantly plotted and economically executed … Ravatn smoothly mixes Jungian and Freudian psychology with folklore and an affair's lethal consequences. Inexorable fate drives this searing modern take on ancient Greek tragedy."

"The result is a clever, quirky mystery full of twists, and reminiscent of Agatha Christie at her best. "

"Ravatn, one of Norway's premier crime writers, manages to conjure up an extra level of chilling atmosphere that will make you want to put the heating on … The Seven Doors packs a brutal punch"

"/…/ the drive in the action – and the pace – is so high that the book was difficult to put down. Great literature often is."

"Fun, exciting and profound. "

"Like an electric shock – a real Greek tragedy in a modern Norwegian family becomes an extremely powerful read. "

"The Seven Doors grows beyond its plot – as brilliant literature usually does. Ravatn gives the reader space to feel dark emotions and reflections, in a novel that gives the impression of being fully occupied with playfully unraveling its own crime mystery."

"This novel has it all! Agnes Ravatn's gorgeous bag of goodies of a novel has everything one could wish for in humor, intelligence and suspense. "

"Agnes Ravatn is witty. The novel starts as a middle-class novel about a middle-class problem, which she slowly turns into a thriller about life and death in the university world and cultural elites, and it is exceptionally entertaining."

"Agners Ravatns makes the crime genre a tad more elegant. /../ A sophisticated crime mystery."
Author

Agnes Ravatn

Published

2019

Genre

Pages

250

Reading material

English translation

Norwegian edition

Rights sold

Arabic World, Aser Al-Kotob

Denmark, Straarup

Germany, Btb

Norway, Samlaget

UK, Orenda Books (World English)