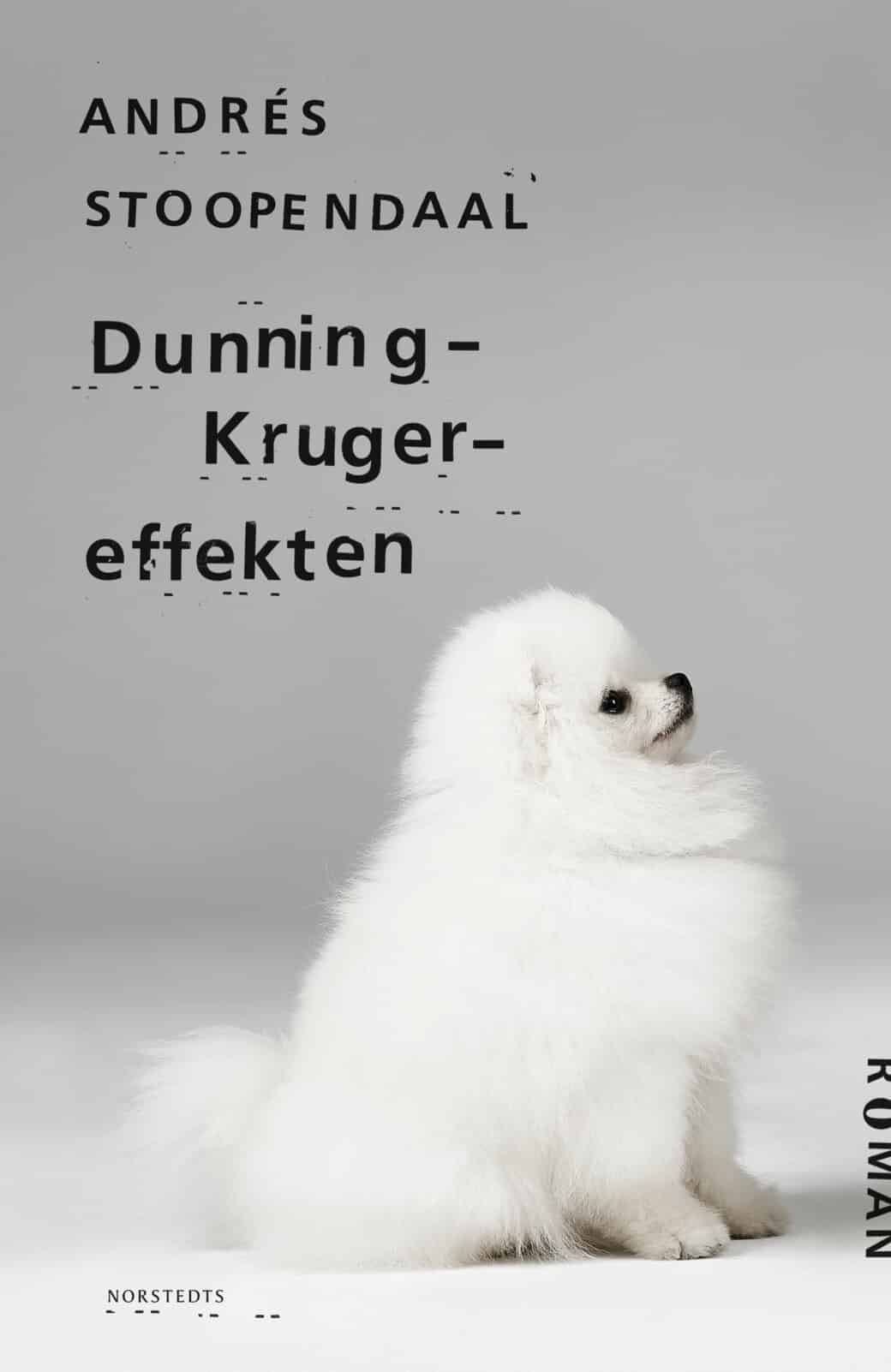 Dunning-Kruger-effekten
The Dunning-Kruger Effect
The nameless protagonist and his girlfriend Maria have invited their friends Otto and Agnes over for dinner. Otto and Agnes are despondent as their cat Frodo has run away or possibly fallen out of a window. Dinner is ready. Let the drama begin.
The Dunning-Kruger Effect can be read as a bildungsroman or an anti-bildungsroman, it's up to the reader. The novel unfolds during a couple of warm summer months in 2018. Our main character reads 12 Rules for Life: An Antidote to Chaos by Canadian psychologist Jordan B. Peterson, pretends that he's the author Michel Houellebecq, via what he calls "the Houellebecqian thinking", is further influenced by the movie Blade Runner 2049 and gets caught up in the delusion that his girlfriend Maria might in fact be an android or possibly just a hallucination.
Following two poetry collections, Andrés Stoopendaal makes a spectacular return to the realm of fiction. The term the Dunning-Kruger effect describes a psychological hypothesis stating that those who are incompetent are also incapable of comprehending their own incompetence.
Reviews
"[Stoopendaal] dissects the zeitgeist in an uncontrollably entertaining manner. /…/ Stoopendaal's debut is nothing less than a fabulous and fresh take on the classic bildungsroman. It is a well-composed and thought-provoking story about a somewhat confused rifling through his mental space, looking for masculine identity markers and intellectual heroes in an attempt to go from young and childish to a mature, adult man."

"Just as serious and full of shrewd social analysis as it is entertaining. /…/ The Dunning-Kruger Effect is much-needed reading. It's a fart in church, a hard look at the autocentric little pond. /…/ The novel can be recommended to many, but perhaps especially to young, searching men in need of some more sensible role models than Andrew Tate or Cristiano Ronaldo."

"As a millenial of the depicted demographic group, […] I feel pinpointed by [Stoopendaal's] clear-eyed satire of a generation of 'pretend adults' with a pathological need to justify work that is neither obviously meaningful nor reflective of their desired identity. /…/ We have on our hands one of the sharpest portraits of this generation. Stoopendaal has a devilish eye for the laughable and cringe-inducing."

"The Dunning-Kruger Effect is vigorous and sparkling proof that questions regarding gender, class and identity politics can be depicted in literary form without delivering empty slogans. /…/ I laughed my way through The Dunning-Kruger Effect. There are funny scenes from relationships, couples' dinners, and plenty of philosophizing, and a gorgeous abundance of literary ambition."

"Witty. /…/ The tone is playful and pretentious all at once."

"Andrés Stoopendaal writes phenomenally on the unbearable lightness of the ego. The Dunning-Kruger Effect can be read as an unusually successful satire on the absurd conflict lines of our day. /…/ Stoopendaal's prose is such an exotic bird within the Swedish publishing landscape that it almost makes me angry – why can't we read more novels as distinctly funny as this?"

"An essay, a memoir, reportage, a confession, a manifesto, autofiction, satire. I'm not entirely sure. Not that that matters in the slightest. Because it's intelligent, cutting, and at times witheringly funny. /…/ The result is a crackling firework display of comic brilliance."

"Andrés Stoopendaal is both a dazzling stylist and an accurate diagnostician of his age."

"The humour is a function of Stoopendaal's awfully well-written prose, which is situated somewhere between the excursive, occasionally parodically specific concreteness of Stig Larsson's When it Feels Like it's all Ending and Michel Houellebecq's unbridled cynicism. When put in the mouth of an administrator from Gothenburg with literary and intellectual pretensions it makes for something wonderful. And original, and singular. /…/ The sum is wonderfully weird. Stoopendaal arrives at a defence of middle-class codes and petty bourgeois conventions, but he does so through a consistent mocking and piss-taking that continues well into its defence; the point of it all is precisely that middle ground – the humour, the irony playing within each sentence. There is no resolution, no moral, just an ambiguity to accept and inhabit. It's magnificently done."

"Definitely the funniest Swedish publication this year."

"The Dunning-Kruger Effect is one of the most entertaining books I have read in a long time. In addition, it's also one of the most anarchistic in its inopportune approach. /…/ An accurate contemporary novel full of recognition. Above all, it's a book that dissects identity politics and the discreet charm of the bourgeoise through the eyes of an ignorant city hipster."

"An intelligent and ironic humor that you rarely find in contemporary literature. /…/ Original and very entertaining."

"A very clever and very funny novel."

"Phenomenally philosophical finesse with high entertainment value."
Author

Andrés Stoopendaal

Published

2021

Genre

Pages

222

Reading material

Swedish edition

English translation

Rights sold

Canada, Simon & Schuster

Denmark, Turbine

Norway, Cappelen Damm

Serbia, Heliks

Sweden, Norstedts

US, Atria