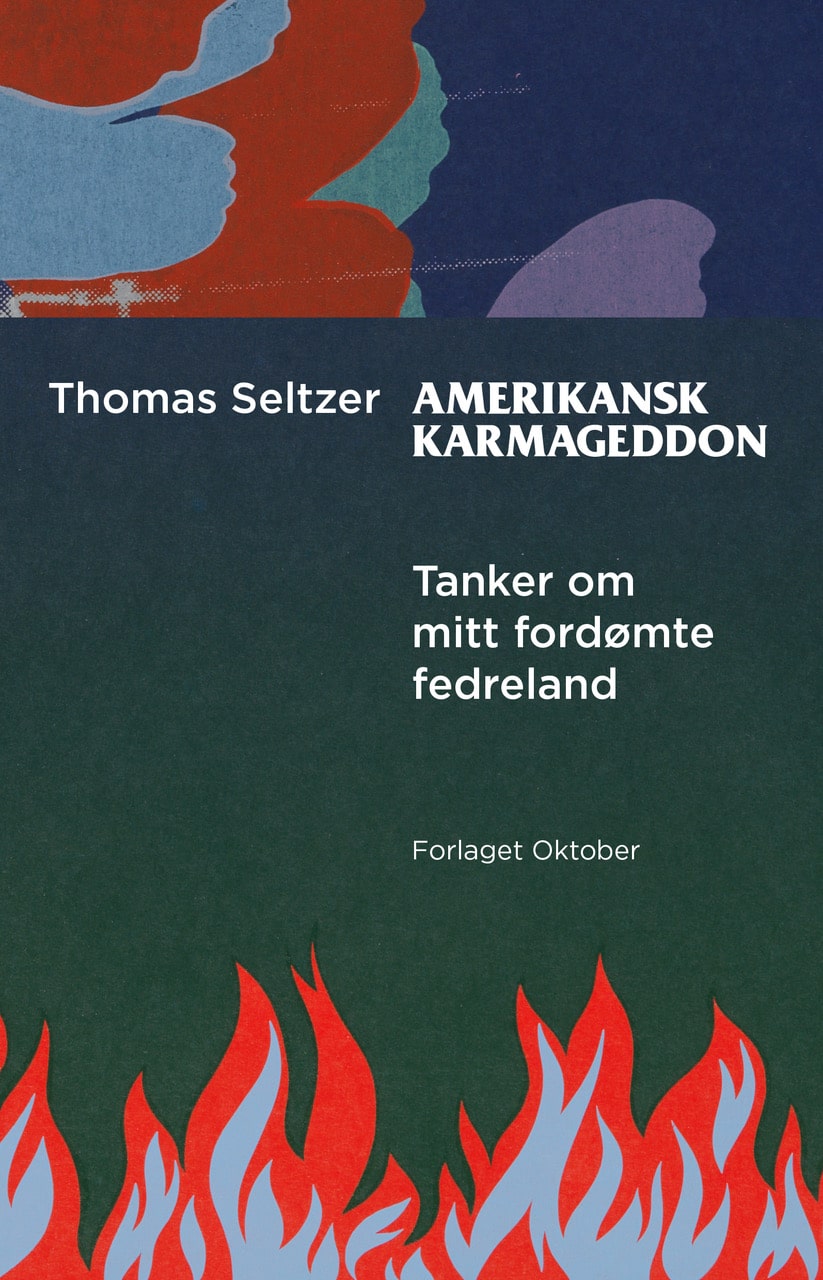 Amerikansk karmageddon
American Karmageddon
America. For me, it is one of the greatest words there are. It is up there with other solid words like freedom, justice and hope. But for me it is also a word which means other things, like family happiness, closeness, and belonging. And loss. I have wholeheartedly missed America since moving to Norway. I dreamt about America all the time. The first memories I have were given to me by America. It was in America that I for the first time felt like a human being in the world, and it was America who gave me my first language.
Thomas Seltzer has written a book about the USA, a country he knows better than most. The book is part travel-diary, and part analysis. This contemporary analysis of the USA is both personal and subjective, but also based on more objective facts and on the country's history. And in part, American Karmageddon is Thomas Seltzer's own story about life and about his roots.
Seltzer shows how and why the country he loves more than anything on this earth has turned into this chaotic battleground which we here in Europe do not understand. The book is a personal narrative about an – according to him – approaching disaster, and he has a nerve and a tone which is amiable, furious, sarcastic, melancholic and brutally honest all at once. It is a book which will offer us answers to many of those questions we have about this enigmatic country and people of the west. It also investigates how and why the American dream became an American nightmare.
Reviews
"I really hope everyone who worries about the developments in the USA reads American Karmageddon /…/ Many have discussed [the] matters [of USA] but not like Thomas Seltzer does. He throws himself between sociology, economy, psychology, and popular culture-analyses with manic force."

"Thomas Seltzer's unique way of talking about important things is like a next-level entertaining machine, regardless whether he creates three minute Turbonegro-poetry or, like here, a 500-page long literary road trip through a collapsing USA."

"Seltzer has the power to maintain the critical distance. And how incredible is it that there are bucketloads of source references – and for once it is interesting to read the footnotes as well. /…/ What Seltzer is good at is putting the America of today in a historical perspective in a way which is both humorous and informative. /…/ [Seltzer] has written a very important and very good book. /…/ I believe in Thomas Seltzer as I believe in great artists. "

"This book explains how predatory capitalism is destroying American democracy (…) American Karmageddon is looser in form and brighter in tone than your regular non-fiction book. The reader ought to be ready for various whims and leaps of thought, fortunately without the author losing the thread for that reason. In American Karmageddon, Seltzer appears primarily as a well-read and well-informed author who supports his vires with references to impressively extensive source material. This will please anyone who enjoys hard facts more than speculative opinion."

"American feelbad (…) The tone is impatient, witty, insistent, and well-read, but not once should you allow yourself to think that he is some smarty pants academic. There are few others who would dare or be able to get away with such a book, but this is immaculate."

"Seltzer succeeds in weaving the personal into a broader cultural analysis of a society in disintegration. American Karmageddon is a powerful warning to us all /…/ And although the book is subjective, it is at the same time well founded on a multitude of sources and a wide range of relevant secondary literature /…/ Seltzer is serious, even if he "hides" behind a tough image. He has delivered a strong US feature, quite on par with the old, great ones."

"Thomas Seltzer's packed approach, with drum rolls, cliff hangers and self-composed fake news, could quickly become unbearable if it hadn't been for the fact that it works absolutely brilliantly /…/ It is written with humor and spite, but also with warmth and, not least, care for those who have the least."

"In a powerful performance of a book, Thomas Seltzer showers the reader with all kinds of knowledge about the United States. From major developments to minute details, small fixes intersecting historical information with inside information from the music industry and popular culture – and effective depictions of the upper and lower classes of the United States. The book is a cornucopia of apt formulations, characteristics and thrills, as well as humor and great warmth."
Author

Thomas Seltzer

Published

2022

Genre

Pages

509

Reading material

Norwegian edition

Rights sold

Norway, Oktober