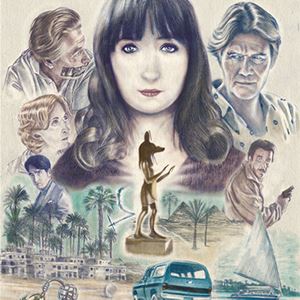 Under Pyramiden
Under The Pyramid
The young art gallery owner Katarina finds herself embroiled in an international art smuggling ring. The nightmare begins when, just after the opening show of her gallery, strange things begin to happen. An enigmatic man approaches Katarina, and her father – an art dealer – disappears. All clues point to Egypt, still caught in the whirlwind of dramatic events known as the Arab Spring. Under The Pyramid is a visually enchanting film about one woman's search for invaluable art treasures, her father, and ultimately herself.
Under The Pyramid is written and directed by Axel Petersén. Starring are Stina Fischer Christensen, David Dastmalchian, Johan Rabaeus and Reine Brynolfsson.
For more information on IMDb, please click here.
Reviews
"What I like about Under the Pyramid is that is takes place in an art world that is shallow and corrupt, there is a lot to collect there, at the breaking point between high culture and finance. "

"Just as in Avalon, Petersén shows us that he is a skilled cinematographer – the frames are strikingly well-composed and the loaded close-ups register every small nuance of the acting."
Screenwriter

Axel Petersén

Premiere

2016

Genre