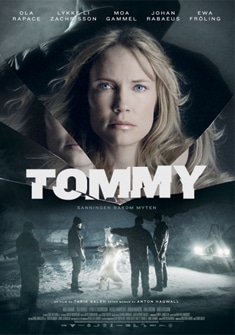 The film centers on Estelle, the wife of local crime lord Tommy. A week before Christmas, Estelle returns home after a year on the run, with a simple message: "Tommy is coming home." Now it's time for Tommy's old associates to pay their dues.
Idea and screenplay by Anton Hagwall. Directed by Tarik Saleh. Starring Moa Gammel, Ola Rapace, Lykke Li. ATMO independent film.
You can read more about Tommy on imdb.
Reviews
"The dialogue is minimal and the narrative compact. Glances and innuendos are what brings the action forward. The characters' profiles and how they are interconnected is an enigmatic puzzle in itself, where all pieces are sparsely placed. This is what makes Tommy one of the most stylish films I've seen in a long time and with an actor list, one can only dream of. /…/ Ceaselessly thrilling."

"It may seem paradoxical that a film wearing a man's name as the title focuses on a gangster wife's battle for survival. But life as depicted in Tommy is very much "a man's world", with all that it implies for those who inhabit it. /…/ Tommy succeeds at its best when portraying a fragility in this criminal underworld."

"A Gripping Nordic Noir About Dames. /…/ Where Tommy excels is by not pitying these women, but enabling them. Estelle has a plan, she is beautiful, well-respected and determined, and believes that if she stays the course, she can negotiate this minefield of testosterone and blood, and earn her freedom. That journey makes for a tense, hellish and breathlessly thrilling ride. Read more here."
Screenwriter

Anton Hagwall

Premiere

2014

Genre