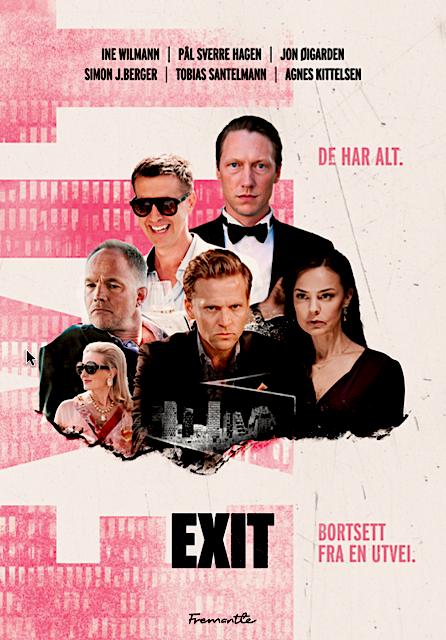 Exit
The critically acclaimed Exit by Norway's leading showrunner Øystein Karlsen is a dark drama series based on true stories from Norway's financial scene. The series takes place inside an exclusive world, where four friends from the west side of Oslo are looking for an exit from their everyday conformist lives. They share a distinct narcissistic bent and what, on the surface, appears to be very successful lives. Behind that facade their reality has become a constant juggling act of obligations, money, lies and inside trading. Their identity as millionaires and family men are in constant conflict with their hunger for violence, drugs and sex. We follow their lives across their estates on Oslo's west side, their high-rise offices, vacation homes in Norway and abroad, and the exclusive party pad they own together, unknown to their spouses.
Exit exploded onto Scandinavian TV-screens in September 2019 and within ten days more than 1.6 million streamed the series in a country with a population of 5 million people. The numbers in Sweden, Denmark, Finland and Iceland were equally staggering.
Season 2 premiered in March 2021 in all Scandinavian countries simultaneously and broke all records. Within three weeks, the second season had been seen by 1.7 million people in Norway alone. Season 1 has now passed 2.1 million. That means that 40% of the population that is allowed to watch it, has seen the PG16 show.
Exit is created, written and directed by Øystein Karlsen for Freemantle. The series is so far sold to 55 countries.
Awards
Nominated for C21 International Drama Awards

(Best Returning Series) UK
2021

Golden Screen Award Nominee

(Best Director ) Norway
2021

Golden Screen Award Nominee

(Best Drama) Norway
2021

Golden Screen Award Nominee

(Best Cinematography) Norway
2021

Golden Screen Award Nominee

(Best actor/actress in a lead role - Agnes Kittelsen) Norway
2021

Golden Screen Award Nominee

(The Audience award) Norway
2021

Golden Screen Award Nominee

(Best Makeup) Norway
2021

Golden Screen Award Nominee

(Best Production Design) Norway
2021

Golden Screen Award Nominee

(Best Innovation) Norway
2020

Golden Screen Award Nominee

(Best TV Drama) Norway
2020

Golden Screen Award Nominee

(Best Script) Norway
2020

Golden Screen Award Nominee

(Best Director) Norway
2020

Series Mania

(International Panorama) France
2019
Close award list
Reviews
"With its drug-fuelled orgies, brutality and multimillion-pound tax fraud, the Norwegian TV drama Exit, set in the financial world, makes The Wolf of Wall Street look like Shaun the Sheep."

"The dark days aren't over yet."

"Exit turns up the volume. /…/ Cocaine. Prostitutes. Lies. Insider trading. All of it delivered with a foamingly loud voice and remarkably steady directing. /…/ It makes Exit 2 better than the gripping first season. The series is also boosted by the fact that screenwriter and director Øystein Karlsen lets the four male leads push the limits of both their best and worst behavior. /…/ The balance of dirty reality and brilliant professional storytelling makes Exit a rollercoaster of the most binge-worthy Norwegian drama that 2021 has to offer. Underway we even get a bit of ethics and thought-provoking [material]. They're not what pulls the series along, but it shows that the Exit saga has a great future also in seasons to come."

"The first season of Exit made filthy rich financiers Norway's new favorite group of people to love to hate. Now the second round is upon us, and if you've looked forward to even more orgies, violence, coke sniffing in luxurious environments, and generally hedonistic immorality, then you won't be disappointed. /…/ They're still a bunch of infantile pieces of shit. But this time they meet their match, and it develops into a suspense plot that elevates the series from the gasp and shudder darkness. /…/ It's undeniably frightening to see close up how much power a sociopath bastard can exert on another human because he has money and she doesn't. That's whereExit is most believable – and perhaps most important. /…/ The interaction between the boys is at times lovely, and the series is good at showing just how lonely it is at the top, and how much it means to them to have someone in the same situation, someone who really gets them. Because they do care about each other, even if they don't care so much about anybody else. There's traces of warmth in the darkness. /…/ This is all in all the most engaging season of Exit to date. Which is good, because much points to them not disappearing from our screens anytime soon."

"Exit 2 straight up offers a better and more entertaining story. The whole premise appears more vivid, and the pitch black humor is still there, the dialogue as elegantly written and expertly delivered. In effect that means that these four boys still deliver lines to make you shake your head and think "my god, what kind of people…" /…/ This could be a Norwegian Succession in that it hardly has one sympathetic character and that everyone is out to get the absolute most for themselves."

"We think that people with a lot of money spend it on crazy stuff, but is it really as mad as this? Maybe it is? Whatever the truth is, rich arseholes making it big even as they hit rock bottom make for excellent TV entertainment. /…/ A large-scale tale of money, morals, fraud and conscience that also in season 2 maintains a great momentum, is excellently told, and is acted out with great conviction."

"The last one was dark. This one is pitch black."

"Rawer, wilder, wickeder: You won't find anything better on TV today [than this]."
Director

Øystein Karlsen

Premiere

2019

Genre