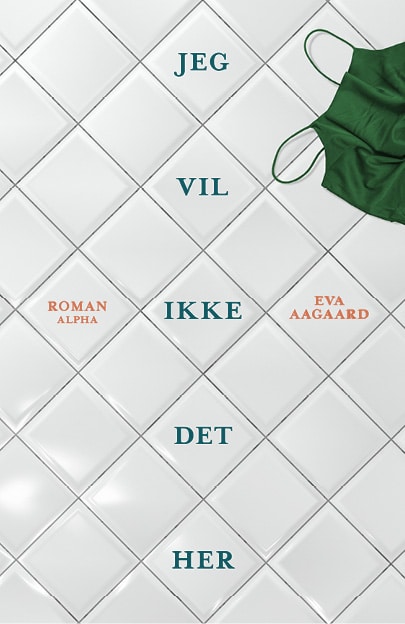 Jeg vil ikke det her
I Don't Want This
Miriam has recently become a mother. Alongside a friend, she hits town for the first time since the child's arrival, to find a way back to her old self. Her tolerance isn't what it used to be, and she ends up having too much to drink. Deciding to go home, she heads outside alone and enters what she believes to be a taxi. It's not. A stranger takes her to a place she's never been before and brings her down into a basement.
The following morning, she awakens in her own bed. She recalls hazy fragments of the night before, including the feel of a freezing cellar floor against her face. A sentence is ringing in her ears: I don't want this. In a daze and with snapshots of the nightmarish evening playing on repeat, she begins to gradually puzzle together what really happened and how she should proceed now – all whilst juggling the challenges of everyday life and motherhood.
I Don't Want This is a gripping novel about a fateful night. An intense, vulnerable, and breathless portrayal of the emotional turmoil in the wake of an assault and the psychology of trauma.
Reviews
"[I Don't Want This] is a gripping novel about the reverberations of rape and what we need in order to survive in the wake of such an assault."

"[I Don't Want This is] an important novel. /…/ Eva Aagaard's debut novel is an intense portrayal of an assault and everything that comes in its wake in terms of guilt and shame."

"The novel gives a gripping insight into [protagonist] Miriam's inner and outer life following the sexual assault. It's not always easy to read, but you also cannot put I don't want this down, you HAVE to know, how things will unfold. /…/ Eva Aagaard writes incredibly convincing and heartfelt. The milieu portrayals are stripped back and yet very evocative. The author features many aspects, but she achieves to weave both small and major themes entirely naturally and logically into the narrative. Aaagaard fearlessly grapples with a difficult topic, and she does so incredibly well. I hope that Eva Aagaard has more great novels up her sleeve, as this (adult) debut is impressively well-written."

"In her Danish debut, journalist and author Eva Aagaard shows just how harmful the myths surrounding the perfect victim has been for the treatment by the police and our society at large of women that have been subjected to sexual assaults, and not the least for the women themselves. I Don't Want This is a moving psychological portrait, that vulnerably and detailedly portrays the trauma reactions of a sexual assault victim, before, during and after the assault. It also emphasizes why the introduction of consent laws has been so important."

"[I don't want this] is an exceptional, gripping and intimate telling about an assault, and the traumas that comes with it. The novel is well-written and truly gets under your skin. It's not a pleasant read, but it is an important book, that shows just how much an assault come to affect the victims and their surroundings. The novel can also be read as a powerful entry-point to the debate on how police, the legal system and our society treats victims of sexual assault."

"A gripping, nuanced and thought-provoking novel. /…/ I don't want this is an accomplished and important novel about a subject matter we simply have to talk more about. Too many have been too quiet for too long."

"[I Don't Want This] demonstrates just how consequential and catastrophic sexual assaults can be for those subjected to them."

"How does one live and not simply exist in the aftermath of a trauma? Aagaard searches high and low in order to grasp that, in a novel that explores the relationship between the surface and the self, time and memories. By showing the absolute shadow side of the human existence, what atrocities can befall a completely ordinary person on an utterly ordinary weekday, the novel in itself becomes a kind of revelation. A strong and important novel, from a brave author."

"The psychological realism in the [protagonist's] reaction pattern is highly nuanced and exceedingly convincing. /…/ There are nuances and grey zones in the borderland between conviction and acquittal, something which Eva Aagaard demonstrates well."

"A gut-punch [of a novel]. /…/ [Protagonist] Miriam will stay with the reader for a long time. /…/ [I Don't Want This] is an intense, frank and raw story that inevitably will leave an impression."
Author

Eva Aagaard

Published

2022

Genre

Pages

250

Reading material

Danish edition

English Sample Translation

Detailed English Summary

Rights sold

Denmark, Alpha

France, Denoël

Norway, Bonnier Norsk