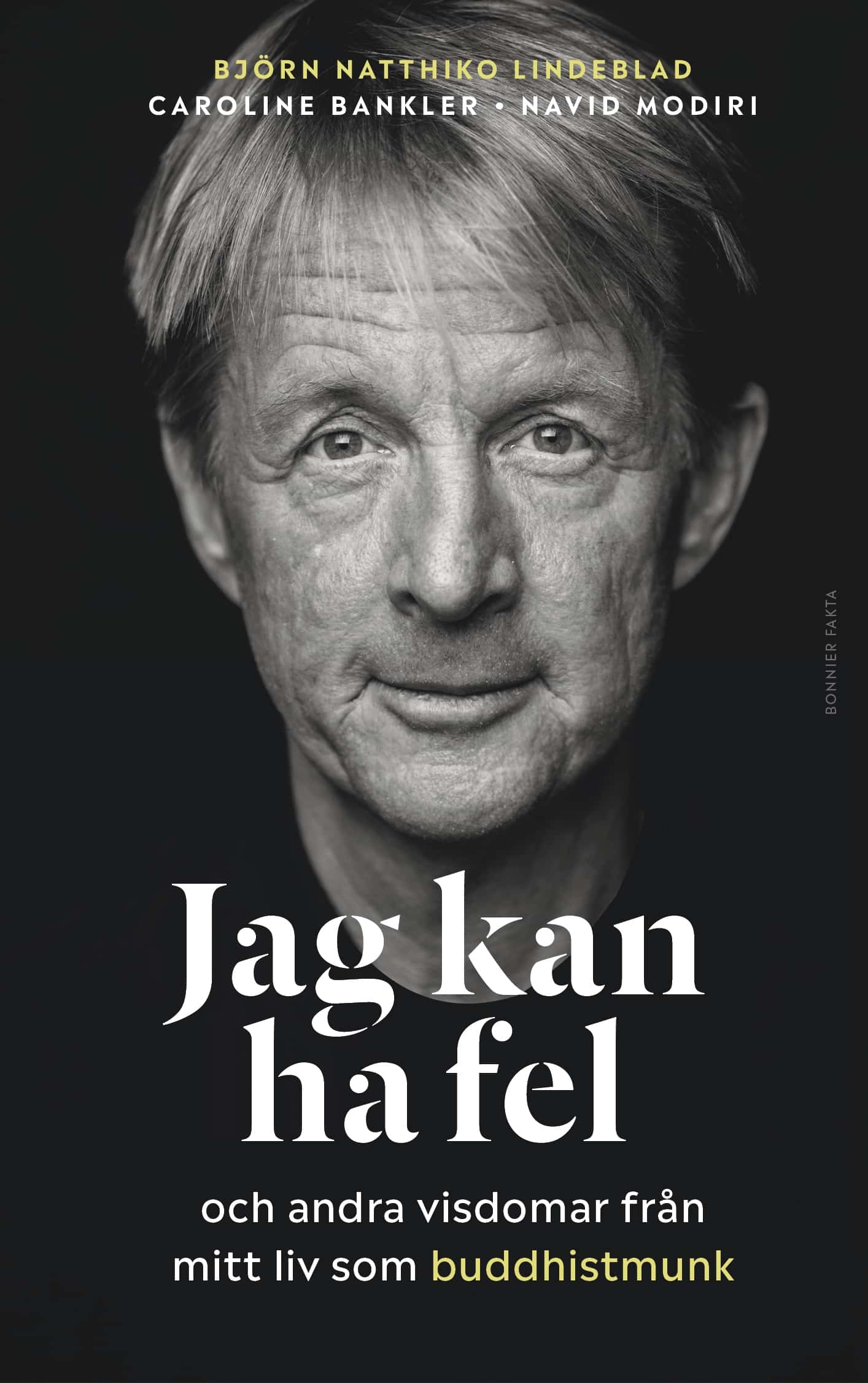 Jag kan ha fel och andra visdomar från mitt liv som buddhistmunk
I May Be Wrong
In his mid-twenties Björn Lindeblad goes from pursuing a promising career as a business executive, to uprooting his life and giving away all his possessions to become a Buddhist forest monk in the jungles of Thailand. There he is given his monk name, Natthiko, meaning "one who grows in wisdom." Seventeen years of monastery life later, he returns to his native Sweden. Lost, unemployed and with no money to his name, he crashes headfirst into a depression. But owing to his learnings and generous surroundings, he discovers a new path forwards and became a much beloved public speaker and meditation instructor. In 2018, Björn was diagnosed with the incurable disease ALS.
In I May Be Wrong, Björn shares his hard-won insights into how one can live a more free and present life, improving one's mental well-being in the process. Finding hope and beauty in the face of unfavorable odds, and drawing from his experiences of monastery life, where death was ever-present, he also reflects on what stands out as most important when things are coming to an end. Besides brimming with eye-opening perspectives, this life-affirming book further outlines helpful hands-on exercises we can use in our daily lives to find our inner peace.
I May Be Wrong became 2020's No. 1 bestselling non-fiction title in Sweden.
"With our potential to maintain a peaceful state of mind, it is possible to remain optimistic in the face of difficulties. Björn Natthiko Lindeblad, a former forest monk in Thailand, relates his experience of training to properly direct his thoughts which can benefit all." – His Holiness the Dalai Lama
Awards
Reviews
"This is beautiful, just extraordinary. Bjorn details his life experiences, his decision to become a monk, the deep wisdom he absorbed living as a forest monk and the lessons he used as he faced the knowing that he was nearing the end of his life. If you read one book this year, make it this."

"I May Be Wrong offers practical wisdom and profound solace. /…/ Björn shares his journey in a very relatable and honest way. He invites you into his world and keeps you interested because you want to know how it all ended up."

"What a wonderful title! If reading lots of books teaches you anything, it's that everyone thinks they're right pretty much all of the time. So how magnificently disconcerting of this Swedish former forest monk to admit to doubts, even profound ones, first off. His book is a multiple prize-winner across Europe, and you can quickly see why. /…/ I May Be Wrong is no self-help book, but it contains more wisdom and will do more people more good than the complete works of Paul McKenna. /…/ [Lindeblad] just accepts his bad luck as he accepted his previous good luck when it came. He comes over as a wondrous man who has lived a good life, and what better can be said for anyone? /…/ This is a book of some brilliance, although, of course, I May Be Wrong."

"[An] extraordinary life. /…/ A book that, improbably, mixes elements of profundity and sweetness in equal measure. I read it, turning down the corners of those pages where I wished to refer back to something, and marking certain passages with a pencil. By the end, almost every page was folded and marked."

"This is a human, wise and peaceful guide to having a good life. /…/ The wisdom radiating from the book's pages never seems artificial, but rather formed through a long and difficult life experience. /…/ [I May Be Wrong] is definitely worth reading!"

"I May Be Wrong is a very emotional read that tells the lifestory of Björn Lindeblad – his spirituality and wisdom is down-to-earth and authentic."

"A beautiful testimony about living an accepting life, act in spite of fear, be open to change – even difficult changes such as terminal illness – and it all enfolded me in a sense of peace. A great read for difficult times."

"[W]ill change your life. /…/This is particularly helpful for those who are tempted to run when the path we so desperately wished for is going in completely the opposite direction. If you sweat the small stuff, and want to learn how not to, this one's for you. "

"Every now and then a self-help book comes along that genuinely stays with you – and this is one such book . /…/ It will encourage you to let go of the small stuff, accept the things you cannot control and open your heart and mind to a more happy and peaceful life."

"A book to read before you go to sleep, to take on the daily challenges with more lightness and a less heavy heart."

"An exciting tale. /…/ The most poignant and enchanting pages of Björn's tale are precisely the ones in which he tells us, with the most poetic imagery, what it really means to make peace with oneself."

"The book contains so many wisdoms that tie in with the big issues that the world wrestles with today. /…/ Heart-rending, yet at the same time so beautiful."

"With this book, written after the diagnosis of a terminal illness, [Natthiko Lindeblad] retraces his own spiritual path. In doing so he manages to remind us that if we all lived life with humility and lightness (which does not mean superficiality) it would make everyone happier."

"It's an astounding life story. /…/ Björn Natthiko Lindeblad talks with vulnerability about the one thing we all know for certain: that at some point, we will all die. /…/ Why, he wonders, does our culture's narrative about death talk only of battle, resistance and denial? /…/ A different perspective on a dilemma that is admittedly timeless, but also unusually present this particular year."

"[Björn Natthiko Lindeblad] is rather good at giving the impenetrable darkness what it deserves. /…/ [He] knows how to twist and turn his prose in order to call our attention to things, and sort of make them new all together."

"[I May Be Wrong] is wise, beautiful, warm – and written with humour."

"[Björn's words] are so wise, so filled with insight, so beautiful, so fragile – and at the same time, so unbearably painful. /…/ It's so important, so vulnerable and so filled with emotion and wisdom. It's impossible to guard against."

"Forget Björn Borg and ABBA-Björn. Sweden's true gift to us Nordic hectic people is the former forest monk Björn Natthiko Lindeblad. /…/ When Björn conveys the most important insight from his monk life, 'Don't believe your every thought' I feel the Björnianism spreading."

"I have few books that are truly close to my heart, but this autobiographical book written by Björn Natthiko Lindeblad is one of them. The author tells with humour and ease about his journey. /…/ The book is for those who wants a life-affirming reader's experience and an insight into how even the most harmonious individuals take on the highs and lows of life. A book that inspired me to encounter myself and others with love and humbleness.

"

"[Natthiko Lindeblad] knows what truly matters when the days are limited and how we can find hope, beauty and inner peace against all odds. "
Author

Björn Natthiko Lindeblad

Published

2020

Genre

Pages

192

Reading material

Swedish edition

English translation

Rights sold

Brazil, Intrinseca

Bulgaria, Kibea

China, Beijing ST (Simplified Chinese)

Croatia, Koncept

Czech Republic, Kniha Zlin

Denmark, Memoris

Estonia, Hea Lugu

Finland, Aula Kustannus

France, Ambre Éditions

Germany, Dtv

Greece, Minoas

Hungary, Cartaphilus

Israel, Modan

Italy, Vallardi

Korea, Dasan

Latvia, Zvaigzne ABC

Lithuania, Balto

Mongolia, Buteelch Publishing

Netherlands, Het Spectrum

Norway, Publicom

Poland, Foksal

Portugal, Lua de Papel

Romania, Trei

Russia, Bombora

Serbia, Vulkan

Slovenia, Vida Zalozba

Spain, Ariel

Sweden, Bonnier Fakta

Taiwan, Prophet (Complex Chinese)

Thailand, Book Time

Türkiye, Dogan Egmont

UK, Bloomsbury

Vietnam, Vanvietbooks