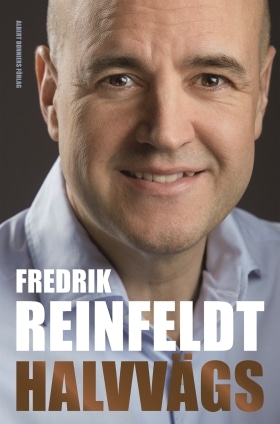 From a seat on the student council to that of the prime minister of Sweden.
The First Act is former Swedish Prime Minister Fredrik Reinfeldt's own account of the 25 years he dedicated to Swedish and international politics.
From his years in the Moderate Youth League to his and Anders Borg's creation of the New Moderates, The First Act follows the at times winding path of Fredrik Reinfeldt's career before he became the prime minister of Sweden. But it also gives a moving account of his childhood and teenage years, hinting at the social issues and environment that shaped the political vision of the grown man. As the biography goes on to tell of the founding of the Alliance and Reinfeldt's election victory in 2006, the reader is able to trace the former prime minister's footsteps as he takes on the greatest political challenge of the 21st century: the financial crisis of 2008-2009. When Sweden emerged from the crisis as the only country in the EU to have lowered its national debt, international media was quick to ask why. In The First Act, Reinfeldt himself describes the setbacks and successes he experienced as he tried to steer Sweden not only through the economic storm, but towards an alternative social model.
Reviews
"Not a slugger, but undeniably pragmatic, serious, correct, "politician-like" and with a great sense for strategy. Fredrik Reinfeldt united the centre-right conservatives /…/ Of course you want to hear how Fredrik Reinfeldt would describe it all in his own words, in his book The First Act. It is engaging, without being glib. /…/ In a confident and relaxed language, tinged somewhat with a certain bureaucratic air, he tells the story of a straight-laced youth who sat on the student council, sold Christmas magazines and played basketball. /…/ The First Act is not your typical political autobiography, with namedropping and farewells to those who've made an appearance in the political world."

"[Fredrik Reinfeldt's] political will."

"Fredrik Reinfeldt falls into the category of the top politicians who have the least to be ashamed of. His successes speak for themselves, something even his opponents acknowledge. Yet despite this – or perhaps because of it – his book is not particularly boastful or self-glorifying. There are elements of both self-criticism and self-irony. /…/ Fredrik Reinfeldt is a controlled and risk-minimizing politician with practicality as his guiding star. This pragmatism includes a pronounced sensitivity to public opinion, a necessity for high-level politicians. /…/ Reinfeldt's critical description of the culture within his own party is interesting to observe. /…/ [The First Act] provides an accessible and readable summary of an eventful and transformative period in our recent history."
Author

Fredrik Reinfeldt

Published

2015

Genre

Pages

380

Reading material

Swedish edition

Rights sold

Sweden, Albert Bonniers