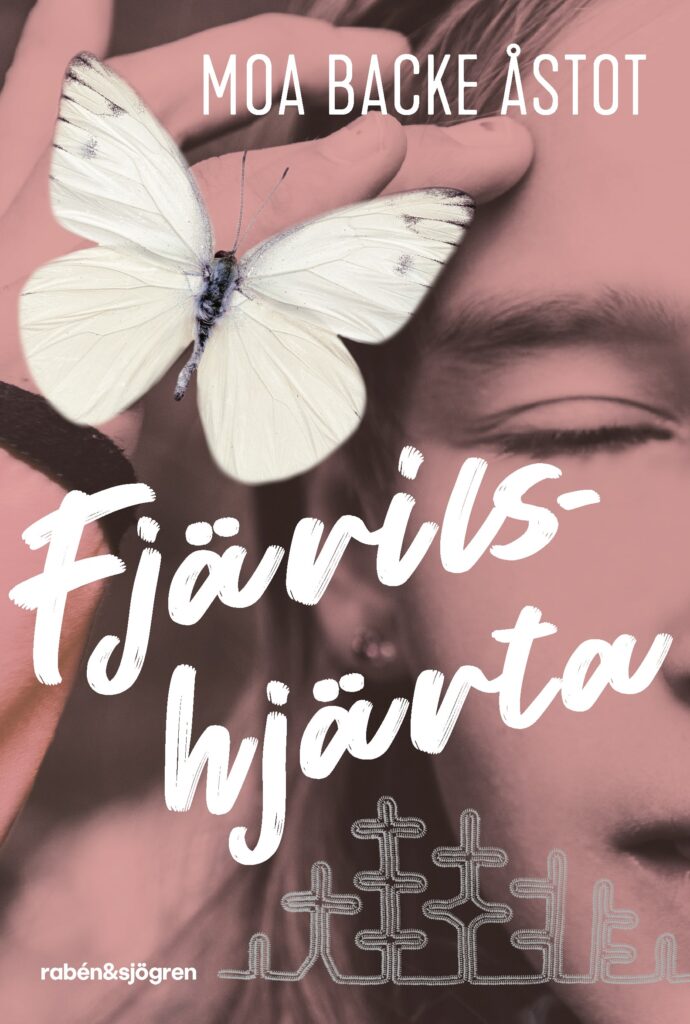 Fjärilshjärta
Flutters of the Heart
No one at school believes Vilda when she tells them she is Sámi. There are always a million questions: Do you speak Sámi? Do you own reindeer? Is your dad Sámi? But no matter what answers Vilda give, it's like she's not Sámi enough for them. She's decided to change that. She's going to start wearing gábdde, the traditional Sámi clothing, and ask her grandfather, the only one in her family who speaks Sámi, to teach her the language.
But when Vilda's grandfather suddenly passes away, everything is turned upside down. Vilda has to navigate her Sámi heritage all on her own. At the funeral she meets Samuel. He is a few years older and has everything Vilda wants for herself: the gábdde, the reindeer, the language. Everything her grandfather never got the chance to give her. Perhaps Samuel can show her how to be Sámi instead?
Flutters of the Heart is a book about grief, love, and the right to define who you are.
Reviews
"The minority issues that [Moa] Backe Åstot raises are seamlessly intertwined in the story. /…/ The depiction of shame changing shape is as nuanced as it is sharp and invites further discussions about identity. /…/ With Flutters of the Heart, Backe Åstot shows that she is a new voice to be reckoned with on the young adult literary scene. It is extremely well-written and at times very unique. /…/ Backe Åstot is at her best when writing about romance, giggly tension, and anticipatory suspense. The text sparkles in its depiction of Vilda's texting with the boy she likes."

"Moa Backe Åstot's writing is on point as she portrays powerful, difficult feelings and the Sámi language in this unique story for younger teenagers."

"Flutters of the Heart is an exceptionally great young adult novel bursting at the seams with emotion!"

"The tone is as dynamic as the story itself. Moa Backe Åstot lets the reader travel between languages and dialects, darkness and hope. It is on point because she knows what it's like to be young, and what it's like to be Sámi."

"Moa Backe Åstot's Flutters of the Heart is a moving young adult novel that deals with themes such as identity, grief, and self-acceptance. /…/ The novel believably illustrates the prejudice and ignorance Sámi culture and identity face. /…/ [Flutters of the Heart] balances between [grief and questions of identity] in a nice way and offers the reader insight into how grief and identity can cooperate and affect each other. Moa Backe Åstot writes in a style that is simple and to-the-point, which is fitting to the young adult novel's theme and core audience. The story is well-written and engaging, and the characters believable and easy to relate to."

"Almost every sentence is loaded with meaning in Flutters of the Heart, and the way grief, teenage crushes, and sisterly love is described is amazingly good. /…/ Sweden has a new, big authorship in the making."

"This is an incredibly powerful, empathic book where nearly every sentence matters and I think every girl from twelve years and up can feel a sense of recognition. /…/ The depiction of grief is probably one of the best I have ever read! This book is well worth the read, regardless of age."

"After Fire From the Sky I had pretty high expectations of Flutters of the Heart – and were they ever fulfilled. The prose is incredibly skillfully woven; everything that fits into a teenager's fluttering heart is given space. Vilda's search for identity is depicted in a believable and recognizable way."

"Backe Åstot writes delicate, unvarnished, and vivid prose about what really matters. /…/ I can definitely recommend Flutters of the Heart to everyone age twelve and up."

"I binged the whole book in one car ride […] and absolutely loved it. Amazing prose, a fantastic depiction of sisterly love, the processing of grief, and of heritage. A book that everyone should read. I also loved the passages of untranslated Sámi; it gave more depth to the story."

"Moa Backe Åstot is my favorite Young Adult author. /…/ Absolutely everyone [should read this book]. Grown-ups as well as kids and young adults. But especially someone who is seeking comfort in not having access to their native language. /…/ This [book] can perhaps attract people who are second generation [immigrants] or who find themselves torn between two cultures."

"Readers twelve and up understood already when reading Moa Backe Åstot's groundbreaking and critically acclaimed debut, Fire From the Sky, that Backe Åstot is an important and warm voice in contemporary literature. In Fire From the Sky [Backe Åstot] brought up the issue of who has the right to call themself Sámi – in Flutters of the Heart she digs even deeper. /…/ Rarely have I read a more realistic and humorous depiction of contemporary, dreamy, teenage love […] than the one I, and many young readers with me, got to enjoy through the brave Vilda in Flutters of the Heart."

"Brilliant about the search for a Sámi heritage. /…/ Growth isn't possible if you haven't lived, withstood trials, and made mistakes, as the author excellently portrays. /…/ Backe Åstot has not only opened the rest of Sweden's eyes to the crimes committed against its indigenous population. The unique thing about her authorship is that it equally portrays the worries that all young people – Sámi or not – experience. The sorrow of losing a loved one, annoying parents, bodily changes, sibling love, friendships being tested, and mean schoolmates. And it is a smash hit."

"Even amongst outsiders there are rules that determine if you belong; codes and phrases that can only be understood by those who are in the know, something that Moa [Backe Åstot] skillfully makes use of by intertwining dialogue in Sámi, […] which means that the reader can feel either included or excluded depending on their linguistic knowledge. /…/ That young Sámi get a new voice that speaks for them, spreads knowledge about their traditions, and gives readers an insight into Sámi culture is a welcome addition to the otherwise sparse publication on the subject."

"Moa Backe Åstot has great compassion for her main character and she makes the overall story larger than its parts. Realistic with a romantic way of portraying nature. /…/ It is sore and tangly. Moa Backe Åstot raises matters of reconciliation and pride which makes Flutters of the Heart a bright and inspiring story."

"A fantastic and powerful read."

"A fine-tuned and realistic depiction of life set against a Sámi backdrop. [Moa Backe Åstot] portrays Vilda's teenage life, grief, and search for identity with great recognition and commitment. The reader is at once captured by the story […]. A book suitable for discussions on relationships and identity."

"[Moa Backe Åstot] is the new queen of Swedish young adult novels. /…/ Everything is splendidly depicted, believable, and easy to take in. /…/ [Flutters of the Heart] is too beautiful to miss out on. A real gem!"

"Moa Backe Åstot's novel Fire From the Sky was a solid debut, an immersive love story in a Sámi setting with homosexuality as its main theme. Flutters of the Heart sees a younger main character and is also aimed towards a slightly younger audience, but it is just as captivating. This story also contains love, in the form of a first crush, but parallel to and intertwined with that pounding heart there is another, aching thread: the right to one's heritage."
Author

Moa Backe Åstot

Published

2023

Genre

Pages

144

Reading material

Swedish edition

English translation

Rights sold

Norway, Cappelen Damm

Sweden, Rabén & Sjögren