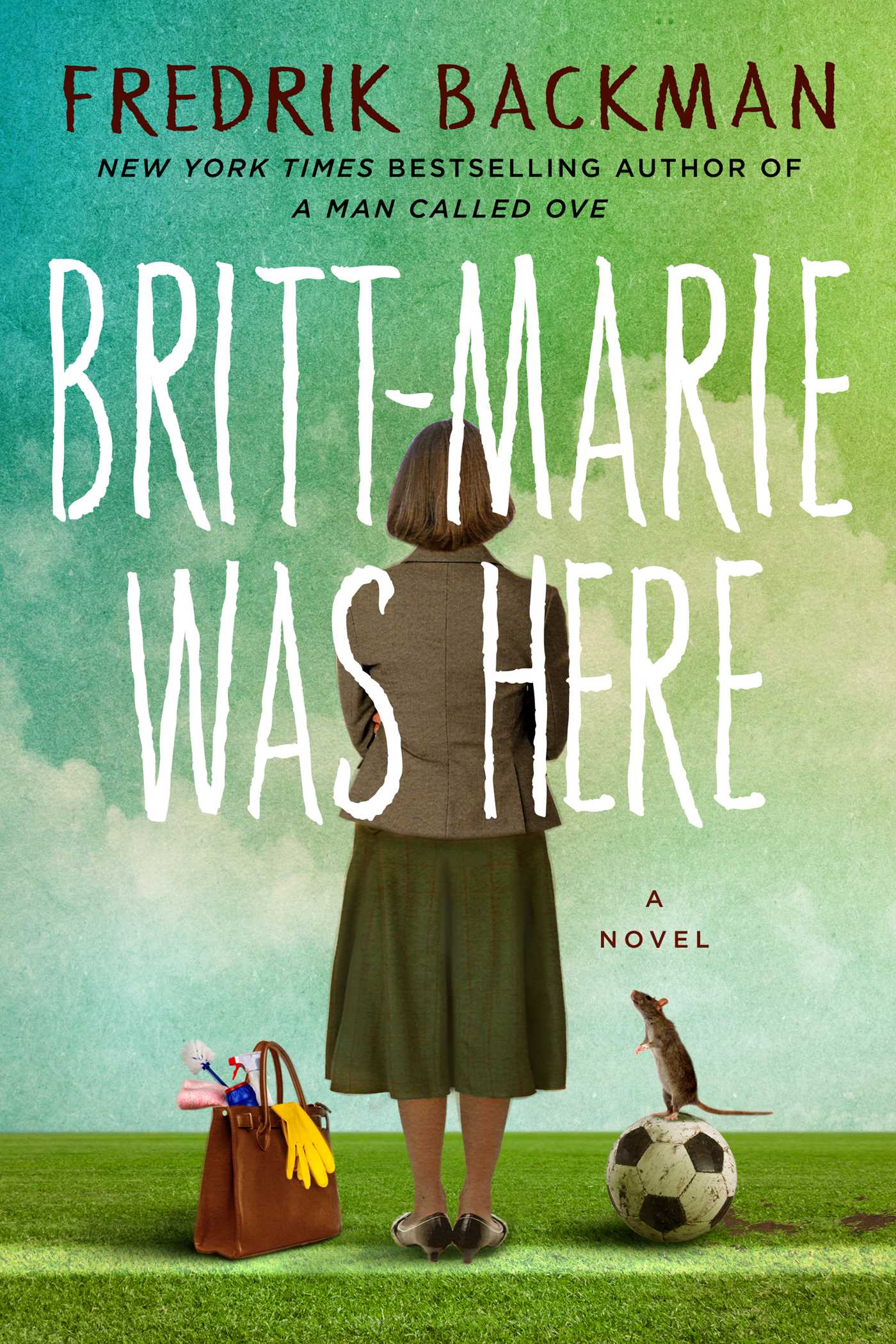 Britt-Marie var här
Britt-Marie Was Here
Britt-Marie can't stand mess. She eats dinner at precisely the right time and starts her day at six in the morning because only lunatics wake up later than that. And she is not passive-aggressive. Not in the least. It's just that sometimes people interpret her helpful suggestions as criticisms, which is certainly not her intention.
But at sixty-three, Britt-Marie has had enough. She finally walks out on her loveless forty-year marriage and finds a job in the only place she can: Borg, a small, derelict town devastated by the financial crisis. For the fastidious Britt-Marie, this new world of noisy children, muddy floors, and a roommate who is a rat (literally), is a hard adjustment.
As for the citizens of Borg, with everything that they know crumbling around them, the only thing that they have left to hold onto is something Britt-Marie absolutely loathes: their love of soccer. When the village's youth team becomes desperate for a coach, they set their sights on her. She's the least likely candidate, but their need is obvious and there is no one else to do it.
Thus begins a beautiful and unlikely partnership. In her new role as reluctant mentor to these lost young boys and girls, Britt-Marie soon finds herself becoming increasingly vital to the community. And even more surprisingly, she is the object of romantic desire for a friendly and handsome local policeman named Sven. In this world of oddballs and misfits, can Britt-Marie finally find a place where she belongs?
Fredrik Backman's No. 1 internationally bestselling third novel, Britt-Marie Was Here, is a funny, poignant and uplifting story about love and second chances, and about the unexpected friendships we make that teach us who we really are and the things we are capable of doing.
Awards
LiveLib Readers' Choice Awards

(Best Translated Fiction) Russia
2018

Shortlisted for LiveLib Readers' Choice Awards

(Best Translated Fiction) Russia
2018

Longlisted for the International Dublin Literary Award

Ireland
2018
Close award list
Reviews
"It's a linguistic universe I happily return to book after book."

"A story of sorrow, hope, and joy, written with an abundance of humor."

"In Fredrik Backman's new novel Britt-Marie Was Here, the typically Swedish is magnified: it's laugh-out-loud funny and sentimentally philosophical."

"It is doubtlessly a page-turner worthy the name."

"Backman is a genius at distinguishing and making us laugh at the typically Swedish – our fear of conflict, social handicap, and hopeless taciturnity."

"Backman has a momentum when he writes, a natural prose and a clear talent for finding the humorous angle without too much effort. And still he doesn't lose the underlying gravity. /…/ [Britt-Marie Was Here] is a cozy tribute to the everyday heroes who never end up in the papers or TV."

"Backman has clearly hit a winning note with his stories filled to the brim with charm, warmth, humor and life stories. Britt-Marie Was Here is in no way an exception. /…/ Britt-Marie's meeting with the local unemployment office clerk and her unwavering faith that scrubbing everything with baking soda will solve all problems alone are reasons enough to read this charmer of a novel."

"Backman has found a new way to describe reality with his original style and exceptional characters."

"Insightful and touching, [Britt-Marie Was Here] is a sweet and inspiring story about truth and transformation. Fans of Backman's will find another winner in these pages."

"Heartfelt and truly stirring. /…/ Backman has written another bestseller with his latest novel."

"As with Backman's previous two books – A Man Called Ove and My Grandmother Asked Me to Tell You She's Sorry – Britt-Marie Was Here is a brilliant mix of belly-laughs, profound insight and captivating events delivered through enchanting characters disguised as ordinary folk, with Backman's pitch-perfect dialogue and an unparalleled understanding of human nature. /…/ Britt-Marie Was Here will warm hearts, wrench hearts and, most importantly, it will steal hearts. At its core, it is a love story, one in which a lonely woman learns to love a small town, its inhabitants and especially herself. Fredrik Backman has cleaned the windows so his readers can clearly view his world, and the reflections they catch of themselves may change them forever."

"Written with so much honest warmth and understanding of life that you would have to be made of stone not to be moved by it."

"Almost in the blink of an eye the story changes from comical to heart-rending, thereby creating stunning depth."

"Universal. /…/ Backman hits a nice note between overly sweet and hard-boiled fiction; excellent for book clubs."

"Britt-Marie's metamorphosis from cocoon to butterfly seems all the more remarkable for the utterly discouraging environment in which it takes place."

"This novel was well worth reading, and I embrace what I learned from it."
Author

Fredrik Backman

Published

2014

Genre

Pages

361

Reading material

Swedish edition

English edition

Rights sold

Arab World, Dar Altanweer

Bosnia & Herzegovina, Sahinpasic

Brazil, Rocco

Bulgaria, Ciela

China, Guomai (Simplified Chinese)

Croatia, Fokus

Czech Republic, Host

Denmark, People's

Estonia, Varrak

Finland, Otava

France, Fayard

Georgia, Palitra

Germany, Fischer

Greece, Kedros

Hungary, Animus

Iceland, Bjartur & Veröld

Israel, Yediot

Italy, Mondadori

Japan, Hayakawa

Korea, Dasan

Latvia, Janis Roze

Lithuania, Alma littera

Montenegro, Nova knjiga

Netherlands, Volt

North Macedonia, Antolog

Norway, Cappelen Damm

Poland, Sonia Draga

Portugal, Porto

Romania, Editura Art

Russia, Sindbad

Serbia, Laguna

Slovakia, Ikar

Slovenia, Mladinska

Spain, Harper Collins Espanol

Sweden, Forum

Taiwan, Ten Points (Complex Chinese)

Thailand, Merry Go Round

Turkey, Ithaki

UK, Hodder & Stoughton

Ukraine, Knigolove

US, Atria

Vietnam, Tre Publishing

Film rights sold

Sweden, SF Studios