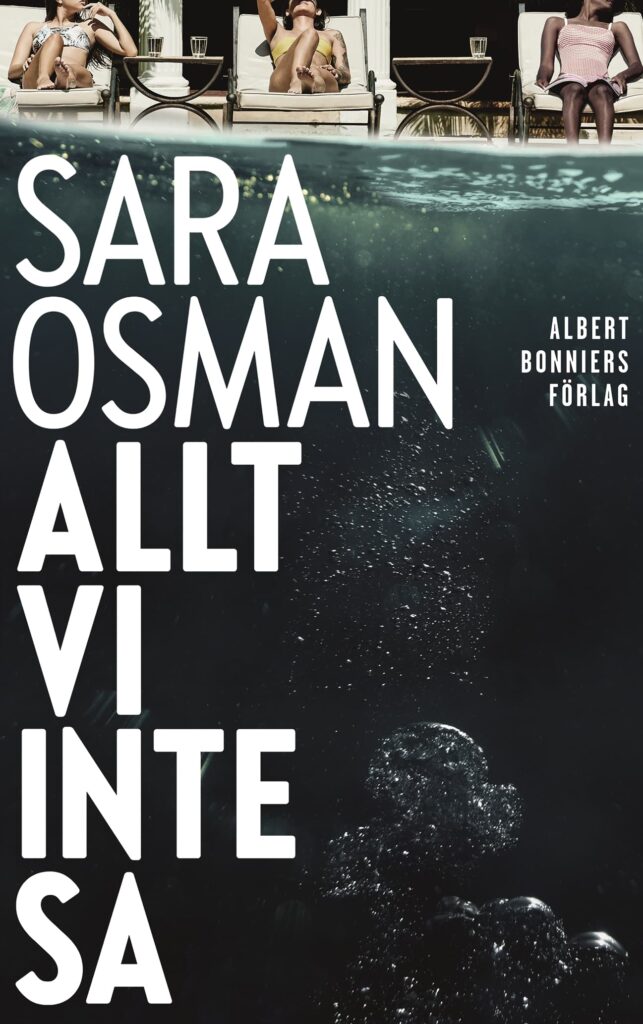 Allt vi inte sa
Everything We Didn't Say
Amanda is the star of the party – not seldom at the expense of her own well-being. Sofia is the sharpest new hire at her law firm, but also the only black woman, and she's feeling the pressure to not only be good, but the best. Caroline has it all: the caring boyfriend, the luxury flat, and the influencer career… or does she?
The three young women are living it up in downtown Stockholm. On the surface it's all good, all glitzy. But underneath the tensions are boiling. As Midsummer's Eve and the biggest party of the year approach, the lies, betrayals and unspoken words all come bubbling up to the surface.
Everything We Didn't Say is a story from the borderlands of psychological suspense, dark entertainment and contemporary literature. It's raw, funny, harrowing, and so topical it hurts.
"I love Sara Osman's prose because there are no excessive words anywhere; it's as if I fall through the book, everything is hysterical and wonderful – and deeply sad."
-Alex Schulman
"The recognizability is high and the critique of contemporary society sharp. Sara Osman's debut oozes satire and suspense. A must read!"
-Jens Lapidus
"Sara Osman's debut has it all: the tone, the pace, and the true-to-life accuracy. As the character's world becomes your own, your laughter gets caught in your throat and your pulse starts to race. It's ridiculously good."
-Lina Bengtsdotter
Reviews
"A skillfully crafted story wherein the spotlight is directed towards society's underlying injustices. /…/ A page-turner is the result of genuine craftsmanship. Without the latter, there'd be no book that made the reader only reluctantly stop the eager flipping of pages. Sara Osman knows the craft, that we can tell already from the beginning of Everything We Didn't Say. /…/ The unease in [this] page-turner is of the kind that won't leave you."

"Osman's writing is furious, feminist and anti-racist, cynical, quick-witted, and funny with an impressive force to it. /…/ Osman settles the score with idiotic societal norms and illogical human behaviors. Here mankind's inner wolf is allowed to run free across the pages. Ugly thoughts, lies, self-pity and jealousy are let loose without any self-conscious recriminations or excuses. /…/ [Everything We Didn't Say] is a lovely debut. I look forward to reading more by Sara Osman."

"This is madly funny; rarely have I read a text with so many spot-on one-liners, rarely have I laughed out loud as many times as I did while reading Sara Osman's debut novel, Everything We Didn't Say. /…/ Crumbling façades is one possible expression you might use to describe this story about the pain of façades coming down, and the sometimes very uncomfortable consequences of silence. Because even if this read treats you to many laughs, neither comedy nor feelgood suit it as a genre; it's a dark and very on-the-pulse portrait of contemporary society that employs several of the tools of the psychological thriller. /…/ Gradually, as disaster approaches, the tone itself darkens, and the intensity mounts as the chapters grow shorter."

"One of the book's strengths is the shifts between the questioning of lifestyle choices for those with money and resources and a more multilayered portrayal of racism, loneliness, and poor mental health. The author knows her themes well, and the novel has a contemporary and thought-provoking tone."

"A bitingly sharp story in the vein of Malin Persson Giolito's Quicksand, [possessing] a furiously insistent prose that drives home contemporary society's power games, prejudices and shortcomings via precise snapshots. /…/ A cutting class drama. /…/ Everything We Didn't Say is an intelligent contemporary novel that succeeds in combining the momentum of a page-turner with stylistic brilliance."

"An on the mark documentary of contemporary, urban life. /…/ [Everything We Didn't Say] shows that it has a voice of its own, and already in the first chapter I find myself smiling, as you do when discovering that you're in for a binge read. /…/ Osman portrays her characters with care; they're allowed to have multiple layers and often behave as people do most. /…/ [Her] debut has a refreshing attitude in its prose and perspective, letting no one get away with their prejudices. It's a story that you'll devour quickly and with ease, but wherein you'll also encounter darkness and sorrow."

"Sara Osman's debut novel is fantastic."

"It's an often-asked question: Which will be the next generational novel, the most spot-on depiction of our time? As I read Everything We Didn't Say by Sara Osman […] I wonder if it wouldn't have a good chance. /…/ It's impossible not to devour this the frightening tale of our time and the society we've created."

"Sara Osman's debut novel, Everything We Didn't Say, is a punch to the gut of her own generation and its preoccupation with nonsense instead of truly talking to each other. Confidently she portrays a world in which it's a cardinal sin to be ugly, and where the height of success is to get lots of 'likes' on social media."

"The three young women's stories complete one another with their differing perspectives, propelling the plot forward. The prose is vigorous, full of energy and cutting humor, daring metaphors, and bulls-eye observations. /…/ A singularly promising debut."

"Everything We Didn't Say is Sara Osman's debut novel and it has its finger on the pulse of Sweden right now. A quick-paced prose lets us follow three women and what it means to be a young woman in contemporary society. Osman depicts typically female-coded situations, professions and contexts, but gives them agenda instead of describing them as something passive. /…/ The book's strength lies in its tangible topicality. We get to follow a series of events chronologically, letting the reader share the narrator's emotions even as they arise, instilling a strong sense of being present. /…/ [The novel's] framework lets the reader place their own experiences from contemporary society within the covers of the novel, and by doing so begin to question the ambiguities of norms. /…/ Everything We Didn't Say is a promising debut that wanders between seemingly modest and trivial themes and cold, brutal seriousness. Between these two poles, we get to know the characters' innermost thoughts – thoughts we seldom want to, but perhaps have to, acknowledge."

"Sara Osman […] debuts with a powerful contemporary novel. /…/ [Everything We Didn't Say] is a sharp and keen-eyed novel about what it means to be a young career woman in downtown Stockholm; there's glitter and glamour, but also dizzying existential depths."

"A debut with an edge. /…/ All throughout the novel, there's something boiling beneath the surface, ready to blow at any time. And it does, with a vengeance. Keen-eyed observations on contemporary society makes the journey there a joy."
Author

Sara Osman

Published

2021

Genre

Pages

320

Reading material

Swedish edition

English translation

Rights sold

Finland, Like

Sweden, Albert Bonniers