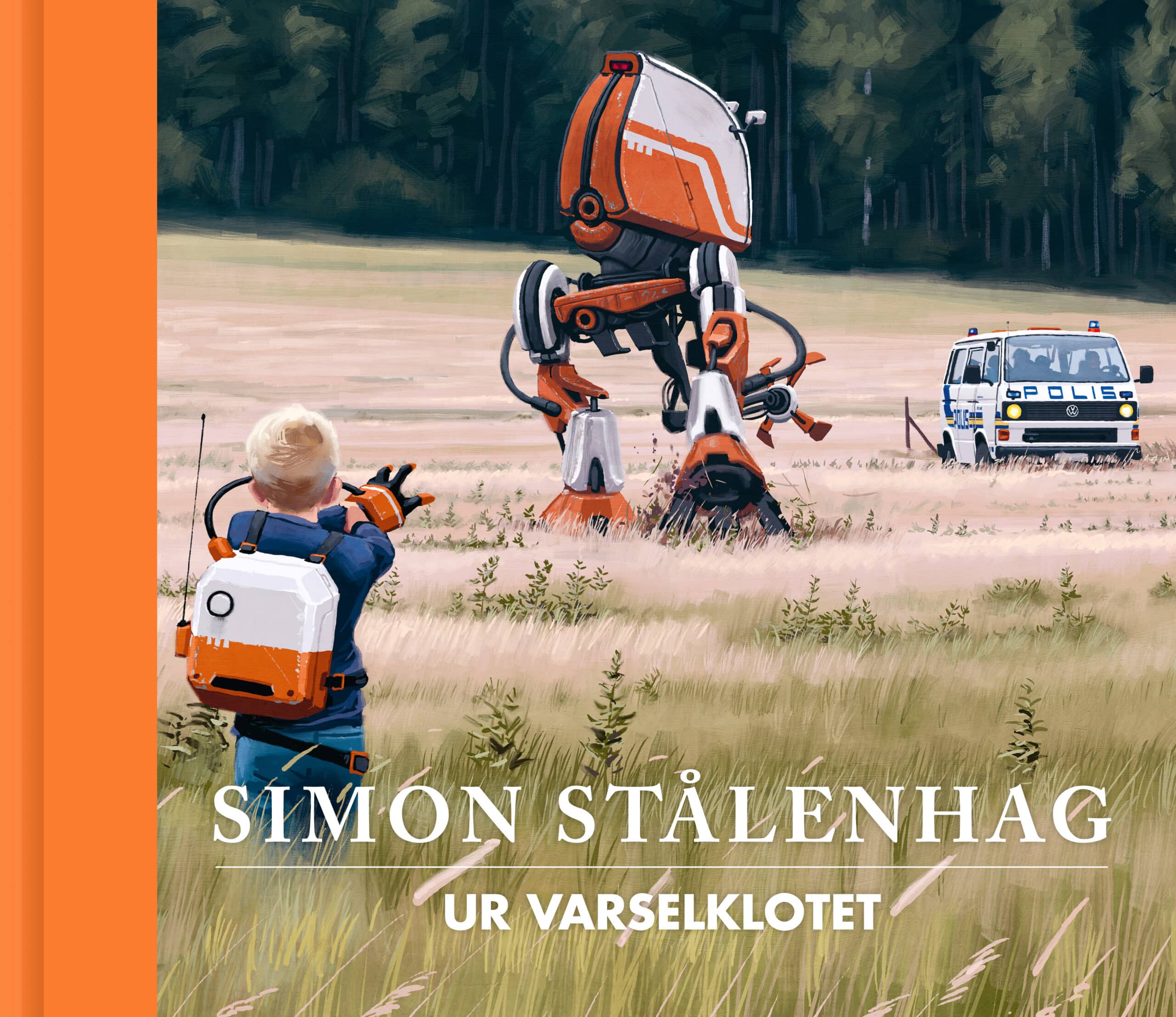 Ur varselklotet
Tales from the Loop
Tales from the Loop is a heady journey through fantastical landscapes eerily similar to our own, where children explore and engage with abandoned robots, vehicles, machinery large and small, and dinosaurs and other creatures wander the roads and fields.
Stålenhag's paintings and stories take place in an alternate version of Sweden in the 80s and 90s, but primarily in the countryside of Mälaröarna, a string of islands just west of Stockholm. Tales from the Loop tells of how this technology-infused reality came about: the development of the Loop, a large particle accelerator, and the side effects that this massive project had.
Both haunting and imminent, Tales from the Loop addresses the many ways developing technology and nature can create havoc and wonder in our world, and the impact it will have on the next generation.
Tales from the Loop was selected as one of the '10 Best Dystopias' by The Guardian.
Reviews
"Incredible paintings of sci-fi suburbia that will make you wish you were Swedish."

"Whether it involves an allosaurus stopping a van in the middle of the road or some kids hanging around a cliff overlooking a set of looming, hazily glowing factory towers, each digital work looks like an oil painting, each stroke painstakingly hand-brushed, each stroke over canvas — or perhaps a still from a forthcoming Pixar flick."

"Some artists find a synthesis of style and subject that causes their work to resonate deeply within us. We experience new memories and ideas while we look at their images. The paintings of Simon Stålenhag do just that. They feel like Polaroids from a childhood we never had in the future."

"See one of Stålenhag's pieces once and it will stick to you like tar. Follow you home. Color your dreams. The reality he imagines is infectious. It'll eat yours whole, and his robots and dinosaurs and savage, blonde children will become yours, too. /…/ [Simon Stålenhag's] writing is simple, small and intimate; his voice affectless and pure."

"Simon Stålenhag's haunting painted stories in Things From the Flood are science fiction at its most beautiful."

"Stålenhag's landscapes bear a relation to his sources of inspiration, Lars Jonsson and Gunnar Brusewitz, but are spiced up with a proper dose of 80s nostalgia: boys in down jackets and lovikka mittens, and an excess of station wagons."

"Simon Stålenhag's paintings, now out in book form, are a bulls-eye of the rarest kind. /…/ The landscapes are not made more alien but rather more themselves when Stålenhag adds a two-legged robot or a pair of enormous cooling towers. It is as if he conjures up something already present in the landscape, makes the air take shape. /…/ Simon Stålenhag shows that the most realistic depiction of a location could be one where you add an element never there to begin with. An element that triggers and makes visible the underlying mood that fills the place."

"They look like real paintings, grandiose and portentous, immediately gripping. /…/ Perhaps it is because they give you a feeling of recognition, despite that what they depict is partly impossible to recognize. The story that Stålenhag builds in Tales from the Loop, about the powerful and mysterious particle accelerator beneath Munsö, is both convincing and brilliant everyday science fiction."

"My Life as a Dog meets Transformers /…/ An absolutely wonderful book."

"While reading through [Tales From The Loop], I couldn't help but shake the feeling that I was reading something comparable to the brilliant novel Roadside Picnic by Boris and Arkady Strugatsky: there's technology everywhere, but it's been cast aside, abandoned, ripe for exploration. /…/ All in all, this makes for the best type of coffee table or art book. It draws you in and sucks you into new, fantastic worlds that you don't want to come home from."

"Tales from the Loop depicts a fictitious Swedish suburbia, a never-existed Sweden incredibly vivid and tangible in the authors mind: it is a land of desolation, suspended in an alternative 80s past, filled with sci-fi metal scrap and derelict robots, retro-futuristic monoliths and obsolete technology. /…/ The work is a studied portrayal of the author's imagination, set in a lucid tale, a narrative so cohesive it elevates fantasies to the intimate level of recollections: it's a true reinvention of memory, so to say."

"Anyone enthusiastic about The Electric State will once more sink blissfully into this world."

"[Simon Stålenhag] stirs melancholy and gives comfort. /…/ Reminischent of Edward Hopper."
Author

Simon Stålenhag

Published

2014

Genre

Pages

128

Reading material

Swedish edition

English edition

Rights sold

China, Guomai (Simplified Chinese)

Czech Republic, Argo

Denmark, Alvilda

France, Editions Akileos

Germany, Fischer

Hungary, Agave

Italy, Mondadori

Japan, Graphic-sha

Russia, Eksmo

Slovakia, Albatros

Spain, Roca

Sweden, Fria Ligan

Taiwan, Chi Ming (Complex Chinese)

Türkiye, Ithaki

UK, Simon & Schuster

Ukraine, Vydavnytstvo

US, Skybound Books/Gallery Books (World English)

Film rights sold

US, Fox