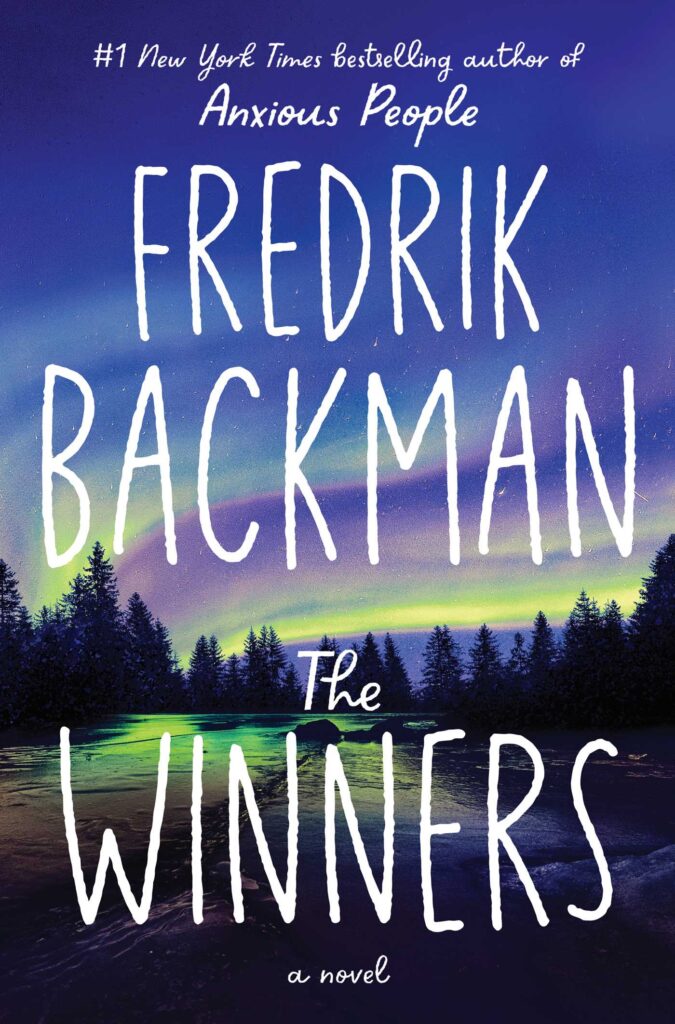 Vinnarna
The Winners
Beartown #3
This is a small story about big questions: What is a family? What is a hockey team? What is a community? And what are we ready to sacrifice in order to protect them?
Two years have passed since the events that no-one wants to think about. Everyone has tried to move on, but there's something about this part of the woods that never really lets you. We are a town with sorrow in our heart and violence in the air, we love fairytales with happy endings, but deep down we probably knew this never was one. It begins with a storm, this time, and ends in fire. Someone who's been gone a long time is coming home. Someone is laid to rest. Someone falls in love, someone dreams of the NHL, and someone dreams of revenge. Someone sleeps back-to-back with their best friend, someone tries to fix their marriage, and someone tries to save their children. Someone hates, someone fights, someone grabs a gun and walks towards the ice rink. All that we fought for won't make it, all those we love won't grow old.
So what is a family? A hockey team? A community? They are the sums of our choices. What are we willing to sacrifice in order to protect them?
Everything. Just that.
This is the final installment in Fredrik Backman's beloved trilogy about Beartown. The Winners is a powerful, violent, and deeply loving end to the story of the small hockey town and its people.
Selected for the October 2022 Indie Next List and is included in the Toronto Star's Most Anticipated Reads for the Fall as well as BookPage's list of most anticipated fiction of fall.
Awards
Shortlisted for the Goodreads Choice Awards

(Best Fiction) US
2022

Shortlisted for Audible's Best Audiobooks of 2022

(Best Fiction) US
2022
Close award list
Reviews
"Backman leaves no emotion unturned, sweeping up the reader in riveting family dramas that jump the boundaries of hockey-town rivalries. Another winner."

"Backman takes competition, friendship, politics and town rivalry to appropriately biblical proportions. /…/ [An] emotionally wrought, bighearted novel."

"[This] is merely a backdrop for what Backman does best: mine the emotional complexities of parenthood, marriage, friendships, and the sucker punches in life that can lay us flat, or make us more resilient. With The Winners, Fredrik Backman has added another winner to his beloved oeuvre."

"Everything Backman's pen touches oozes with insight and heart. The Winners is sure to be another winner."

"Well worth the wait. /…/ [T]his book will leave readers examining the complexities of the mundane as well as reconsidering what it truly means to win, lose, and forgive. Emotional and deeply poignant, The Winners will be the book readers simply cannot put down."

"Fredrik Backman is known for his engrossing page-turners, and his latest novel follows suit. /…/ A story of revenge, loss, and forgiveness."

"This is a dramatic and highly satisfying novel, building on themes introduced in the first two books and brilliantly drawing the reader deeply into the story. The translation by Neil Smith (who has also translated novels by Lars Kepler and Liza Marklund) is nimble and idiomatic, perfectly conveying Backman's love of language and his wonderful sense of humor. If this really is the last Beartown novel, it's a hell of a conclusion to an outstanding series."

"With a lot of emotion and wit, Backman intertwines several minor storylines and gives the reader hope for better days."

"Heartwarming, funny and full of wisdom."

"[Fredrik Backman] is at his best in the small movements; almost silent scenes that identifies the most emotional subjects. /…/ Backman is great at writing about love – and at always paying attention to the child, in all contexts. /…/ When summarizing this trilogy, what is most impressive is the way Backman approaches sport. He conveys the beauty of it, while at the same time bringing every ugly thing into the light, forcing us to see. When he is finished, we have seen the worst but are still convinced of the beauty."

"[Backman] once again presents us with a rich gallery of characters, and his strength lies in making you care about every single one. /…/ Tears are inevitable during the final scenes."

"Fredrik Backman's writing is poignant, beautiful, funny, tender. Above all he is keen to bring a spotlight upon pressing issues. /…/ I read the final installment of [Backman's] Beartown trilogy with tears streaming down my face. (…) It's all so incredibly moving. People who are broken, alcoholics, traumatized, abused, vulnerable and repressed come and go and Backman shows solidarity with them all. /…/ The Winners is a masterpiece. There's nothing else I can say about a book that evidently discomposes me to this extent. (…) This is a book that hits you like a slapshot in the solar plexus. /…/ I genuinely believe this is a book capable of saving lives."

"Fredrik Backman is unique within Swedish literature./…/ The Beartown trilogy is both a loving depiction of human kindness and an inexorable description of how everything eventually goes to hell. It is a peculiar story, both beautiful and horrific. /…/ [The Winners] is important. It isn't simply about two small, feuding towns, but also about the human inability to do what is right. Or it is about Sweden, or perhaps the world of today, with all the contradictions of our time."

"Fredrik Backman's Beartown trilogy is a heartfelt declaration of love to sports. /…/ There are plenty of houses, institutions, homes, and infrastructure [in The Winners] but somehow it is still nature and the vast landscape that holds everything in its hand. This is enhanced by Backman's writing style. /…/ [Backman] employs a narrative style not unlike the one used by John Steinbeck in The Grapes of Wrath, where every other chapter places all events in a context whereby the characters become figures in a much larger tale about a country's transformation. In a similar way, Backman seems to want to pin down characters and their driving forces as an element of a society and its transformative process, as if they're trapped within larger movements over which they have no control, yet need to deal with. /…/ One needs to search high and low for another novel whose heart beats as hard for what common ground such as sports can mean for a society where mistrust and demonization constantly lure."

"The prose radiates genuine joy of storytelling. /…/ [The Winners] is truly brimming with suspense."
Author

Fredrik Backman

Published

2021

Genre

Pages

750

Reading material

Swedish edition

Rights sold

Bulgaria, Ciela

China, Beijing Xiron (Simplified Chinese)

Croatia, Fokus

Czech Republic, Host

Denmark, People's

Estonia, Varrak

Finland, Johnny Kniga

Germany, Goldmann

Greece, Kedros

Hungary, Animus

Italy, Mondadori

Korea, Dasan

Lithuania, Alma littera

Netherlands, Volt

North Macedonia, Antolog

Norway, Cappelen Damm

Poland, Marginesy

Portugal, Porto

Romania, Editura Art

Russia, Sindbad

Serbia, Laguna

Slovakia, Ikar

Slovenia, Mladinska

Spain, HarperCollins Español

Sweden, Forum

Taiwan, Ten Points (Complex Chinese)

UK, Simon & Schuster

Ukraine, Knigolove

US, Atria