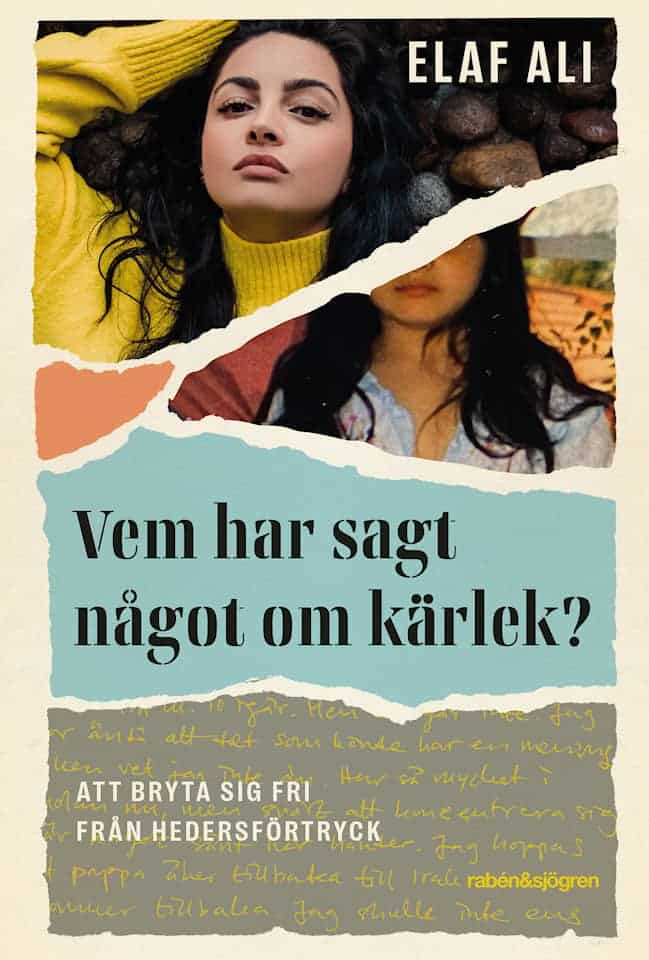 Vem har sagt något om kärlek?
Who Said Anything About Love?
It's an ordinary Wednesday night when the phone rings and Elaf's father answers. She hears him grow upset and a second later he storms into her room. It was a boy asking for her on the phone, and she understands that it's David, the boy who's been pestering her for her number. It's an innocent flirtation – they haven't even met in real life – but her father sees his worst nightmare about to come true: Elaf getting a boyfriend.
Who Said Anything About Love? is a personal and poignant depiction of a life marked by honour oppression. A direct insight into the rules of conduct and prohibitions that permeated the upbringing of the author, and the memories of a daily oppression that the people who were closest to her exerted. It is also a story about the courage it takes to go one's own way, and come to terms with one's parents' worldview and the history that's shaped it.
Who Said Anything About Love? stretches across three decades, and interspersed with the plotlines are honour-related factual sections and interviews with the author's parents, who share how they relate to such honour standards today.
Awards
Shortlisted for the Storytel Awards

(Best YA) Sweden
2023

The Carl von Linné Plaque

Sweden
2022

The Adlibris Award

(YA Book of the Year) Sweden
2021

Kristianstadsbladet's Culture and Entertainment Award

Sweden
2021

Kvist's scholarship

Sweden
2021

Slangbellan

(Shortlisted for the debutant prize) Sweden
2021
Close award list
Reviews
"A heart rendering and important story about the everyday hell it means to live in an honourary oppressive culture. /…/ With a journalistic and objective distance, she balances the autobiographical elements through facts and interviews. She gives the reader a broad and multifaceted picture of cultural clashes, integration, issues of responsibility and honourary oppression, but also love. This is a harrowing and pressing story that everyone should read in order to understand the complexity of the culture of honour. "

"For those seeking a gripping read I can warmly recommend the highly well-written and informative autobiography by Elaf Ali: Who Said Anything About Love? "

"Bit by bit, [our protagonist] fights her way towards self-determination, and the battle to still be able to maintain the relationship with her loved ones is both brutally, delicately and vividly depicted."

"Elaf Ali's story is a heart-wrenching page-turner. /…/ The book is straightforwardly and resolutely told. The language is skillful and easy to read, rhapsodically marching forward. /…/ A book that can become life-changing for many young people. "

"Elaf Ali has written a very ambitious novel that depicts the most intimate moments of shame and fear as a consequence of the conditions she previously lived under. "

"It is touching and at the same time factual and should be read by everyone between the ages of 13 and death. "

"Captivating and important about honour oppression […] Ali writes straightforward and accessibly and it's clear that the book is aimed at a young audience. That doesn't stop a full-grown person like the undersigned from devouring it in one sitting. "

"It shows that people can change, and that to fight honor oppression, it is crucial to understand how it happens. Yet that is neither the most important nor the strongest lesson to be learnt from Ali's book. […] Instead, it is this: those who live under honor oppression are not alone in their experiences. Understanding that can be decisive for daring and wanting to raise the alarm about one's situation. "

"Elaf Ali (…) writes strongly and bravely autobiographically about an upbringing with honor oppression and the struggle to come to terms with both her and her parents' world view and history. "

"Whoever Said Anything About Love is probably the most important book of the year, it depicts the oppression of honor from within. "

"A straightforward, well-written and important book, genuinely. "
Author

Elaf Ali

Published

2021

Genre

Pages

233

Reading material

Swedish edition

English translation

Rights sold

Finland, Into Kustannus

Serbia, Laguna

Sweden, Rabén & Sjögren