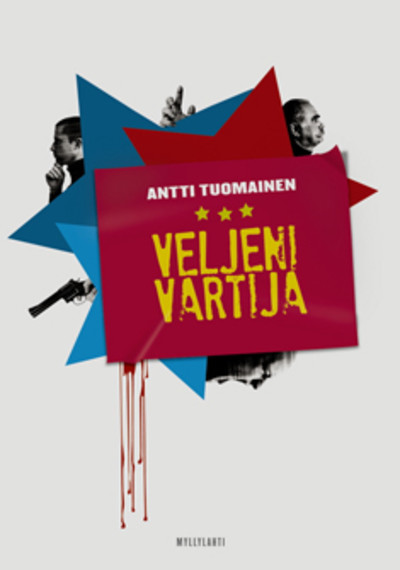 Veljeni vartija
My Brother's Keeper
Do sons inherit the sins of their fathers?
Klaus Haapala had always thought that he would do better in life than his father and grandfather. They were men who both – albeit for very different reasons – drifted into lives of crime, and they both had to pay for it in one way or another. Klaus decided to avoid their fate and to live his life differently. But then came the day when Klaus' beliefs and convictions were put to test. After getting fired from his job as a real estate salesman, he learns that his little brother is involved in the drug trade. At the same time he discovers uncomfortable things about his wife, and very soon the man who fired him is found murdered. Now, everything around him is crumbling faster than he ever thought possible. Klaus realizes that he is caught in a web of mystery that has its beginning in the distant past – and its solution in the present.
Written in a powerful and precise prose, at times lyrical and heart-breaking, My Brother's Keeper tells a violent and hauntingly beautiful story about fathers and sons, about evil deeds, making amends and – ultimately – redemption. With cult status in its native country, it is a uniquely structured crime novel about how a lost card game can be turned around decades later.
Reviews
"My Brother's Keeper is a thematically strong and originally structured novel about a grandfather, a father and sons who all drift into lives of crime. The story begins in the 1940s with a card-playing scene that displays an intensity rarely found in Finnish crime novels … The plot skillfully moves from one era to another … The style is effective and to the point … My Brother's Keeper is an excellent crime novel in which thorough work is evident throughout."

"Tuomainen writes strong, unpretentious prose and dialogue that is alive … The characters are flesh and blood."

"His crime novels are by definition compact… Tuomainen writes efficiently and briskly without unnecessary ornamentation. He employs realistic dialogue with sneers and brief replies. …guaranteed Tuomainen style."
Author

Antti Tuomainen

Published

2009

Genre

Pages

223

Reading material

Finnish edition

Rights sold

Finland, Myllylahti