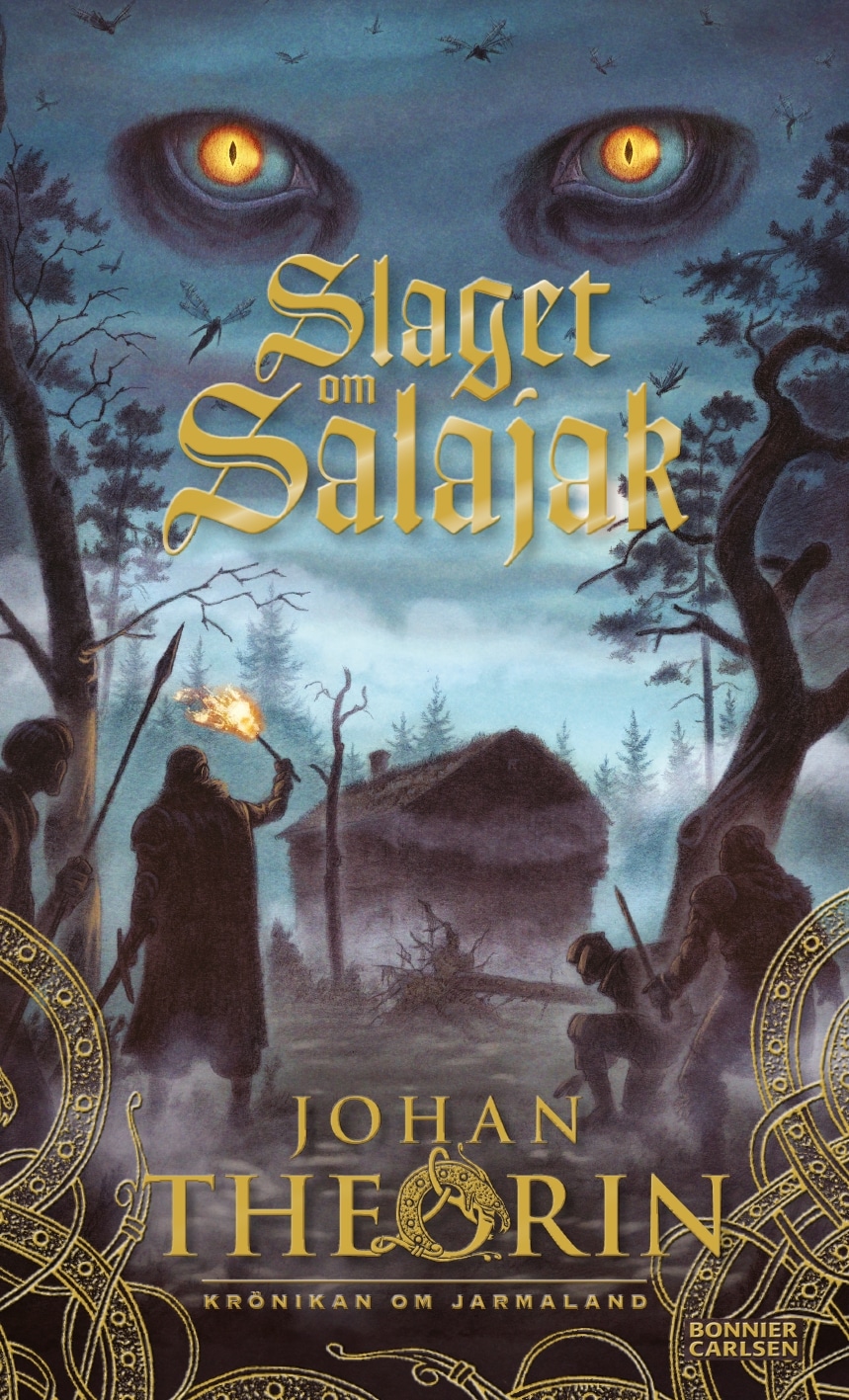 Slaget om Salajak
The Battle for Salajak
The Jarmaland Chronicles #1
In the far north of Scandinavia, deep beneath Mount Salajak, the Midgard Serpent sleeps in its great cave. Above it, the ancient race of hwitters stir in their castle, awakening from a long winter slumber. Ristin, a member of the winged elite force called mare hwitters, flies over Salajak's icy top to welcome home the warriors returning from the human world carrying meat… fresh meat.
As the enemy wakes in the north, three young brothers plan their escape from their farm in southern Sweden. Their goal is to join the army of humans and fairies marching to stop the hwitters and their atrocities. The second oldest of the three Eck brothers, Niklis, wants to be a knave, and the oldest, Samuel, dreams of becoming a knight. The youngest brother Jöran would rather that they turned back home before Death comes for them all.
Lovisa Georgsdotter is the young daughter of the Lord of Frösön, the one who has called the army. Lovisa has found a hidden weapon in the lake Storsjön just outside the island. A lindwyrm is swimming in its depths, long as a meandering rapid, and it comes to her call as Lovisa blows her birch horn.
The army marching northwards becomes the focal point around which destinies meet and intertwine only to be pulled down into the bottomless abyss beyond Salajak known as Jarmaland. In its icy and dark depths, the underworld's goddess Hel rules supreme, and a secret as old as time waits for the adventurer brave enough to discover it.
Johan Theorin's The Jarmaland Chronicles is an irresistible invitation to experience Scandinavia in the fourteenth century, a time when the perils of war, court intrigues, and the plague were as tangible as the danger of bumping into trolls, fairies, wravers and lindwyrms. A thrilling fantasy adventure series with an unbeatable historical edge, The Jarmaland Chronicles begins with the first installment, The Battle for Salajak.
Reviews
"Reading this first installment is both a thrilling and bloody experience, but it also contains illustrative milieu descriptions and fates that linger."

"This is supernaturally good and yet it's completely realistic suspense, which is totally thrilling! I have read many of Johan Theorin's previous crime novels (with or without supernatural elements) and with this YA novel he has really found his calling and surpassed himself, both when it comes to narrative techniques and surprises as well as great plot turnarounds. And these are not few."

"New Swedish fantasy series that has similarities with Game of Thrones. /…/ Johan Theorin skillfully weaves Nordic mythology, magic and medieval life together in a portrayal where nothing is unambiguously evil or good."
Author

Johan Theorin

Published

2018

Genre

Pages

352

Reading material

Swedish edition

English translation

Rights sold

Czech Republic, Moba

Estonia, Eesti Raamat

Faroe Islands, BFL

Hungary, Scolar

Iceland, Ugla

Norway, Gyldendal

Russia, Ripol

Sweden, Bonnier Carlsen