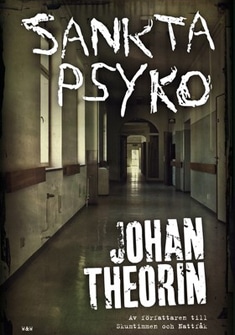 On the west coast of Sweden lies the small community of Valla. 29 year-old Jan Hauger is one of its newest residents, recently arrived to work at the Dell nursery. But the Dell is no ordinary preschool: beneath its floors runs an underground tunnel leading straight to St Patricia's Psychiatric Hospital. Or "St Psycho's", as the hospital is more often called – a high-security facility for the country's most violent and dangerous psychopaths. And the kids Jan will be caring for are the children of its inmates.
Part of Jan's new duties will be to escort the children through the tunnel and to their parents at the other side. What his new employer doesn't know is that Jan has his own reasons for wanting to work at the nursery. Reasons that date back to a trip into the woods made years ago with another group of children – a trip that ended in the disappearance of a young boy.
In The Asylum, Johan Theorin departs from the familiar landscape of Öland to deliver a standalone psychological thriller and a story of warped love and spine-chilling suspense.
Reviews
"The Swedish master of slow-build terror returns…truly goose pimple inducing suspense"

"The Swedes seem to be cornering the market in creepy crime fiction, and this chiller will appeal to fans of Stieg Larsson … A compelling and scary psychological thriller"

"I have yet to finish the novel, but I would still dare to recommend Johan Theorin's new book, The Asylum. It's terrifying, and something entirely different from his Öland Quartet"

"Johan Theorin's new novelThe Asylum is a psychological thriller that keeps the tension at maximum level all the way till end. He skillfully weaves the threads of the plot into an unpredictable weave without getting choppy or evoking a sense of overdoing it. /…/ Theorin knows that there are no simple solutions, and that not all that's unpleasant can be shut away. A fact that kept me wide awake under the reading light all night"

"The Asylum is a high class suspense novel that keeps the reader on the edge of their seat throughout the book"

"A psychological story where the suspense grows with every page, skillfully worked through, and man's evil becomes that which sends chills down your spine. Johan Theorin truly is one of our greatest suspense writers. Even without Öland"

"High voltage psychological suspense"

"Theorin's characters are Janus-faced, no one is harmless, and cruel surprises lurk in every dark corner: exceptionally unique and extremely sinister"

"The Asylum is a psychological masterpiece which excels in modest simplicity, finesse and intelligent suppressed tension"

"A dark, brilliant novel"

"The Asylum is a fabulous book. […] Well-crafted, intriguing and suspenseful."
Author

Johan Theorin

Published

2011

Genre

Pages

395

Reading material

Swedish edition

English edition

Rights sold

Czech Republic, Moba

Denmark, Modtryk

Finland, Tammi

France, Albin Michel

Germany, Piper

Iceland, Ugla

Netherlands, De Geus

Norway, Gyldendal

Poland, Czarne

Spain, Mondadori (World Spanish)

Sweden, Wahlström & Widstrand

UK, Transworld