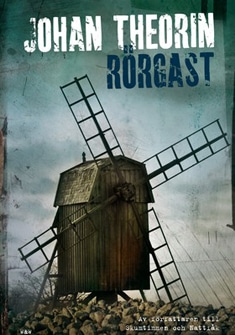 Rörgast
The Voices Beyond
The Öland Series #4
Summer has finally come to Öland and transformed the island into a tourist paradise. Among its seasonal visitors is young Jonas Kloss, come to stay with his cousins and enjoy the last glimpses of summer. But a badly planned nighttime trip at sea has Jonas reconsidering his ambitions when a ship quietly appears out of the darkness. Abandoning his own sinking vessel, Jonas scrambles onto the ship only to come face to face with an unimaginable horror.
Retired captain Gerlof Davidsson is roused from his sleep by a pounding on his door. When he opens it, a boy comes stumbling inside. Once Gerlof has heard his tale of dead sailors and axe-wielding madmen, he realizes that this will be a summer like none other Öland has ever seen.
The Voices Beyond is the fourth and final installment in the Öland Quartet.
Awards
Shortlisted for the CWA International Dagger

UK
2016

Shortlisted for the Swedish Academy of Crime Writers' Award

(Best Crime Novel of the Year) Sweden
2013
Close award list
Reviews
"Johan Theorin belongs to the group of suspense writers that excel in exploring the grey zone. While the crime genre is becoming ever more weighed down by stock imagery, Theorin's horror laced crime novels have gone in the opposite direction ever since his debut in 2007: towards an uncertain terrain where the veil between worlds are thin, and dusk rules both in and outside of man. /…/ The style is direct and spare, the intrigue intricate: nothing is quite what it seems to be"

"Theorin is a master of style in how he writes to create suspense and mystery"

"The Voices Beyond /…/ is the sharpest piece Johan Theorin has written to date – precisely because he's now learned to trust that the suspense will carry without having to be pointed out. Like an icy exhalation it creeps up from behind, then from the side, and – finally – stares us straight in the eye as it enfolds the world in its arms"

"Yes, it is a drama about fate, but it is also family epos and a quiet class drama where all involved must fight for survival but the poor inevitably lose out. /…/ As in his earlier novels, Johan Theorin navigates on the boundaries of the ghost story: he is masterful as he utilizes its form to construct his atmosphere of terror"

"The novel in other words functions on several levels at once with abrupt turns, and Theorin skillfully steers it to its finish"

"A milestone in Nordic crime fiction"

"Theorin is a master of combining the hair-raising with suspense and interesting stories /…/ an intense tale that's very hard to put down"

"A must-read crime novel for those who not only want to tremble from excitement, but also think and feel with the characters"

"The Voices Beyond is a worthy final to the Öland Quartet, and one of the best Scandinavian crime novels in existence"

"The Voices Beyond has everything a good thriller needs: a credible plot, an exciting story, good historical and topographical information and no premature judgments."
Author

Johan Theorin

Published

2013

Genre

Pages

464

Reading material

Swedish edition

English edition

Rights sold

Czech Republic, Moba

Denmark, Modtryk

Finland, Tammi

France, Albin Michel

Germany, Piper

Iceland, Ugla

Japan, Hayakawa

Korea, Munhakdongne

Netherlands, De Geus

Norway, Gyldendal

Poland, Czarne

Slovakia, Marencin

Spain, Mondadori (World Spanish)

Sweden, Wahlström & Widstrand

UK, Transworld