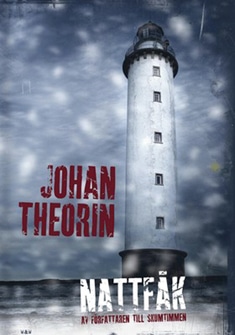 Nattfåk
The Darkest Room
The Öland Series #2
The bitter chill of true winter is fast approaching as a young family settles into their new home at idyllic Eel Point. Located on the island of Öland, the manor was inhabited by generations of light keepers before being boarded up. To Katrine and Joakim and their two children, the house represents a fresh start as well as a refuge from old secrets. Never mind the eerie happenings that surround it.
However, it isn't long before optimism is replaced by tragedy as Katrine is found drowned by the rocks. Enveloped in a shroud of sorrow, the presence of the manor itself seems to grow. Whispering noises echo in the hallways; doors refuse to stay shut; a voice beckons in the night. As the annual winter blizzard draws near, the grief-stricken Joakim struggles to separate reality from hallucination, and truth from the lies that have protected a killer for years.
The Darkest Room is the second installment in the Öland Quartet.
Awards
The CWA International Dagger

2010

The Glass Key

The Nordic Countries
2009

The Swedish Academy of Crime Writers' Award

(Best Swedish Crime Novel of the Year) Sweden
2008
Close award list
Reviews
"Nothing less than a dark miracle"

"A skillful mix of ghost story and crime thriller…this book is outstanding. It crosses genres effortlessly and keeps all its balls in the air with consummate skill"

"Penetrating, intelligent"

"A powerful study of grief, loss and vulnerability, with a commendably earth-bound solution"

"Theorin builds the tension exquisitely"

"A beautifully told and deliciously eerie family history"

"And if it's one book that deserves the title "Easter Crime Novel of the Year," then it's The Darkest Room"

"Theorin excels in creating atmosphere; he is attentive to the slightest noise, the smallest gesture, the minutest vibration"

"One really wonders how the Swedes manage to produce all these excellent thriller authors. Johan Theorin is the perfect example. The Darkest room is a crime novel and a mystery thriller, a family saga and a psychological novel all in one"

"Very contemporary crimes are paired with dark shadows from the past, and the result is a thriller that takes your breath away"

"Fantastic, what a talent"
Author

Johan Theorin

Published

2008

Genre

Pages

386

Reading material

Swedish edition

English edition

Rights sold

Bulgaria, Colibri

China, Booky (Simplified Chinese)

Czech Republic, Moba

Denmark, Modtryk

Estonia, Ajakirjade Kirjastus

Finland, Tammi

France, Albin Michel

Germany, Piper

Greece, Metaixmio

Hungary, Animus

Iceland, Uppheimar

Italy, Mondadori

Japan, Hayakawa

Korea, Munhakdongne

Netherlands, De Geus

North Macedonia, Antolog

Norway, Gyldendal

Poland, Czarne

Slovakia, Marencin

Spain, Mondadori (World Spanish)

Sweden, Wahlström & Widstrand

Taiwan, Spring (Complex Chinese)

Thailand, Sanskrit Book

UK, Transworld

US, Bantam