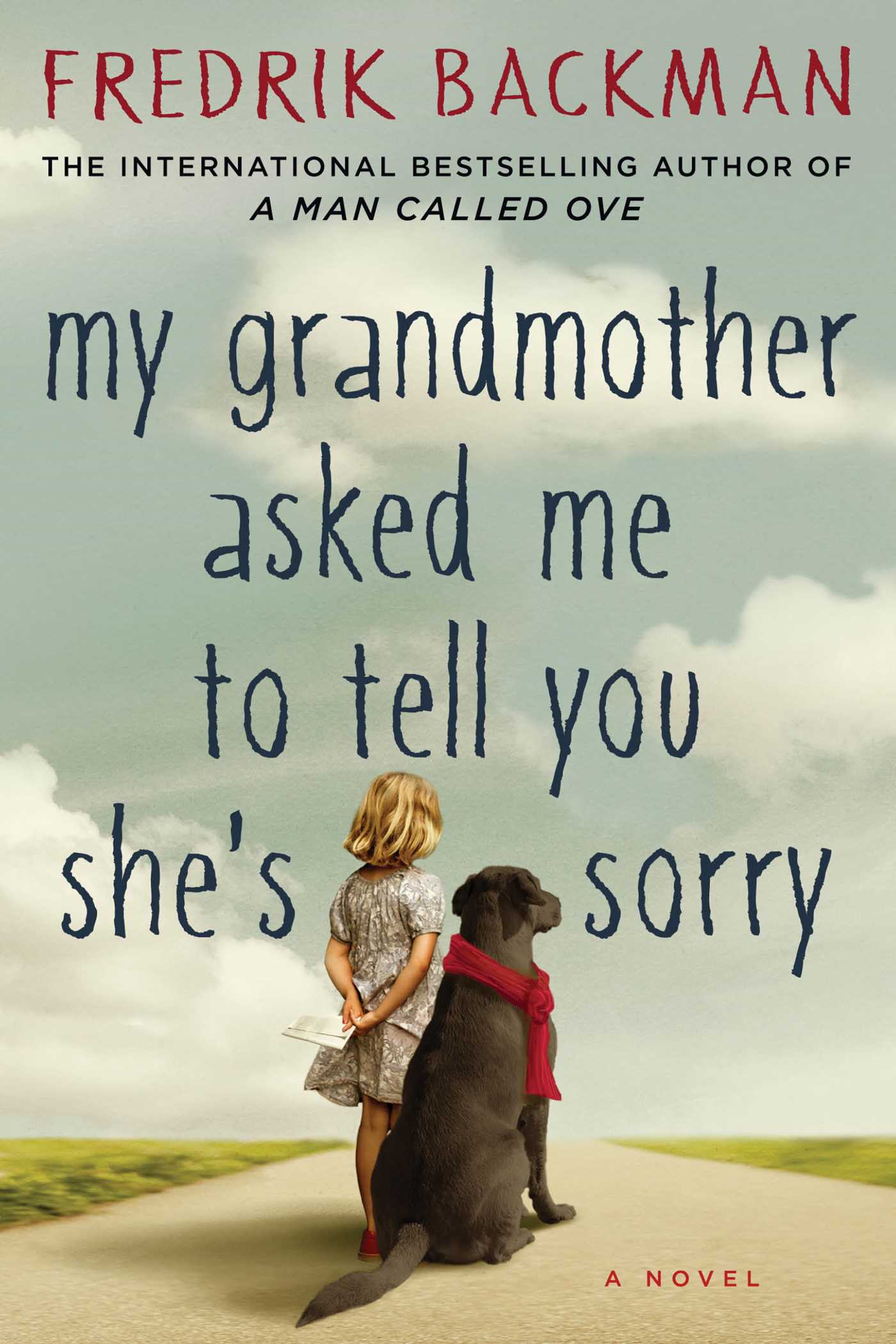 Min mormor hälsar och säger förlåt
My Grandmother Asked Me to Tell You She's Sorry
Elsa is seven years old and different. Her grandmother is seventy-seven years old and crazy, standing-on-the-balcony-firing-paintball-guns-at-men-who-want-to-talk-about-Jesus-crazy. She is also Elsa's best, and only, friend. At night Elsa takes refuge in her grandmother's stories, in the Land of Almost-Awake and the Kingdom of Miamas where everybody is different and nobody needs to be normal.
When Elsa's grandmother dies and leaves behind a series of letters apologizing to people she has wronged, Elsa's greatest adventure begins. Her grandmother's letters lead her to an apartment building full of drunks, monsters, attack dogs, and totally ordinary old crones, but also to the truth about fairytales and kingdoms and a grandmother like no other.
Fredrik Backman's No. 1 internationally bestselling second novel, My Grandmother Asked Me to Tell You She's Sorry, is a charming, comic and warmhearted story about life and death and an ode to one of the most important human rights: the right to be different.
Reviews
"There are clear themes here, nominally: the importance of stories; the honesty of children; and the obtuseness of most adults, putting him firmly in league with the likes of Roald Dahl and Neil Gaiman. A touching, sometimes funny, often wise portrait of grief."

"In his second offering, Backman continues to write with the same whimsical charm and warm heart as in his debut."

"Every bit as churlish but lovable as Backman's cantankerous protagonist in his debut, precocious Elsa will easily work her way into the hearts of readers who like characters with spunk to spare. A delectable homage to the power of stories to comfort and heal, Backman's tender tale of the touching relationship between a grandmother and granddaughter is a tribute to the everlasting bonds of deep family ties."

"Bring tissues when you start My Grandmother Asked Me to Tell You She's Sorry, but bring your funnybone, too. It's that kind of book – one that, if you miss it, you'll never forgive yourself."

"Fredrik Backman has a knack for weaving tales that are believable and fanciful. Backman's smooth storytelling infuses his characters with charm and wit. /…/ A delightful story."

"Full of heart, hope, forgiveness, and the embracing of differences, Elsa's story is one that sticks with you long after you've turned the last page."

"A crossover novel for all ages between ten and one hundred. /…/ [My Grandmother Asked Me to Tell You She's Sorry] is a captivating novel about the purpose of imagination and storytelling. In an as warm-hearted as it is beautifully portrayed manner Backman shows how one through the storytelling can both take a break from reality, and learn to understand it so much better."

"The novel is a charming homage to the power of fairytales. /…/ Backman's foremost strength lies in how he can chisel out characters, grotesque caricatures that invite laughter, and then add details till even the silliest and most annoying figure becomes, well, if not multilayered, then at least human and worthy of emotional investment."

"A bulls-eye. Books that can make me laugh and cry simply have to receive a good score. The way in which Backman tells seven, almost eight-year-old Elsa's story is just wonderful. Elsa's treasure hunt through "the castle" turns into a journey you simply have to join and the pages turn quickly. All those who read A Man Called Ove will buy [My Grandmother Asked Me to Tell You She's Sorry]. You who haven't should as well."

"Probably Sweden's most on-the-mark author right now."

"An irresistible novel about the cathartic power of the imagination in times when reality becomes too difficult to handle. [My Grandmother Asked Me to Tell You She's Sorry] is touching, thrilling, and ridiculously entertaining."

"An imaginative and driven story about a brave girl, what happens when different realities are opened to us, and a grandmother unlike any other. /…/ A fantastic story."

"And so it is a wonderful book that treats [the reader] to a living adventure with well-rounded people you'll often find yourself annoyed with, yet still can't help loving."

"Elsa's grandmother is always on team Elsa, but when her personal superhero gets ill, Elsa has to create her own path in life. Humorous – and heartbreaking!"

"Backman's narrative gleefully pretends to be that of a seven-year-old. Sophisticatedly hidden behind this mask is a great love for many things that are being shunned at the moment: gender, individualism, and 'academic' reasoning – which so happens to be Elsa's favorite solitary pastime."

"Fredrik Backman makes me love odd people. Last year it was Ove. Now it is Elsa and her grandmother. /…/ If you liked A Man Called Ove you'll fall head first for this novel that has odd people all carrying unexpected stories and qualities. Fredrik Backman makes me laugh, feel sorrow and happiness, and almost shed a tear. He makes me think that all people have a story that could in fact explain why they are who they are."

"My Grandmother Asked Me to Tell You She's Sorry is an ingenious and charming story told in layers, that of reality and the imagination. /…/ The entire construction is supremely skillfully executed by Backman; [it's] clever, smart and perceptive. Elsa's story hits you right in the heart."

"Fredrik Backman manages to balance the sentimentality of the story with a columnist's many fun metaphors. He has probably written the world's best book for reading aloud during the Christmas holidays."

"Fredrik Backman continues to impress. His second novel is a heartfelt, funny and touching story about dreams, courage, loss and sorrow, that feels like a Swedish equivalent to Jonathan Safran Foer's Extremely Loud & Incredibly Close."

"Just like in his debut novel, A Man Called Ove, Backman uses humor to explore serious topics. Elsa's strong-willed and eccentric grandmother inspires guffaws more than once. It's a heartbreaking and heartwarming story told by an author with a sense for humorous timing and talent for storytelling. The novel leaves the reader with both a tear in the corner of the eye and a smile on the lips. A book worth reading and an entertaining story."

"This is among the best novels I have read in a long time. Fredrik Backman is a master of unexpected turns, and is equipped with an empathy and view on humanity that warms my heart as well as a prose that makes me want to burst into applause. I laugh out loud many times while reading and catch myself wishing I was a fly on the Backmanian wall during the creative process, or why not a parasite in the brain that without any trouble cooks up stories that would make Dr. Suess jealous."

"I could spend the whole hour talking about just this novel. It's that fantastic. /…/ This is not Ove, but it's Elsa and it sure is good."

"I can't remember the last time that I read a book where I alternately cried and laughed, and sometimes both at the same time."
Author

Fredrik Backman

Published

2013

Genre

Pages

447

Reading material

Swedish edition

English edition

Rights sold

Albania, OMSCA-1

Arab World, Dar Altanweer

Armenia, Newmag

Brazil, Rocco

Bulgaria, Ciela

China, Guomai (Simplified Chinese)

Croatia, Fokus

Czech Republic, Host

Denmark, People's

Estonia, Varrak

Finland, Otava

France, Presses de la Cité

Germany, Fischer

Greece, Kedros

Hungary, Animus

Indonesia, Gramedia

Israel, Yediot

Italy, Mondadori

Japan, Hayakawa

Korea, Dasan

Latvia, Janis Roze

Lithuania, Alma littera

Montenegro, Nova knjiga

Netherlands, Volt

North Macedonia, Antolog

Norway, Cappelen Damm

Poland, Sonia Draga

Portugal, Porto

Romania, Editura Art

Russia, Sindbad

Serbia, Laguna

Slovakia, Ikar

Slovenia, Mladinska

Spain, Harper Collins Espanol

Sri Lanka, Little House

Sweden, Forum

Taiwan, Ten Points (Complex Chinese)

Thailand, Merry Go Round

Turkey, Ithaki

UK, Hodder & Stoughton

Ukraine, Knigolove

US, Atria

Vietnam, Tre Publishing

Film rights sold

Denmark, Nordisk Film