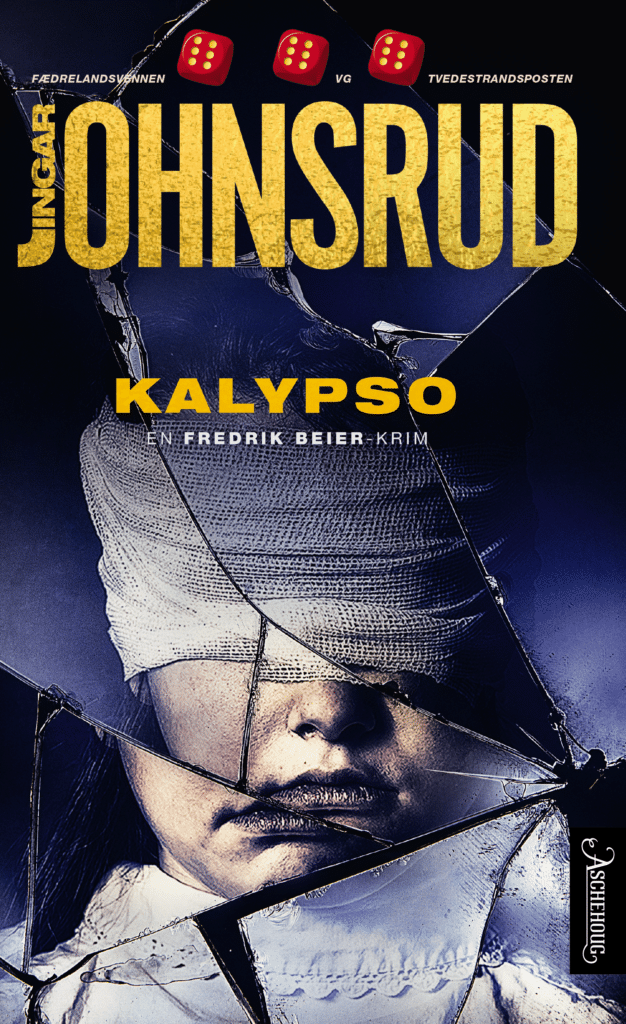 Kalypso
As We Fall
Fredrik Beier #2
At a hospital in Oslo, Superintendent Fredrik Beier is slowly regaining consciousness. Painkillers and alcohol, or so the doctor tells him. The recipe of a suicide attempt. But Fredrik himself can't seem to recall any of it.
A widow has gone missing, and in her home the police find the body of a recently deceased man. The remains are identified as belonging to someone declared dead over twenty years ago. Meanwhile, the sewer rats in eastern Oslo are feasting on a second body. A tragic past connects the two, forged during the days following the fall of the Soviet Union and an operation that ended in catastrophe. Now, a forgotten weapon has been brought back to life, and fallen into the hands of an avenger with nothing left to live for.
Ingar Johnsrud's As We Fall is a thriller that slips into the deepest crannies of the human soul only to then infiltrate the headquarters of this world's major powers. As We Fall is the second harrowing installment in the series about Fredrik Beier and Kafa Iqbal.
Reviews
"Forget all the usual talk about "the difficult second book." Ingar Johnsrud continues to deliver crime fiction at absolute international top level. /…/ Johnsrud showcases a literary talent of the highest order – he's smart, precise and varied in his language. Add to this a storyline that gives new meaning to the clichéd expression "unputdownable," and the conclusion is a given: it's an obvious six stars also this time around."

"Ingar Johnsrud writes well. Not only are all engines go and the pedal pushed to the metal, but there are also beautiful and excellently observed details and moods. Ingar Johnsrud's great reading audience from book one will not be disappointed this time either."

"It isn't often that an author succeeds in maintaining the level of suspense throughout an entire book, but Ingar Johnsrud does. As We Fall possesses an intense tension and momentum from the first till last page. It's truly difficult to put it down. /…/ The ability to engage the reader and the art of relaying multiple stories going on in different times, only to weave them together in a frightening and ingenious manner. Jo Nesbø and Jørn Lier Horst ought to look out for Johnsrud, who is emerging as the great star of Norwegian thriller and crime fiction literature."

"Johnsrud has written a story closer to an action thriller than the usual detective novel – Jo Nesbø can be a good comparison, and I'd like to think that those who liked Terry Hayes' I Am Pilgrim would find joy also in this novel. /…/ Johnsrud plays with genres and stereotypes and succeeds in adding something new and fresh. The book is well written, the peaks in the action many and excellent, the switch between the different eras perfect, and all of it is put together with greater precision even than in the debut."

"Johnsrud makes writing the "difficult second book" look like child's play. This is a top-class dark police procedural. /…/ The prose, which impressed also in the debut novel, is still excellent. Johnsrud writes effectively and grippingly. /…/ The plot is tied together nicely, with a set of plot threads that are gathered beautifully."

"Ingar Johnsrud has published his second suspense novel and demonstrates superb skills in thriller writing. He guides the reader through the plot with an unfailing hand. "

"[Ingar Johnsrud] spares no effects. There is blood, gore and body fluids, internal rivalry in the police force, classic tension between protagonist and assistant, and an intrigue much like a puzzle, just as there should be in suspense novels. And all of it is steered by the supremely clever hand of this crime fiction writer."

"The depiction of the past's shadow falling over a snow-covered pre-Christmas Oslo, from its Russian embassy to a bomb shelter in Old Town, undeniably does something to the reader's heart rate. Johnsrud writes succinctly, in detail, and above all well within the premises of the genre."

"[In Ingar Johnsrud] we have found a promising new crime fiction author. /…/ There is much to be impressed with in [As We Fall]."

"Thought out and effective from Ingar Johnsrud. That it is a real brick of a tome doesn't detract from the fact that it is in no way long-winded or even dull at times. Much of this is thanks to the author's choice of composition, with relatively short, action-packed chapters that almost all end in effective cliff-hangers that only raise the suspense and anticipation levels /…/ Above all, Ingar Johnsrud possesses an explosive power when it comes to cultivating a visible, inflamed nerve that absolutely engages."

"As We Fall is an addictive, dark novel in which there is no lack of nordic noir elements – a compelling development, [a plot] refined to the smallest detail, sudden twists in the action, and an intriguing, ambivalent main character. Ingar Johnsrud unveils the darkest corners of the human mind."

"Spine-chilling suspense and action from start to finish."

"Norwegian Ingar Johnsrud is back with yet another tightly plotted thriller about the colleagues Fredrik Beier and Kafa at the Oslo Police. /…/ There is not a page without nerve-racking events. Not a person without a finely tuned character portrayal. /…/ [Johnsrud's] prose scintillates. /…/ With Kalypso Ingar Johnsrud has crafted yet another crime novel that stands out among the crowd. It does so with its as intelligent as it is intricate story, where every chapter vibrates with action and the characters captivate, whether they are broken heroes or psychopaths. "

"It's a treat when an excellent writer manages to become even better in the next book. Norway's bloodiest crime fiction author here succeeds in crafting an even more credible and tight story, making the characters sharper around the edges, not least the two police officers Kafa Iqbal and Fredrik Beier. /…/ Here there are scenes that are so thrillingly told that I – and I'm quite the experienced thriller reader – almost had to grab the iron to make my hair lay down flat again."

"It is a brilliant continuation, stylistically far above the average and with a skillfully crafted, complex plot."

"Ingar Johnsrud's second crime novel about police officer Fredrik Beier more than lives up to its prequel. /…/ Actually, book number two is even better than the first installment."

"For all the crime lovers who enjoy abhorrent crimes and broken characters, this novel is all about murder. /…/ Captivating and profoundly told on multiple levels. Read it!"

"[A] very finely constructed, intelligent thriller from Norway."

"A complex, brilliantly written view into the abyss. Johnsrud has developed his team of characters excellently."

"[Ingar Johnsrud's] writing is brilliant and evocative. /…/ The shifts between present and past are masterfully executed. /…/ Ingar Johnsrud is worthy of a place alongside other well-known Scandinavian writers such as Jo Nesbo and Camilla Läckberg."
Author

Ingar Johnsrud

Published

2016

Genre

Pages

480

Reading material

Norwegian edition

Rights sold

Bulgaria, Colibri

Czech Republic, Host

Denmark, Gyldendal

Estonia, Varrak

Finland, Like

France, Robert Laffont

Germany, Blanvalet

Greece, Patakis

Hungary, General Press

Italy, Einaudi

Lithuania, Alma littera

Netherlands, Meulenhoff Boekerij

Norway, Aschehoug

Poland, Otwarte

Russia, AST

Slovakia, Premedia

Sweden, Albert Bonniers

Film rights sold

Norway, Miso Film