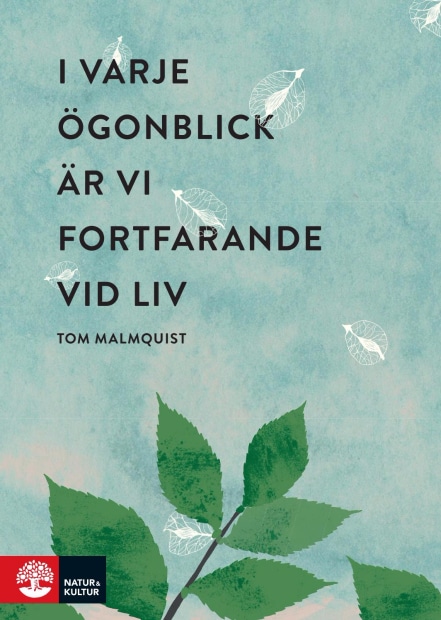 I varje ögonblick är vi fortfarande vid liv
In Every Moment We Are Still Alive
Tom's heavily pregnant girlfriend Karin is rushed to hospital with severe flu. While the doctors are able to save the baby, they are helpless in the face of what turns out to be acute Leukemia, and in a moment as fleeting as it is cruel Tom gains a daughter but loses his soul-mate. In Every Moment We Are Still Alive is the story of a year that changes everything, as Tom must reconcile the fury of bereavement with the overwhelming responsibility of raising his daughter, Livia, alone.
By turns tragic and redemptive, meditative and breathless, achingly poignant and darkly funny, this heavily autobiographical novel has been described as "hypnotic," "impossible to resist" and "one of the most powerful books about grief ever written."
Chosen by The New York Times as one of 2018's most notable titles, and El País as one of this decade's nine best books about life and death.
Reviews
"Out of the grief grew [In Every Moment We Are Still Alive] a novel that threatens to demolish its reader. /…/ The disclosure and self-exposure may recall Karl Ove Knausgård's My Struggle and On Summer, but with Malmquist there are no floating essay-like passages where everything is viewed from above, no thoughts about art, only the reality that keeps his feet weighed down to the ground and thins his being. /…/ Literature doesn't get any harsher. Or better."

"Not until 89 pages of Swedish Tom Malmquist's debut novel, In Every Moment We Are Still Alive /…/ – not until 89 pages in can I stop to draw breath."

"An overwhelming, heartbreaking work."

"A gripping novel on the themes of loss, sorrow and love / … / Tom Malmquist's novel can very well bring to mind Karl Ove Knausgård in its use of concrete details. Writing autofiction requires, contrary to what many might think, tremendous stylistic abilities. Malmquist has found the perfect form for his brutal subject, and his uniquely flowing use of dialogue, embedded in the continuous portrayal of events, creates a great sense of being present."

"Tom Malmquist has written a novel that will put the reader through the emotional wringer. Everything quivers. Everything is charged. It's like holding a book full of explosives without a fuse."

"Tom Malmquist writes hyper realistically and heartbreakingly unsentimentally about when disaster strikes in everyday life. In Every Moment We Are Still Alive is one of the most powerful novels of the year /…/ An outstanding reading experience not only about grief, but just as much about the power and fragility of life."

"The dramatic turn of events becomes tangible and real in a way that awakens the reader's empathy. It is literature, yes, but also something that's happening in an actual hospital. Malmquist manages to recreate the mental chaos that prevails in extreme emergency situations."

"People around me who picked up this book haven't been able to put it down. Nor will you be able to. Tom Malmquist has written one of the most hypnotically terrifying love stories I have ever read. Heartbreakingly relentless. /…/ This is a book written not only in the grip of strong emotions, but with brutal skill. The first hundred pages of hospital inferno read like a single exhalation. There is no then, no later, just now."

"Impossible to resist /…/ There is so much humanity in this book. Equally hilarious and everyday realistic as it is imbued with meaning. As dirty as it is beautiful."

"It is not only admiration, but also wonder, I feel about Malmquist's way to face the grief with linguistic energy, never lapsing into an already frayed image of death, love and longing – instead writing through, both death and love – but in its own way. The process of writing is a deeply personal struggle, a life struggle."

"This novel floored me, I read it in one sitting with a pounding heart, I was practically hypnotized. Malmquist has an iron grip on the reader and doesn't let go until the last page, and hardly even then; this story will stay with you for a long time to come."

"To read [In Every Moment We Are Still Alive] is to chase after Tom through the hospital corridors /…/ Even as the immediate story about death slows, moves back and forth through time and starts to build a complete puzzle of Tom and Karin's life together, the book still stays fiercely in the present. /…/ Slowly you see how Tom and Karin's love grew into being, and that this is a story about so much more than shock and sorrow, that it above all is a book about life. It is also one of the most unsentimental things I have read."

"One of this year's most powerful books."

"In Every Moment We Are Still Alive is among the most wounded but poetic works to have been written about bottomless sorrow."

"A story so full and uncompromising it will take your breath away. /…/ In Every Moment We Are Still Alive transforms into such a furiously beautiful song of sorrow, a prayer that despite knowing the unreasonable price of love, turns to that which is alive, closes its eyes, and opens its arms."

"I read it in a single inhalation. Turn the pages and dare not breathe out before I put the book down."

"In Every Moment We Are Still Alive is a painful novel in many ways. It captures death's definite power and contrasts it with life's fragile beauty."

"A book of love and death, both radiant and impressive."

"The acute closeness between form and content is no doubt the key to the novel's success /…/ An utterly gripping story, and at the same time a true literary experience."

"An unpretentious and shy piece of writing, one that puts words to both joyous and sad memories of one's departed beloved."

"A truly powerful novel, deep and impressive, impossible to forget."

"[Tom Malmquist] has found the perfect balance between honesty and unpretentiousness for the telling of his story."

"In Every Moment We Are Still Alive is a moving book about grief, anger, confusion and love."

"A powerful depiction of death and love."

"A deeply personal account of loss /…/ The argument in favour of the current popular autofictional and memoir mode is that it is not exploitative or egocentric, but rather reveals the humanity in us all. The value of Malmquist's book is precisely that it retains a trace of true human presence – carefully preserved by the author, but not his own."

"A novel about permeability, In Every Moment We Are Still Alive captures the jumbled sensory experience of being profoundly, catastrophically overwhelmed. Malmquist achieves much of this through style. The linguistic contagion results in moments of deep pathos, as when Tom struggles to locate the language to tell her parents that Karin is dead, only to fall back on medical terminology: "I don't know how to articulate it so I just repeat what Nygren said to me: The electrical activity in Karin's heart has stopped." /…/ [A] testament to Malmquist's extraordinary skill. As with My Struggle, it's tempting to label this novel "authentic," and therefore "artless." The two are not always bedfellows, and, among other things, In Every Moment We Are Still Alive is a tremendous feat of emotional and artistic discipline. The novel doesn't feel remembered, though of course it is. That's where its craft lies, and its triumph — in the suspension of hindsight, in an act of recollection whose hand is perpetually guiding the text, but can't be seen."

"Urgent, heartbreaking and life-affirming, this autobiographical novel about grief and parenting probes the boundaries between life and writing."

"Kafkaesque /…/ remarkably credible."

"By turns raw, unsettled, and touching, Malmquist's book is an extended meditation on what it means to love and to mourn. A deeply emotional and affecting novel."

"A unique form /…/ infused with deep urgency. A great stylist, Malmquist's immersive prose perfectly limns the demands of living within the chiaroscuro of deep grief."

"In Every Moment We Are Still Alive is a work of unique and hypnotic realism /…/ [In Every Moment We Are Still Alive] is a novel that changes its readers and that – having been received with enthusiasm, admiration and respect – demands its place in the canon of contemporary literature. At the risk of sounding banal, one really has to read this book."

"We know the story is real, but it's fictionalised enough to make it realer – by not needing to stick to the exact, fact-checked truth, Malmquist can capture the truth of the experience. Tissue Index (Out Of 5): 6."

"Vividly portrayed tragedy. /…/ This book differentiates itself from other same old tragic stories as the writer clearly understands that the best way to express pain is a voice that suppresses pain. /…/ "Raw" storytelling technique."
Author

Tom Malmquist

Published

2015

Genre

Pages

317

Reading material

Swedish edition

English edition

French edition

Rights sold

Brazil, Grua Livros

China, Sunshine Media

Croatia, Hena com

Czech Republic, Albatros/XYZ

Denmark, C&K Forlag

Estonia, Eesti Raamat

Finland, Schildts & Söderströms

France, Notabilia

Germany, Klett-Cotta

Iceland, Forlagid

Italy, NN Editore

Korea, Dasan

Netherlands, Ambo Anthos

Norway, Gyldendal

Poland, Czarna Owca

Portugal, Porto

Serbia, Booka

Slovakia, Albatros

Spain, Turner Libros

Sweden, Natur & Kultur

UK, Sceptre

US, Melville House