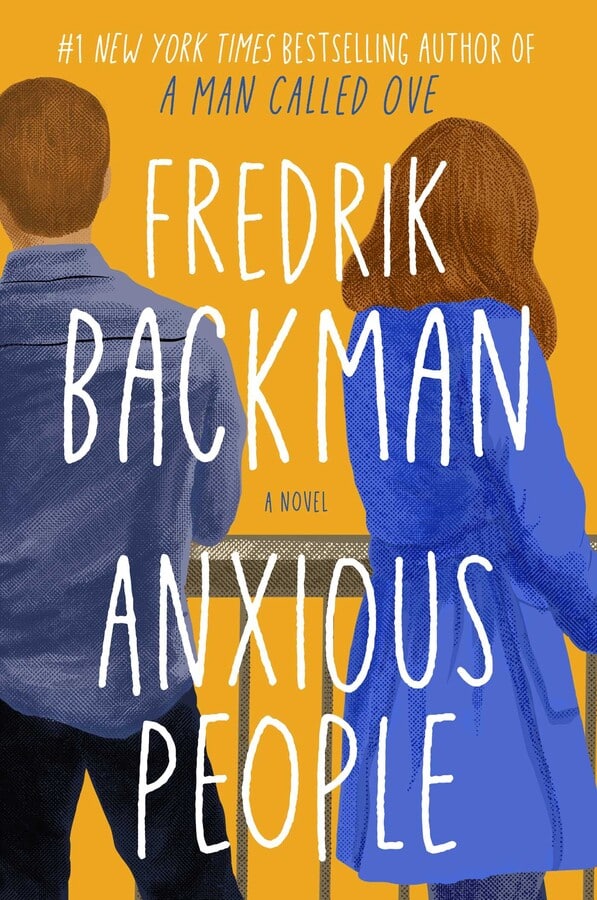 Folk med ångest
Anxious People
Fredrik Backman is back with this year's rowdiest novel.
Anxious People is an unreasonably riotous comedy about a hostage drama during an open house. A failed bank robber locks themselves in with an over-enthusiastic real estate agent, two bitter IKEA-addicts, a pregnant woman, a suicidal multi-millionaire and a damn rabbit. In the end the robber gives up and lets everyone go, but when the police storm the apartment it is…empty.
In a series of dysfunctional testimonies afterwards, the witnesses all tell their version of what really happened, whereupon a classic puzzle mystery develops around the questions: How did the robber manage to escape? Why is everyone so angry? And: What is WRONG with people these days?
"Funny, compassionate and wise … an absolute joy"
—AJ Pearce
Instant No. 1 New York Times Best Seller
A People "Book of the Week"
"Book of the Month" club selection
No. 1 Indie Next Pick
"Best of Fall" in Good Housekeeping, PopSugar, The Washington Post, New York Post, Shondaland, CNN, and more!
Reviews
"Backman's new novel is a satisfying remedy for pandemic anxiety. /…/ It's laugh-out-loud funny and will help restore your faith in humanity."

"[Backman's] writing is always compassionate and propulsive even as he asks hard questions and reveals truths about the human condition."

"[A] story of serendipity and the interconnectedness of all things."

"Full of Backman's wry humour, his insight into people's hidden lives and his compassion for those people. This tale really is full of love stories, of people getting on despite myriad problems, but it is not sappy, not in his hands."

"A deeply funny and warm examination of how individual experiences can bring a random group of people together. Backman reveals each character's many imperfections with tremendous empathy, reminding us that people are always more than the sum of their flaws."

[A] quirky, big-hearted novel. /…/ Wry, wise and often laugh-out-loud funny, it's a wholly original story that delivers pure pleasure.

"The brilliant, bestselling Fredrik Backman (…) is back. /…/ [T]his is a story about human nature, human connections and human kindness, told with Backman's characteristic quirky, stylish with and moving prose."

"Nothing happens in Fredrik Backman's latest novel that's all that likely — and, yet, as this quirky story unfolds and its collection of misfit characters emerge, Anxious People gradually becomes truer than life itself. /…/ Backman is a master of writing delightful, insightful, soulful, character-driven narratives. /…/ Backman writes so humorously and poignantly about life, marriage, parenthood, love and death, prepare to be taken hostage by a stand-up philosopher/novelist who reminds us we are all 'idiots' because being human is 'idiotically difficult.' Anxious People is about how kindness and compassion count so much in surviving each day — a lesson for our times. And, how the one predictable assessment of how life turns out may simply be: 'This wasn't how life was supposed to turn out.'"

"Anxious People is a humorous chamber play with a dramatic back-drop, depicted with a great dose of empathy and warmth."

"An absolutely delightful story. /…/ Fredrik Backman is a comedian at heart. You can tell from his drastic and charged way of expressing himself. He captures small and big truths with unexpected examples. /…/ Fredrik Backman is a phenomenon. /…/ He speaks to his readers through practically fairy tale-like stories. Yet it feels like he is whispering secrets in your ear. It is as if he has cracked the code that all writers look for, usually in vain; he knows the importance of having a sense of urgency."

"Hooked in no time. [Hooked] by the puzzle Backman creates, its carefully laid out plot strands, cliffhangers, and hints. By the warm humor, the spot-on and quick analyses of all and sundry. /…/ It's a real feel-good story with all kinds of forgiving insights about life."

"Fredrik Backman is great at relatability. /…/ It's the tone that makes Fredrik Backman so extraordinary, a tone that balances between despair and reconciliation. He never ceases to make everyday observations that puts words to our shortcomings and adds spice in the form of humor in surprising twists. Yet he's able to convey hope; there's always a hand to hold, a lifesaving community for the abandoned. /…/ Fredrik Backman is one of the few contemporary authors who is able to portray male loneliness."

"I'm completely seduced by the hopeless fools that end up as hostages. A love declaration to life and a hymn to transience. /…/ A novel that is definitely worth reading. "

"One of the lovely things [about Anxious People] is that the author truly cares about the characters he chooses to portray. /…/ On one level, it's a really twisted comedy, often funny and at times outright hilarious. There are ideas here that are excellent and turns of phrase that make me laugh out loud. /…/ On another level, Anxious People is a story about people that are hurting and don't know what to do with their pain. The subject is treated with a tenderness that's hard to resist. /…/ Anxious People is well worth reading, like a fairytale about and for broken grown-ups, where oversized rabbit heads are accompanied by reminders that you are not alone in having been dealt wounds by life."

"I was hooked in no time, as is always the case when it comes to Backman. /…/ [Anxious People] is a story that is just as important as it is fantastic. As usual, I couldn't stop reading until the book has reached its end – and that was long after midnight."

"Oh, how he knows how to write people, Swedish Fredrik Backman. /…/ The author of the worldwide phenomenon A Man Called Ove has written a new story that charms and evokes every mood in his readers, from sorrow and unsettlement to laughter and joy. /…/ That is what spellbinds the most – all of the humor and fantasy that is Backman, the ability to portray humans warmly and tenderly in everyday pursuits, along with a cunning literary craftsmanship. [Add to this] a marvelous unraveling and ending."

"Anxious People is an amazingly well-written, thrilling and very surprising novel. /…/ If you too love Backman, you will love this book – and if perhaps you are a new reader, this will be a great introduction to his authorship, as it truly displays all the best Backman has to offer. It is a book full of humor and a deeper meaning to it, and I love it for it. It really is something special."

"Big and small truths about people, society, and its stereotypes are delivered with a great sense of humor that makes it hard not to smile. /…/ What at first resembles everyday banalities and absurdities hide far greater ethical and human dilemmas, slowly revealed to the reader so that you cannot help but feel empathy and understanding for these people who you normally wouldn't be able to understand. /…/ One of the things [Backman] excels at is an acute and naked honesty. /…/ Reading Fredrik Backman makes you better at understanding people, things you can't comprehend, and things you thought you did understand."

"Backman's tale of a failed bank robbery is not only extremely entertaining but also moving, containing keen-eyed and beautiful descriptions of people. Fredrik Backman […] has once again cemented his position as one of Sweden's absolute best and entertaining authors. /…/ But it's not all fun and games, and along the way room is left for apt and accurate depictions of modern society and the difficulty of adult life and human relationships. /…/ Fredrik Backman has once again penned a marvelous and remarkable novel, and [it] will undoubtedly be ranked high on the list of the best books of the year. He's a truly unique storyteller and it isn't easy to find similar writers, but Swedish Jonas Jonasson is probably the closest you can get. /…/ Backman's character portraits are full of love, and the message is that there's always hope for the lonely or despairing. Behind the humor and the deception, [Anxious People] is a beautiful love declaration for life and a sorrowful poem about death, playing on the entire emotional register. Don't rob yourself of the experience that is Anxious People."

"I've got a new favorite author: Fredrik Backman. /…/ [Anxious People] has everything necessary to become another international success. /…/ [Fredrik Backman] claims a top spot among still active authors, in my book. /…/ The stories he tells us shows an author with solid insight into many parts of the human mind. And the way he combines that insight with plot and characters is nothing short of great art."

"The novel is great. Truly great. It's subtly funny in its depiction of the hostage situation, the policemen, the witnesses and people with anxiety in general. But it is also immensely heartfelt and beautiful in its depiction of struggling people. Swedish Backman has a completely unique way of writing that both touches and entertains at the same time."

"With poignant and sympathetic care, the always incisive and charming Backman […] gently examines garden-variety insecurities against a quaint pre-pandemic backdrop."

"The brisk, absorbing action prompts meditation on marriage, parenting, responsibility, and global economic pressures. Comedy, drama, mystery, and social study, [Anxious People] is undefinable except for the sheer reading pleasure it delivers. Highly recommended."

"Backman's latest novel focuses on how a shared event can change the course of multiple people's lives even in times of deep and ongoing anxiousness. A story with both comedy and heartbreak sure to please Backman fans."

"[A] witty, lighthearted romp. /…/ Backman charms."

"[T]here are moments of such profound beauty that you're left gasping. [Backman's] take on the responsibility of parenthood, for example, delivered as a one-liner fairly early on, and returned to on occasion as the story proceeds, is spot on. For people who enjoy Backman's writing, Anxious People is his best yet."

"This is a brilliant Scandinavian novel with a fantastic cast of quirky characters. A riveting take on a dinner party farce."

"Backman again captures the messy essence of being human. /…/ Anxious People is ripe with dark humor. /…/ It's clever and affecting, as likely to make you laugh out loud as it is to make you cry."
Author

Fredrik Backman

Published

2019

Genre

Pages

352

Reading material

Swedish edition

English edition

Rights sold

Bosnia and Herzegovina, Sarajevo Publishing

Brazil, Rocco

Bulgaria, Ciela

Canada, Simon & Schuster

China, Guomai

Croatia, Fokus

Czech Republic, Host

Denmark, People'sPress

Estonia, Varrak

Finland, Johnny Kniga

Germany, Goldmann

Greece, Kedros

Hungary, Animus

Iceland, Bjartur & Veröld

Israel, Yediot

Italy, Mondadori

Korea, Dasan

Lithuania, Alma Littera

Macedonia, Antolog

Netherlands, Querido

Norway, Cappelen Damm

Portugal, Porto

Romania, Editura Art

Russia, Sindbad

Serbia, Laguna

Slovakia, Ikar

Slovenia, Mladinska

Spain, Harper Collins Espanol

Sweden, Forum

Taiwan, Ten Points

UK, Michael Joseph

US, Atria

Film rights sold

Sweden, Netflix/FLX