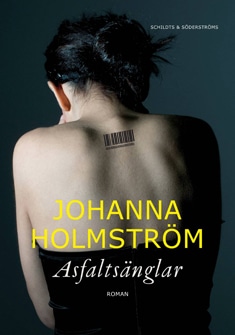 Asfaltsänglar
Asphalt Angels
They were known as asphalt angels; but they weren't angels, just fallen girls who shattered themselves and their longing against the sidewalk.
Leila and Samira are teenage sisters, living in Helsinki, Finland. Their mother is a Finnish convert to Islam since marrying their North African father, and dove head first into the new religion with a fervent zeal. She wears a hijab, is full of bans and admonitions, and surrounds herself with a small group of other converts who strive to outdo each other in piety. She raises her daughters with traditional values and an explicit expectation that they will be married off to suitable Muslim men. Meanwhile, society at large turns the girls a cold shoulder. Racism, sexism, and violence pervade the Finnish world in which they find themselves.
Asphalt Angels is a dazzling portrait of the social and cultural conflicts of our time. When worlds collide, girls are often the first casualties. Johanna Holmström renders young women at their most vulnerable and their most powerful in this gorgeous novel about love, loss, and faith.
Reviews
"Impressive, cool and touching at the same time, with precise dialogue and poetic moments."

"A novel that perceptively portraits the life of teenagers and especially young female Muslims /…/ and that bids for tolerance and humanity with cruel objectivity and warmhearted irony."

"A rebellious, gruff novel. /…/ Fascinating and terrifying. /…/ An outcry against the oppression of women."

"Through her prose and characterization she truly succeeds in moving [the reader]."

"Johanna Holmström describes the cultural collisions in the family's everyday life – at home, at school, at work, with friends – in a serious, realistic and even humorous way. But what makes the novel so difficult to put down are the thriller and drama elements she weaves into the plot."

"The rendering of this extremely hierarchical and depressing school environment is the best and most poignant I have read in a long time. With raging skill, Johanna Holmström writes about how one can become trapped in a role and at the same time excluded from a community"

"The diverse forms of everyday racism are depicted with horrifying aptitude."

"Like a Finnish-Swedish Sofi Oksanen, Holmström demonstrates that the repression of women is not limited to religion or ethnicity, but is everywhere around us. /…/ Asphalt Angels is not a pleasant or amusing book. But it is the most important and engaging novel I have read in a long time. It is genuine classic fiction that expands my consciousness, and each page is a delight."

"The fact that the protagonists come from an immigrant background is at the same time very important and totally meaningless. While insightfully describing Islamic culture, particularly from a female point of view, Holmström also shows that the difficulties of becoming a woman are universal. It is at this task that the author succeeds so brilliantly. Regardless of whether this book is classified as young adult fiction or not, girls of all ages should read it."

"The subject is captivating and Holmström's spot on descriptions and expressive prose sometimes make me smile and sometimes make me fretfully hold my breath."

"The story flows forth, full of exuberant words and unexpected expressions. Sharp observations and a wealth of details as well as occasional Arabic words add to the multilayered content. Holmström has written a vivid novel with a complex plot that cannot be easily predicted, which makes the reading all the more pleasing. By taking the bait of vague suggestions about what has happened and what will come to pass, it surprises again and again, once it becomes evident that you've jumped the gun and stumbled on your own prejudices."

"Above all, Asphalt Angels is a funny and intelligent novel about the more prosaic problems with Islam, both a dramatization and a downplay of the particular difficulties and joys of being a young – and sometimes wavering – liberally Muslim girl. Asphalt Angels is a cynical, honest and even, in the middle of it all, naively hopeful novel. In short, one can establish that Holmström as an author is nothing less than a star."

"Holmström's novel is very well-written and brings up an urgent issue in an honest and disarming way. The depiction of the sisters' vulnerability is powerfully executed. /…/ One gets a nuanced picture of the particularly complex and inhumanely oppressive identity issues that these girls have to deal with every day. And in the middle of the darkness there is after all small but unwavering glimpses of defiance and hope."

"Johanna Holmström hasn't made it easy for herself by attempting to capture these young fates, and not least that makes Asphalt Angels so captivating and engaging. She doesn't flinch at any issues and doesn't hesitate to try to capture the entire complexity of these girls' lives… Above all it's a novel full of positive energy"

"Honor-related oppression is a subject that often gets stuck somewhere between racist generalizations and well-meaning excuses. However, Holmström has managed to create a complex story that challenges the reader… Throughout the novel the reader is forced to try to see beyond ingrained ideas and deceptively simple explanations."

"The themes in Asphalt Angels are red hot. Johanna Holmström plays with the reader's notions of good and evil and at times rouses us out of our own prejudiced slumber."

"Since Johanna Holmström avoids simple truths, predictable interpretations and cemented roles, she has managed to create a multilayered story. /…/ In terms of prose, it's the kind of reading that occasionally makes me pause and reread a sentence or a paragraph, just to take in the turn of phrase, the timbre and rhythm. /…/ Johanna Holmström succeeds in twisting and turning an issue, dissolving traditional roles, and setting everything to a head to such a degree that the novel's conclusion is extremely unexpected and therefore also less believable. But life doesn't always follow the normal patterns, the unexpected can really occur. I appreciate that the author challenges me and sets my prejudices against the wall."

"Johanna Holmström describes the oppression in cultural practices; like the unjust in that a young woman, no matter how untouched she is, can get killed if she doesn't bleed on her wedding night. [She also describes] the different but palpable oppression of young women in Western culture – objectification, a kind of exposed sexuality, and a tough, raw hierarchy in the schoolyard… I have to give praise to Johanna Holmström for how well she does it, captures the games and the loneliness. And the novel's construction is like a course in dramaturgy, with a number of surprises in the end."

"Holmström moves both courageously and thoughtfully around these red-hot contemporary issues, tries different perspectives and enriches the image of what can happen when cultures and traditions collide. It is a valuable initiative in literary fiction."

"These girls are so lovely to read about, they're all special in their own way. The novel is well written, elegantly rendered, and I got to know these wonderful girls as if they were real people. /…/ I just loved it!"

"To me, this isn't just a story about honor-related issues among Muslims. It's also about insecurity, sisterhood, patriarchal structures, and teenage rebellion. /…/ It's a moving story about two sisters who don't want to follow their zealous mother, but instead want to find harmony between their own will, religion, and Finnish culture."

"A well-written and important story that doesn't shy away from some of our time's most controversial issues."

"Asphalt Angels is a rebellious, sparkling and darkly comical vindication of all young women. /…/ With a seemingly simple language Holmström outlines an image of a community where repression of women is present in every layer of culture and society. /…/ To dive head first into charged discussions about racism and religion is courageous and Holmström pulls it off surprisingly well. Perhaps because her only loyalty is towards the young girls. Amidst society, religion, culture, and patriarchy she carries forth their voices."

"A very exciting book /…/ A story you won't forget"

"Asphalt Angels is a sarcastic, witty novel about the new phenomena of Islamic immigration to Finland, about racism, sexism and violence in the Finnish society."

"The most exceptional [Finnlandswedish] book both in theme and style."

"Tough, drastic and shockingly realistic, but also very funny at times."

"An intelligent, empathetic novel."

"An upsetting, but at the same time funny and incredibly true-to-life book about the differences between cultures."
Author

Johanna Holmström

Published

2013

Genre

Pages

294

Reading material

Swedish edition

Finnish edition

English sample

Rights sold

Bulgaria, Matcom

Croatia, VBZ

Czech Republic, Zlin

Denmark, Turbine

Finland, Otava (Finnish)

Finland, Schildts & Söderströms (Swedish)

Germany, Ullstein

Netherlands, Atlas Contact

Norway, Vigmostad & Bjørke

Sweden, Norstedts

Film rights sold

Sweden, 2afilm