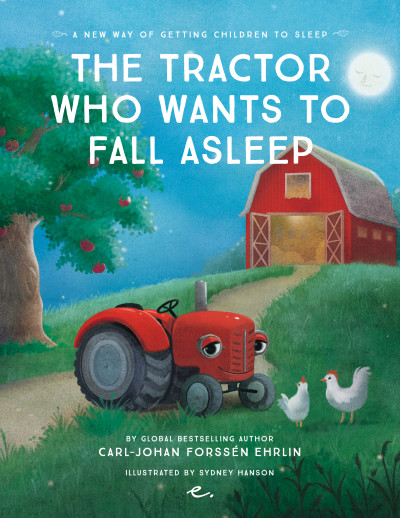 Traktorn som så gärna ville somna
The Tractor Who Wants To Fall Asleep
Sleep Series #3
Add variety to your child's bedtime routine with the third and latest book from the author of The Rabbit Who Wants to Fall Asleep, the New York Times and international bestseller that parents have been raving about! The Tractor Who Wants To Fall Asleep features child-tested, parent-approved techniques to reclaim bedtime and provide a sweet and tender end to each day.
Let your child be lulled to sleep with the story of the little red tractor Alex, the tiredest little tractor around. Alex the Tractor takes your child on a relaxing and cozy ride across the countryside, where they encounter friends like Yawning Carrot, Half-Asleep Leon and the sleepy apples. Written with the purpose of helping your child fall asleep easier, The Tractor Who Wants To Fall Asleep's design encourages relaxation, sereneness and sleep.
The Tractor Who Wants To Fall Asleep includes new and improved materials such as insightful sleep tips and answers to frequently asked questions that will help guide families to an even more satisfying nighttime routine!
Author

Carl-Johan Forssén Ehrlin

Published

2017

Genre

Pages

36

Reading material

English translation

Swedish edition

Rights sold

Albania, Dudaj

Arab World, Arab Scientific

Asturias, Ediciones Trabe (Asturian)

Bosnia and Herzegovina, Buybook

Catalonia, Beascoa

Denmark, Alvilda

Estonia, Varrak

France, Gautier-Languereau

Israel, Yediot

Mongolia, United Investment Partners

North Sami, Davvi Girji

Portugal, Lua de Papel

Romania, Litera

Russia, Mann, Ivanon & Ferber

Serbia, Vulkan

Slovakia, Ikar

Spain, Beascoa

Sweden, Ehrlin Publishing

Taiwan, Solutions (Complex Chinese)

Thailand, Nanmeebooks

Turkey, Okuyan Us

Ukraine, Artbooks

Vietnam, Thai Ha