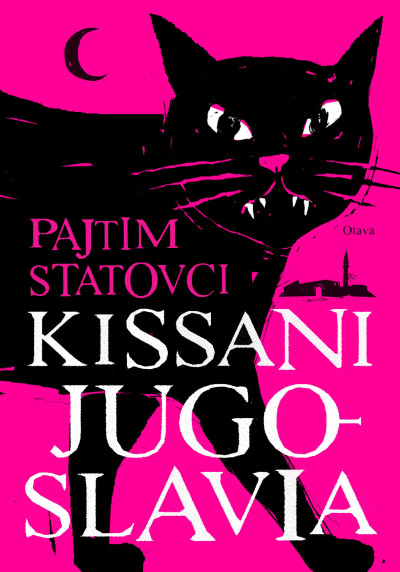 Kissani Jugoslavia
My Cat Yugoslavia
Yugoslavia in the 1980s: In the midst of a country in disintegration, a young girl is married to a boy she hardly knows. Emine does her best to be a good wife, but life brings a series of disappointments. When war breaks out the young mother of four and her husband are forced to flee to the unknown and remote Finland. In this cold country where foreigners are supposed to gratefully accept a place on the fringes of society, integration fails Emine, and her everyday life becomes increasingly bleak.
Present-day Helsinki: Bekim, Emine's son, struggles to find a place for himself in Finnish society. A young immigrant and a homosexual, he feels like an outsider in what should be his home. A longing for companionship finally spurs him to buy a boa constrictor. But it's the cat he meets at bar one wet evening that ends up changing his life, making him travel back to Kosovo, and back to where it all began - for Bekim, for Emine, and for their family.
My Cat Yugoslavia is a haunting literary work unafraid of examining abuse, sexual orientation and immigration. A unique addition to the literary genre, the award-winning novel possesses a driven narrative with the power to spellbind.
"Every once in a while, but not often, a book and author come along so original, so mature, and so timeless you might think you're discovering a classic from the past. But My Cat Yugoslavia by Pajtim Statovci is very much a novel of and for today. It asks urgent questions about identity and family, humanity and nationality, symbols and metaphors, but refuses to give any simple answers. By embracing the complexity of our present world, Statovci has created a work of literature, and a work of art."
-David Ebershoff, author of The Danish Girl and The 19th Wife
"After this superb debut it's safe to say: this is a literary voice to follow."
-Sofi Oksanen
"This beautiful novel is about a great many things: a snake and a sexy, sadistic, talking cat; online cruising and Balkan weddings; the surreal mess of identity; the things that change when we change our country and the things that never change; the heartbreaking antagonism between fathers and sons; the bewilderment of love. Pajtim Statovci is a writer of brilliant originality and power, and his debut novel conveys as few books can what life feels like now."
-Garth Greenwell, author of What Belongs to You
"Take one part Bulgakov, one part Kafka, one part Proust, and one part Murakami; shake and pour over an icy wit; and you have the devastatingly tart My Cat Yugoslavia. This book is a rallying cry for breaking conventions of structure and characterization, and it marks the debut of an irresistible new talent. I cannot wait to see what Pajtim Statovci does next."
-Rakesh Satyal, author of Blue Boy and No One Can Pronounce My Name
"Fearless, delicate, beautiful, sad, haunting, and wonderful. A brilliant novel that mesmerizes with both its humanity and its utter uniqueness. A novel you'll be thinking about long after you've turned the last page."
-Jeff VanderMeer, author of City of Saints and Madmen
Reviews
"A strange, haunting, and utterly original exploration of displacement and desire. /.../ Statovci's literary gifts are prodigious. His sentences are lean and precise. He defies expectations, denies explanation, and excels at the most difficult aspect of storytelling: building a complex humanity for even his most deplorable characters. /.../ a marvel, a remarkable achievement, and a world apart from anything you are likely to read this year."

"Spry and warm /.../ The novel is a slowly shattering and re-forming reflection of the protagonists' corresponding descents into wintry numbness, until, near the end, they begin to revive, and to love . /.../ Statovci's surreal, arresting novel suggests that ... love and identity have many reflections, many destinies, many languages. Sometimes, a broken mirror reflects something truer—as does the kind of love, drawn from the deepest sunken places, that tries to put it back together."

"An elegant, allegorical portrait of lives lived at the margin, minorities within minorities in a new land. /.../ [My Cat Yugoslavia is] a fine debut, layered with meaning and shades of sorrow."

"Compelling . . . [an] important exploration of the aftershocks of war."

"[Pajtim Statovci] knows how to disorient - and disarm. /.../ This dark debut has a daring, irrepressible spirit."

"My Cat Yugoslavia is an elegant, allegorical portrait of lives lived at the margin. /.../ Allegorical but matter-of-fact: a fine debut, layered with meaning and shades of sorrow."

"Powerful /.../ Statovci is a tremendous talent /.../ [My Cat Yugoslavia] has an intensity and power that demands a second reading."

"Like a "Master and Margarita" of exile /.../ [A] marvelous and frequently hilarious debut novel."

"My Cat Yugoslavia is both intriguing and disturbing, a novel from 2014 that perhaps describes 2017 all too well."

"I don't think I've ever read a novel like My Cat Yugoslavia, so thrillingly inventive and alive that I felt small electric shocks of pleasure."

"[My Cat Yugoslavia] is inventive and playful ... wonderful and original ... compelling and altogether beautiful. /.../ There is something truly wonderful about a debut novel where the sentences themselves are as beguiling, the metaphors as imaginative ("its dry skin rattled like a broken amplifier"; "his viscid sweat oozing between my fingers like egg white"), and the eye for detail as sharp as Statovci's."

"[My Cat Yugoslavia] is both thought-provoking and emotionally resonant."

"Anyone who writes as naturally and powerfully as Statovci surely has models, but they're not apparent in My Cat Yugoslavia, and he's one of those rare performers in language who puts you out of mind of all others while you're reading his charged, bounding prose. /.../ [A] remarkable book."

"My Cat Yugoslavia is a striking work about dislocation and estrangement that moves between science fiction, comic fable and trauma narrative without ever settling snugly into any of them. /…/ this is a memorably disconcerting novel, a kind of literary Let the Right One In; a book about skin and sweat and the ruptured blisters of history."

"There are very good passages, particularly when he is writing about life in Kosovo, describing rituals there that seem almost medieval, and when he grapples with the pain of the refugees living in exile. /.../ An extraordinary achievement."

"Pajtim Statovci's debut novel My Cat Yugoslavia is such a beguiling, intelligent and tender thing, it might win the nation [Finland] another place at Europe's top cultural table /…/ My Cat Yugoslavia is a masterclass in defining the soft spots which mark human vulnerability."

"It's a surreal fable that makes tangible the dislocation felt by those who are persecuted in their home country and in the country that gives them refuge."

"A stirring portrait of migration's multi-faceted loneliness."

"Pajtim Statovci's remarkable debut novel is a poignant examination of the migrant refugee experience spanning two generations /…/ enchanting and disturbing."

"The writing is sensitive, subtle and deeply engaging. It is astonishing to find such emotional insight in a novel written by someone so young (at the time of its publication Statovci was only twenty-four). I wasn't surprised to hear My Cat Yugoslavia won a prize for Finland's best literary debut. It is a truly extraordinary novel."

"A deeply immersive reading experience /.../ A startlingly original story about the trials and upheavals of losing a homeland and adapting to an adopted one. /.../ This is a novel which takes a succession of considerable risks to perform dizzying feats. Statovci is equally adept at depicting stark reality (Serb atrocities, marital strife, paralysing culture shock) as he is in weird fantasy. /.../ This novel's singular ingredients combine to make a […] thoroughly intoxicating brew."

"International author Pajtim Statovci's debut novel My Cat Yugoslavia is a dazzling portrait of displacement and desire. "

"A thrillingly unique exploration of exile."

"A wonderful and haunting novel about war, family, love — and a talking cat."

"My Cat Yugoslavia is a smart, fresh and ultimately important novel, particularly in today's fraught political climate. The poor treatment of Bekim and his family and their sense of alienation are not confined to Kosovo-born immigrants to Finland in the 1990s. As a result, Statovci has managed to capture the prevalent societal attitudes towards modern-day immigrants despite writing about a war that happened two decades ago. In a world in the midst of an immigrant crisis and where empathy seems to be slowly disintegrating, this novel makes for essential reading."

"So much of Statovci's book is about escape, whether it be fleeing a warzone or an abusive relationship or the frightening reality of oneself, but its power lies in extending past these themes into something like freedom."

"The contradictory pulls and pressures of love and patriarchy, desire and dignity, and the strange cocktail of pride, shame, guilt, and rebellion that inflects every father-son relationship are the other sub-themes that find potent expression in Statovci's dazzling debut. /.../ My Cat Yugoslavia transcends the particular. It is an insightful exploration of the multiple layers of exile that everywhere constitutes the human condition in today's world. This novel marks the arrival of an exciting new voice in fiction. In fact, 27-year-old Statovci has already been hailed as some sort of Balkan Murakami."

"My Cat Yugoslavia is a gripping and ambitious novel /.../ [The novel] explores refreshing literary paths, and Pajtim Statovci is a voice to remember."

"Beyond the success and international resonance of his debut novel, Statovci inspires conversation with his boldness /.../ With a sensual realism imbued with fantastical elements and popular tradition, Statovci confronts the fundamental themes of the bildungsroman."

"An utterly brilliant debut. Pajtim Statovci is a name to remember. /…/ It's difficult to not give in to Pajtim Statovci's wonderful debut novel My Cat Yugoslavia. /…/ This little gem truly does have everything. Intelligence, warmth, love and pain woven together into an elegantly composed novel about solitude, pets, and the tragic fate of the Kosovo Albanians during the Balkan war in the nineties."

"My Cat Yugoslavia operates on so many levels. It completely enraptures me. The boldness of its structure, prose, wisdom and sorrow. /.../ It is brutal, painful, and utterly topical."

"It's easy to read, cleverly written and in many ways a successful debut."

"I cannot but heap praise upon Statovci's debut novel. /…/ It is entertaining, engaging and ingenious."

"[My Cat Yugoslavia] is poignant and sorrowful, sometimes harrowing, while in a strange way also entertaining, almost carefree. Above all it feels real, true. It captures a feeling which I imagine many migrants and refugees can identify with – and that the rest of us can actually understand too. "

"Finnish Pajtim Statovci's debut novel My Cat Yugoslavia is a multifaceted tale of migration, love, family and - let's just call it "animal husbandry". /…/ [My Cat Yugoslavia] is an impressive novel by a 24-year-old debutant."

"It's not just Sofi Oksanen who can write about the multicultural Finland in a way that the writing explodes with pent-up emotions. Pajtim Statovci does it too. /.../ My Cat Yugoslavia gradually transforms into an insanely great debut in all its rattling, imaginative chaos. "Gradually" because the reader has to get over their cat allergy /.../ Left is a terrifically openhearted, wild and gentle tale of what the hell it means to fit in in an average Nordic "lottery country" when you're neither very average nor lucky in lotteries. My Cat Yugoslavia isn't written with a light hand, God knows, and neither is it with a hand ruled by immigration politics. Instead, it's written with a young, vibrantly hot hand."

"The realism of Emine's story is fascinating and heartbreaking. The young debutant Pajtim Statovci, who himself came to Finland as a two-year-old, addresses the material of which alluring human fates are woven. The detail is impressive; one is truly caught and wish to follow Emine till the end. /.../ My Cat Yugoslavia cuts quickly between Emine and Bekim's stories. Both are well-told, both fascinate, and both engage."

"A magical tale requires a credible narrator, and Pajtim Statovci is such a one."

"A dark, Finnish sensation. /.../ Rarely have I read such a dark novel simultaneously characterized by playfulness and hope. If in the future Statovci is to follow in Sofi Oksanen's steps when it comes to portraying the challenges of being bicultural in Finland, then his humor and inventiveness are surely his strongest assets."

"Among the many good reasons there are to read young Pajtim Statovci's brilliant first novel, one of the most important is [the author's] ability and desire to play with the text as well as the reader."

"The levels of symbolism in the story branch out in layers that one might spend an eternity unveiling. Statovci's intrepidity will shake the readers."

"A hard-hitting debut about the search for love and a family cut off from its roots."

"Pajtim Statovci's debut novel is absolutely this autumn's literary sensation."

"A lion of a writer. /.../ Pajtim Statovci's first novel will be remembered. We can expect great things from him."

"Pajtim Statovci's debut novel is the most breathtaking reading experience I've had in years! My Cat Yugoslavia draws you in instantly and offers a reading adventure in which the fate of individual and ethnic group, along with friendship, love, fear, extended family and immediate family, and the turmoils through history of both a single person and a whole country, are all inextricably intertwined."
Author

Pajtim Statovci

Published

2014

Genre

Pages

286

Reading material

English translation

Finnish edition

French edition

Norwegian edition

Rights sold

Czech Republic, Argo

Denmark, People's Press

Estonia, Tänapäev

Finland, Otava

France, Denoël

Germany, Btb

Greece, Patakis

Hungary, Magvetö

Israel, Carmel

Italy, Sperling & Kupfer

Norway, Gyldendal

Sweden, Norstedts

Turkey, Ithaki

UK, Pushkin Press

US, Pantheon