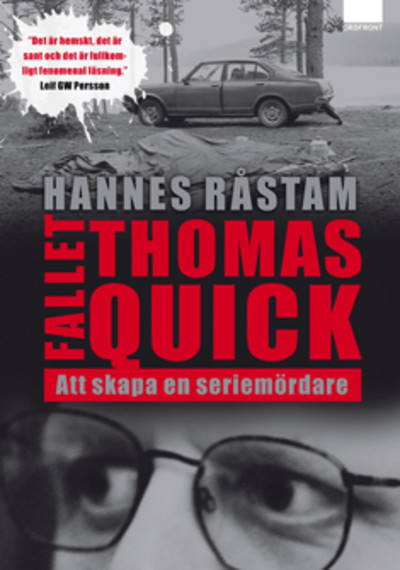 Fallet Thomas Quick
The Making of a Serial Killer
Thomas Quick has been convicted of eight murders and confessed to an additional twenty-five. He is generally considered the most ruthless murderer, rapist and cannibal in Scandinavian history.
In the spring of 2008 the investigative journalist Hannes Råstam traveled to Säter, the mental institution where Thomas Quick is serving a life sentence, to meet Sweden's most abominable serial killer in person. It was a meeting that would have far-reaching consequences for both of them.
After that first, apprehensive meeting, Råstam proceeded to inspect all the documents from the murder investigations, scrutinize each and every interrogation, and examine Thomas Quick's own accounts. He read and reread the verdicts and repeatedly watched the police reenactments. He managed to get access to heaps of material that was previously unaccounted for: medical journals from Säter, personal logs of police officers, and unseen police reports. Soon, a haunting uncertainty started to grow within Råstam, and by patiently laying a complex puzzle, he reconstructed the story of how Scandinavia's worst serial killer was created. The answer to the mystery of Thomas Quick turned out to be more terrifying than the man himself.
Thomas Quick – The Making of a Serial Killer is a real-life thriller about a bizarre personal destiny and a tragic legal case. Step by step, it is revealed how Thomas Quick was transformed into a serial killer and how six unanimous trial courts convicted him of eight murders he didn't commit. The true perpetrators will never be caught, much less tried in court. Hannes Råstam's debut as an author is so convincing that it is sure to lead to radical upheavals within the Swedish judiciary.
Besides winning numerous awards, Thomas Quick – The Making of a Serial Killer was a No. 1 National Bestseller in Sweden, and the best selling book – across all genres and categories – in August 2012.
"It's appalling, it's true, and it's utterly phenomenal reading."
–Leif GW Persson
"The case of convicted serial killer Thomas Quick is an absolutely amazing story, which if it weren't true, you would not believe. In his gripping account, Hannes Rastam reveals the most extraordinary series of failures and credulity on the part of the so-called criminal justice experts. Piece by piece, Rastam strips away the evidence against Quick until there is nothing left but the awful question of how he was ever convicted of murder, not just once but eight times."
–Alex McBride, author of Defending the Guilty
Reviews
"It was an impatient wait until August when I finally got my hands on the book. I have by turns been deeply immersed and by turns restless, since it is disturbing reading, to say the least... Well done and so frightening!"

"A few years ago the most distinguished investigative journalist at Swedish Television, Hannes Råstam, proved in a series of convincing TV documentaries that the entire process against Quick was built upon lies and damned fiction, not to say madness. It was the kind of journalism that, occasionally, can rouse the lawyers. That's exactly what happened. /…/ Reading it makes your hair stand on end and you can't put it down. This is due to the tremendous amount of incredible details that Råstam recounts with merciless pedantry. And in the confusion a terrifying image of the entire process emerges."

"Law may have very little to do with the truth. But when the gap becomes unreasonably big the heroes of our time, the investigative journalists, interfere. /…/ [Råstam] worked to the end but died before the material was edited. Mattias Göransson has completed that task. The result is, just as Leif GW Persson says in the preface, absolutely phenomenal reading and also a true story. /…/ By delving into the nitty gritty details, exact times and coincidences in the separate murders, comparing times of events, interrogations, stories, diaries – simply by laying a puzzle – he could ultimately not only establish that the confessions were fake but also present his own truth, a reinforced judgment of the forces behind what was known as Circus Quick."

"Råstam's book is a furious showdown with the Swedish justice system, according to the book's cover. It is not. On the contrary it's an understated and reasoning showdown, and that makes it all the more effective. It is nevertheless as suspenseful as a good crime novel."

"Hannes Råstam's book *Thomas Quick – The Making of a Serial Killer *is a guide to why things ended up the way they did. /…/ Hannes Råstam charges forward like a steamroller and I can't find a dead second in the book. He is methodical and accountable and goes through, point by point, the investigation's flaws, contradictions and doubts. Nothing remains. /…/ As a reader I am completely transfixed by the pages and horrified by what is really going on. I have hardly ever read something that is so precise and, in truth, academically analyzing while at the same time being so suspenseful… A hair-raising story, and a great sorrow for the Swedish judiciary."

"Recently deceased Hannes Råstam's documentation of the judicial scandals surrounding Thomas Quick, or Sture Bergwall which is his real name, is a journalistic milestone. Already in his TV documentaries in 2008, Råstam revealed that the mentally ill sex offender Bergwall was not the beast everyone assumed he was. Until the bitter end Råstam worked on the book about [Bergwall's] case. With meticulous accuracy he mapped out how lawyers, journalists, police investigators, doctors and psychiatrists fabricated a serial killer… I am left with the feeling that the legal wreckage surrounding Quick almost can be viewed as a mass psychosis. /…/ While I read the first pages of [Råstam's] reportage I get associations to the movie The Silence of the Lambs. When I listen inwards – which I think I am intended to – I hear a muted soundtrack: A frightened but righteous representative of the truth walks into the heart of darkness to encounter a cannibal. But the music soon fades, because there is no cannibal to be found."

"One of the most powerful books I have read in a very long time."

"Råstam's reportage on the whole mess proves persistently, systematically, detail by detail, that the Thomas Quick case is a massive legal scandal. /.../ This is a terribly good reportage. It is well structured, brilliantly narrated and reminds us that journalism really can serve as a fourth estate – an examiner of the powers that be, which doesn't automatically accept the authorities' message. You know, that kind of journalism that almost no one can afford anymore."

"Råstam's book is a well-written examination of this entire chain of events. A dynamic account of a heroic journalistic feat. /.../ His well-written story about an era and a Sweden where the desire for a personified representative of evil overshadowed rhyme or reason is so final. Just like death. The book ends with the Filter Magazine editor Mattias Göransson's vivid portrait of Hannes Råstam and his journalistic contribution, which was based on the cornerstones of journalism: to remain critical, examine the power, and double check the facts."

"A meticulous dissection of a spectacular legal case, where Råstam exposes astonishing investigative and judicial errors, a cynical pill-providing psychiatric 'treatment', and a problematic uniformity in the media reports. /.../ As journalistic legacy this is a masterpiece. But it leaves a bitter aftertaste. Many can be blamed in the Quick case – not least the media. But it was ultimately the Swedish state of justice that created the myth surrounding Quick and ensured that he was sentenced. After this monumental exposé, where the state of justice stands completely bared, someone within the judiciary should be prepared to demand accountability."

"Hannes Råstam virtually pulverizes every confession, every verdict, every investigation... It's an alarming read from page one. /.../ Hannes Råstam's arguments are not founded on hearsay; not one stone has been left unturned. With an almost manic energy he goes through page after page, interrogation after interrogation, witnesses, re-enactments, and autopsy protocols. /.../ Unfortunately [Råstam's] voice is lost, but his reportage lives on, his book will be read by many, and hopefully will inspire others to follow in his footsteps. The demanding and arduous footsteps. In search of the truth."

"Thomas Quick – The Making of a Serial Killer is an important book. It is also very disturbing for all who believe in justice, for those of us who live with the faith that no innocent person is convicted in Sweden. /.../ Thomas Quick – The Making of a Serial Killer is a baffling story that gives those with a sound skeptical state of mind the inspiration to keep questioning."

"For those of us who have followed Thomas Quick and his wild journey through the justice system and psychiatry over the past ten years, Thomas Quick – The Making of a Serial Killer is nonetheless the best document that has been written so far in this tragedy that has turned into a farce. Råstam's ardent work will shake the Swedish psychiatry care and judicial system for years to come. For the ordinary reader Thomas Quick – The Making of a Serial Killer is a solid experience: the book is well-written and accountable, surprising and shocking, and you will think about it for days after having finished the last page. Because the world is not done with Thomas Quick. Nor with Store Bergwall."

"[Thomas Quick – The Making of a Serial Killer] is journalism of the finest degree, it's almost impossible to put down. The most astounding information is presented in rapid fire, now and then with a beautiful, understated humor. /.../ But what is really new is the methodology. The openness for where the material will take him. The unconditional examination of facts. Time sequences. Excel sheets. Cross-references. Some journalists are accurate. Some are even more accurate. And some are like Hannes Råstam. He is ravishingly, passionately precise. He was awarded five Golden Spades. The very best investigative journalist."

"If I was a normally functioning policeman I would go completely insane reading about how colleagues have accepted these conflicting stories from a drugged mental patient. /.../ The only comfort is that the majority of policemen, judges and prosecutors don't behave like this. But the book should immediately become mandatory reading for all education connected to law and order."

"In Thomas Quick – The Making of a Serial Killer Hannes Råstam recounts how a small cult-like group around Thomas Quick – nowadays known as Sture Bergwall – managed the feat of creating 'Sweden's worst serial killer'. /…/ With restrained prose and journalistic accuracy Hannes Råstam describes every murder case, systematically reviews the evidence (or rather the lack of it), gives us unique insights into the innumerable interrogations, and slowly but surely paints a picture of Sweden's by far greatest legal scandal in modern times."

"Travesty of justice is an expression that should be used with moderation. But sometimes it is justified. Hannes Råstam's posthumously published book, Thomas Quick – The Making of a Serial Killer, is a societal horror story that even makes the expression 'travesty of justice' seem like a euphemism. What is exposed is a complete breakdown. A scientific, judicial, investigative, political, and moral breakdown. /.../ After having read this journalistically brilliant book it is all too easy to paraphrase Shakespeare: something is rotten in the state of Sweden."

"*Thomas Quick – The Making of a Serial Killer *is a serious wakeup call and a fascinating read… It is also extremely well written and composed."

"[Råstam] objectively builds his chronology, reveals inconsistencies and manipulations. Few reportage books in recent years have been so hotly debated before publication as Råstam's close study of the person and phenomena Quick. It is a truly baffling story – but the strange thing about the phenomena Thomas Quick appears to be that the conclusions about him are so diametrically opposed, and that a group of people have staked their careers on proving one side or the other. In this mess, this clamorous cacophony of diatribes and pounces, Råstam wins through his objectivity, his compassion. It is an impressive feat. It is likely to become a central book to all who want to obtain a relationship to journalistic, investigative work – and rightly so."

"I you want to read a truly rattling book this autumn you should get a copy of Hannes Råstam's Thomas Quick – The Making of a Serial Killer. /…/ It must be one of the most elaborately executed and documented thrillers in history."

"To recount how Råstam methodically, by way of an investigative feat that is probably unique in Swedish journalism, deconstructed the entire myth of one of the world's worst serial killers cannot be done in a review. Hardly even in the book's 400 pages. /…/ Thomas Quick – The Making of a Serial Killer is a frightening study of fraud and the creation of myths. It is also a worthy last opus by a journalist who, literally, never stopped digging."

"Hannes Råstam (1955-2012) was admittedly not the first to point out that there was something fundamentally wrong with the processes against Quick… but Råstam's persistent hunt for facts was the weight that made Madam Justitia's scales tip in the opposite direction. /…/ His book is incredibly suspenseful /.../ Thomas Quick – The Making of a Serial Killer is a diatribe and a shattering read for all who thought that legal rights are strong and protected in Sweden… Quick is not a man without fault, quite the opposite, but that does not mean he is without legal rights. Råstam shows in his book that also a criminal should be treated as a human being, one that deserves justice, and not to be shoved around like a drugged circus animal."

"Thomas Quick – The Making of a Serial Killer is a journalistic and documentarian masterpiece. In depth, critical, accountable… The author has done the work that the police never did. /…/ The book can be read as a crime novel. What's most shaking is that it is true… This book is a thriller. From real life."

"An incredible story…a fascinating read. /…/ It appears that for [Thomas Quick], continued free access to large, state-sanctioned doses of drugs was more important that the truth. It appears that for the prosecution, ambition and the desire to close unsolved murder cases was more important than the truth. It appears that for the psychiatrists, to try out their theories was more important than the truth. The combination is unfortunate, to say the least… You should read Thomas Quick – The Making of a Serial Killer."

"[A] methodically excellent accumulation of facts that in itself is highly admirable and to a great extent as suspenseful as a thriller /…/ Time and again you hear the thuds from your jaw dropping to the floor while reading Råstam's book. /…/ This is persistent, present and vividly frightening journalism about a travesty of justice."

"In Thomas Quick - The Making of a Serial Killer Råstam meticulously examines how the Swedish justice system failed time after time in the Thomas Quick case, and shows how Team Quick managed to create a serial killer in Hannibal Lecter's league with the help of false confessions and embarrassingly deficient evidence... [It is] ordered chronologically, so that one can clearly see how evidence was created by a mentally ill drug addict in close collaboration with a banana republic-esque healthcare team. /.../ A result of [Råstam's] exposé is that Bergwall has now been acquitted for the murders. The worst part is of course that the previous convictions in effect pardoned the real killers, who are still out there."

"I don't know how many times I pinched my arm while reading and said: this can't be true. /.../ Hannes Råstam's impressively well-rendered and comprehensive scrutiny of the case files is a powerful illustration of a Swedish justice system in meltdown. It is a frightening, disheartening experience. But it is just as convincing as the intense therapeutic process was for Quick's desire to confess more than 30 brutal murders. /.../ The book is highly recommended. Suspenseful as a crime novel, and depressing in how it demonstrates how wrong it can go in systems that are impervious to criticism. It deserves many readers. And anyone that is engaged in police work, the justice system, or legal rights should have their own copy."

"A big hooray for skilled journalists, one exclaims after having read this book. /…/ This book is as suspenseful as any crime thriller. But first and foremost it is an unveiling of a closed system, in which it is career-conducive to 'solve' brutal crimes, particularly when they can be pinned on a mentally ill individual… Extraordinarily well written and accessible despite the heavy subject."

"One of the most shocking books ever written."

"It is a shocking read, and the books subtitle - 'Scandinavia's greatest miscarriage of justice' - is no exaggeration. Hannes Råstam's crushing thoroughness /.../ is without a doubt an excellent thing, and no stone is left unturned."

"In a meticulous and convincing examination of the entire course of events, Hannes Råstam reveals - in best journalistic style - the many atrocities that were committed in the investigation... An important and indispensable work, for journalists and everyone else."

"Råstam's book is certainly intriguing... With the increasing popularity of 'Nordic noir' crime thrillers, this book is being released at a time when I think it is likely to receive unprecendented interest from a British audience. It is likely to have appeal both to readers of true crime books and fans of Swedish-set crime stories, and it is certainly worth a read if you like your books to be though-provoking."

"The reportage that has shocked the country of Noir... This is not just another Swedish crime novel. This is a true and shocking story with an unpredictable end."

"A peerless work of journalism... It is the most extraordinary story."

"As this fascinating book moves from whodunit to wtf?, the tragic evidence starts to pile up. /.../ The book is at its best when the quick-witted Råstam is in charge, asking the right questions, cutting through the lies and getting to the bottom of things. In fact, our intrepid investigative sleuth, with his barely concealed excitement and curious reporter's glee is one of the most delightful things about this book."

"In painstaking detail, Råstam relates his investigation and, ultimately, the uncovering of a trail of incompetency and corruption, a scandal reaching higher in Swedish politics and society than he imagined. As with many translations, the writing can be dry in places, but with such an astonishing, fascinating tale it hardly matters. Much of my aversion to true crime books is due to their tendency to sensationalise, but with such a bizarre, outrageous story, that's not necessary here. The book is a superb work of journalism. Råstam sadly died last year from cancer, but he would no doubt be proud to have this as his legacy."

"The worst scandal in Swedish legal history... You shouldn't miss this book."

"An engrossing story... Hannes Råstam retrieved the truth from the myths of time."

"A riveting true life drama... a fantastic book that follows the story of how easily it is to blame someone for something they never did, simply to close a case and move on to the next file. It's a textbook case of how medical malpractice, lazy law enforcement, negligent representation in a court of law and bad journalism can lead to the downfall of a man who never killed anyone. /.../ a must-read for everyone... You will not be disappointed!"

"Highly recommended for any fan of Nordic noir. Thomas Quick trumps any of Henning Mankell or Stieg Larsson's villains, with more than thirty victims to his name... Råstam, one of those heroically obsessive investigative journalists like Larsson's Mikael Blomkvist, died of cancer in January 2012, the day after completing his book. Given Råstam's account, it's difficult to understand why Quick was ever convicted."

"Among the top 10 thrillers of the summer /.../ The Making of a Serial Killer is not a novel; it's a true story, astonishing in many respects. /.../ This frantic investigation of the mysteries behind justice and the madness of a man searching for his true self keeps the reader in suspense throughout. From the youth of this real fake criminal to the vagaries of the procedure or the most unexpected discoveries by the sleuth; The Making of a Serial Killer demonstrates that, sometimes, the best thrillers are not fictional..."

"Journalist Hannes Råstam unveils the myth surrounding Thomas Quick, once thought to be the worst serial killer in the history of Sweden. Beware the serial liar. /.../ Aberrant and meticulous, The Making of a Serial Killer offers a sharp reflection on the gears of justice and psychotherapy. Spine-chilling."
Author

Hannes Råstam

Published

2012

Genre

Pages

401

Reading material

English edition

German edition

Swedish edition

Rights sold

Brazil, Record

Czech Republic, Paseka

Denmark, Information

Finland, Johnny Kniga

France, Denoël

Germany, Heyne

Italy, Rizzoli

Japan, Hayakawa

Netherlands, Meulenhoff Boekerij

Norway, Aschehoug

Poland, Proszynski

Spain, Ático de los Libros

Sweden, Ordfront

Thailand, Matichon

UK, Canongate (World English)

Film rights sold

Sweden, Brain Academy

UK, Century Films (Feature Documentary)